In a heartening about-face, the government of Lagos, Nigeria, has backpedaled on a controversial law that would have criminalized the informal water sector, which almost 20 million people rely on to obtain their drinking water.
Activists credit overwhelming public opposition for the reversal, and environmental and human rights groups are breathing a sigh of relief. But a huge protest that unfolded in Lagos on Wednesday ― /www.worldwaterday.org/"}}" data-beacon-parsed="true">World Water Day ― signals their fight is far from over. 
"I can confirm that most of the anti-people provisions have been removed from the final version of the law," Akinbode Oluwafemi, deputy executive director for Environmental Rights Action/Friends of the Earth Nigeria, told The Huffington Post in an email this week. 
But even with the revisions to the law, "it is still not yet uhuru," Oluwafemi warned in a statement, using the Swahili word for freedom.
According to activists, the draft included language so broad that it would have potentially threatened most residents' access to drinking water. Lagos, Africa's most populous city, located in a state of the same name, is the midst of a major water crisis. Only 1 in 10 people have access to water that the state utility provides. Oluwafemi called the state's proposal a "death sentence."
"When the State fails to provide adequate access to drinking water, no one should be criminalized or fined for fetching water from lakes, rivers, or any other natural sources," Léo Heller, U.N. special rapporteur on the human rights to water and sanitation, said in a statement last month, adding that the Lagos state government had gone "a step too far."
For decades, the state has "neglected to invest" in water infrastructure in Lagos, Jesse Bragg, spokesman at the nonprofit Corporate Accountability International, explained from Boston earlier this month. It has instead favored the possible privatization of Lagos' water utility through public-private partnerships, he said ― a plan that has repeatedly been met with public opposition, and has repeatedly failed.
Activists felt the draft of the environment bill was a way for the government to push its privatization agenda.
"We are particularly worried that the governor will sign a law that practically wills our right to a free gift of nature … to private interests whose sole concern is profits," said Francis Abayomi, executive director of the Peace and Development Project in Nigeria. 
Amid the opposition, Lagos lawmakers scrambled to assure their constituents that the bill, which also included provisions related to waste management and other issues, would "benefit all Lagosians."
However, to the chagrin of environmental and human rights groups, the law's final language was not made public until almost three weeks later.
In a statement last Thursday, a coalition of activist groups called for the government to "stop hiding" the details of the new law. Government officials finally released the law's language to the public over the weekend.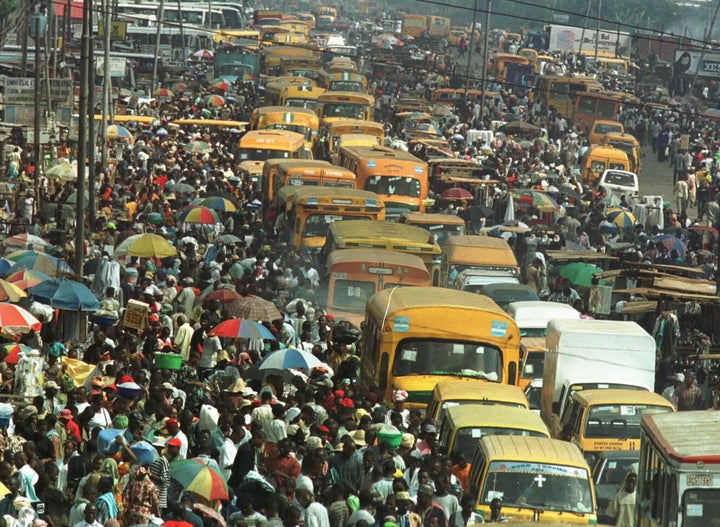 "We are so impressed that the Lagos government allowed the voice of the people to prevail in its decision," Oluwafemi said in a statement after the revised language was released. "The Governor Ambode administration [is] demonstrating that it is a listening one and we commend this."
But even as they celebrate their victory this week, Oluwafemi and other activists have stressed that they're not about to rest on their laurels. On Wednesday, World Water Day, hundreds of people gathered in the heart of Lagos to protest water privatization.
Organized by the "Our Water, Our Right" coalition, an alliance of several African and international environmental and human rights groups, over 1,000 people were expected to attend the rally. They called on the government to turn its back on privatization and instead use public funding to improve water infrastructure and treatment, as well as welcome public participation in the decision-making process.
"This is not the end of the water crisis in Lagos," Lauren DeRusha, an associate campaign director at Corporate Accountability International, said in an email this week.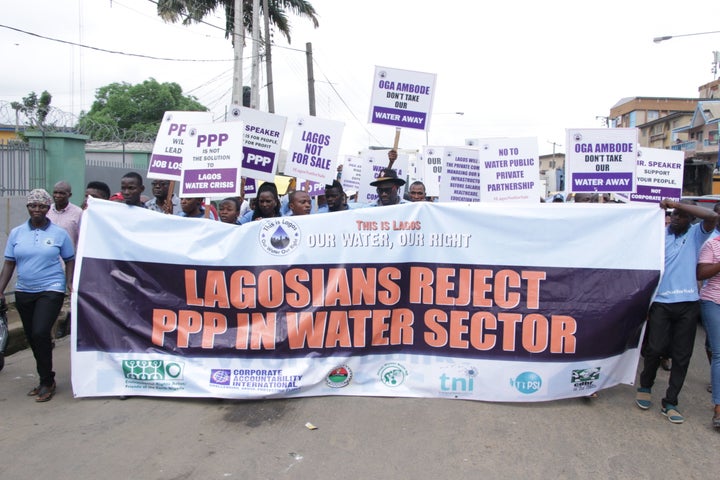 Speaking on his mobile phone from the rally on Wednesday morning, Philip Jakpor, an activist with Environmental Rights Action/Friends of the Earth Nigeria, said that 500 people had already joined the protest and "many more are joining as we go along."
"We are saying 'no' to water privatization," he said.
Jakpor explained that while the "most anti-people" sections of the new environment law were removed and it does include some positive water-related gains ― such as more rigorous regulation on commercial water users ― the legislation still appears to support water privatization "in the long run."
"We still restate our opposition to public-private partnerships in the water sector, which the state is still pressing ahead with," Oluwafemi said in a statement on Monday. "We are determined to challenge this false solution through lawful means, including public demonstrations, in the days ahead." 
See photos from Wednesday's World Water Day rally in Lagos below.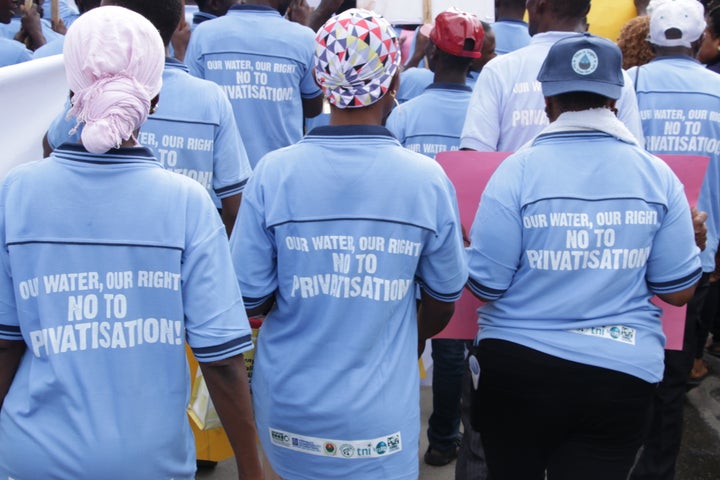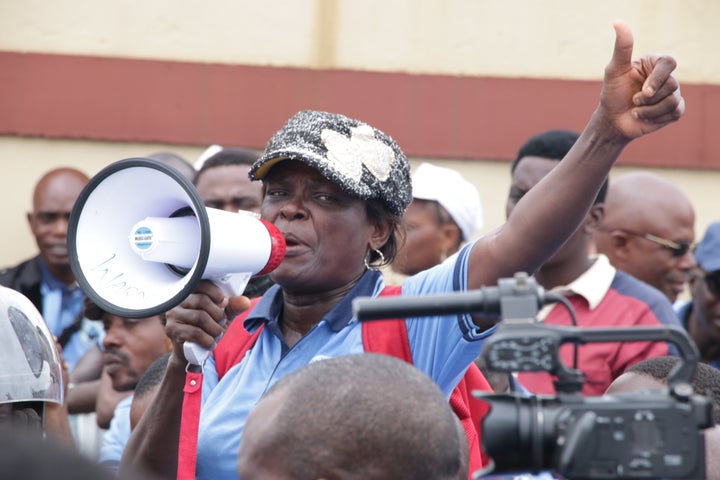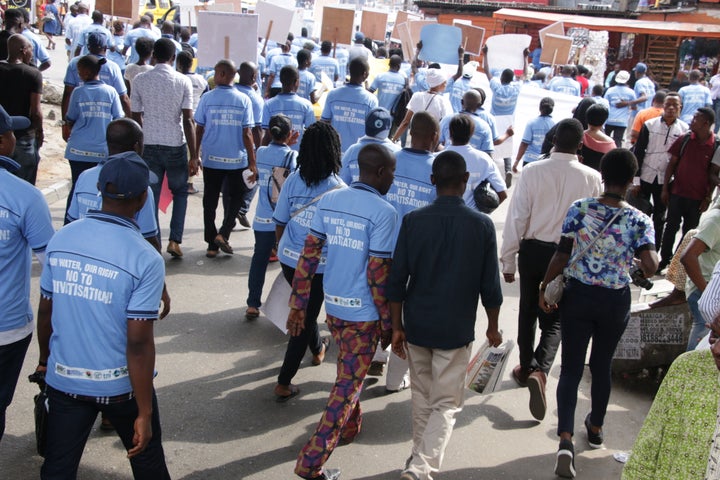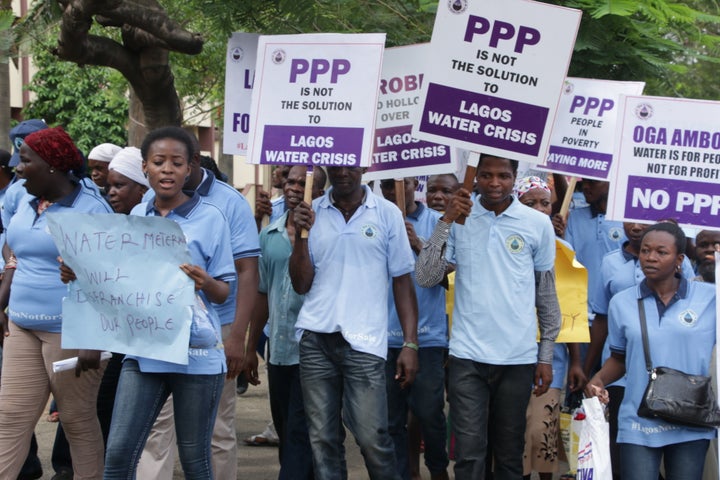 Dominique Mosbergen is a reporter at The Huffington Post covering climate change, extreme weather and extinction. Send tips or feedback to dominique.mosbergen@huffingtonpost.com or follow her on Twitter. 
REAL LIFE. REAL NEWS. REAL VOICES.
Help us tell more of the stories that matter from voices that too often remain unheard.