The world water crisis is no longer a world away, even for Americans.
Consider the drought in Atlanta, fires in San Diego, the escalation of shortages in the Southeast and the rising temperatures and falling levels of Lake Superior in the Midwest. Tidbits of news that are pieces in a much larger puzzle.

"The Future is Drying Up," warns the cover story of a recent New York Times Sunday Magazine. "Tapped Out," declared a feature for which I was interviewed last week on National Public Radio's On the Media.
I've said it before: We're facing the story of the century in the U.S. and abroad. Throughout history water has bound interests and forced the powerful to move civilization and policy. What made Congress unite for its first successful override of a veto by President George Bush? Water projects.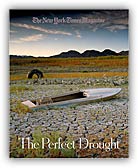 A week ago the Associated Press gave us another glimpse into an expanding dry future as it reported "that at least 36 states will face water shortages within five years because of rising temperatures and evaporation rates, lack of rain, urban sprawl, waste and overuse."
A few days ago a colleague who organizes meetings major conferences to brainstorm urgent issues, wondered if climate didn't trump all the challenges of our time, even water. The reality, though, is that climate is water and the two are inextricable. There are no simple targets anymore, no slogans or one-line initiatives that can capture the nuances or complexities of our interconnected relationships to water.
So as the climate discussions continue, and they must at much higher pace, and as we collectively install fluorescent bulbs, let's not ignore the projected impacts on the most significant resource for life, water. And let's not forget that our largest global supplies are woefully managed, poorly protected, and sadly polluted.
Leaders are poised to act as demonstrated in part by Congress's support for the water bill. Many solutions to the water crisis exist. From efficiency to land use policies to cleaning up what we have. What's needed is the will to respond. The will to take a hard look at ourselves - where we live, how we manage our natural supplies and how we can work together to keep it clean and use it more efficiently.
* For a compelling narrative, adding vignettes from Turkey, Australia, Morocco and Moldovia, see blogger Tom Engelhardt's piece, "As the World Burns." The news coverage, Engelhardt says, seems "to end just where my question begins. It's as if, in each piece, the reporter had reached the edge of some precipice down which no one cares to look, lest we go over."