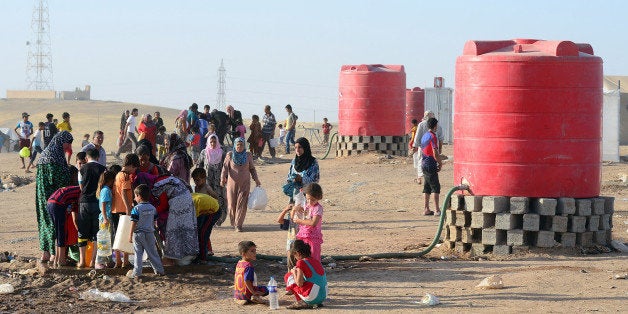 In the areas of West Africa hardest hit by Ebola, access to clean water and sanitation is the exception, not the norm. At-risk communities are susceptible to outbreak in part because they cannot properly wash their hands and lack adequate means to manage human waste.
Between 2006 and 2011, up to 60 percent of Syria experienced one of the worst long-term droughts in modern history, causing a mass rural-to-urban migration of unemployed, disenfranchised farmers. A complete failure by the Assad regime to mitigate the drought's impact on this population significantly contributed to the initial uprisings in Daraa that now plague the entire country and provided the foothold ISIS needed to recruit and grow their ranks.
Today, women and girls will spend over 140 million hours trying to get water -- often dirty -- for their families. Their average travel distance is 6 kilometers a day, half of that walked with 40-pound jerry cans on their backs. That's time not spent working on income-generating jobs, caring for family members, or securing an education, and enough lost working hours to build 28 Empire State Buildings every day.
Dirty water disproportionately impacts children. Over 500,000 children die needlessly every year from diarrhea caused by unsafe water and poor sanitation. Sadly, even those children who are lucky enough to survive are left with mental and physical deficits that will disadvantage them their entire lives. Evidence suggests that permanent stunting occurs in children whose bodies fail to absorb nutrients from the foods they eat due to disease caused by lack of adequate sanitation. The loss of 443 million school days each year due to water-related illness limits the potential of these young minds.
The lack of adequate sanitation is a huge drag on economies at a national level as well. According to the World Health Organization, the total global economic losses associated with inadequate water supply and sanitation are estimated to be $260 billion annually.
What joins all of these things? What matters to every living being on this planet? The answer is obvious. Water. The question is almost unfair because, for most in the U.S., water and sanitation are always readily available. The closest we usually come to living without immediate access is by choice, on a camping trip for example, or the rare incident that requires us to boil our tap water.
For 748 million people around the world however, accessing clean drinking water is a daily struggle, a matter of life and death, and a burden borne disproportionally by women and girls. Another 2.5 billion people live without access to adequate sanitation, such as latrines or hand washing facilities, which leads to 842,000 premature deaths each year.
These are more than jarring statistics that tug at our heartstrings. They are emblematic of a looming water crisis that will directly impact us all. Over the last half century, the global population has more than doubled, and with it the demand for water has skyrocketed, but the amount of usable freshwater on our planet is shrinking as we continue to pump out our groundwater faster than its replenished, and irreversibly pollute due in part to over-fertilization and poor sanitation infrastructure.
There are over 260 river basins that cross at least one international border and sharing this finite resource will become increasingly contentious. The U.S. can't afford to sit on the sidelines and operate without a plan. That's why Congress must pass the bipartisan Paul Simon Water for the World Act of 2014 before it adjourns for the year.
Once made law, the legislation would require both the United States Agency for International Development and the Department of State to jointly create a Global Water Strategy, detailing how the U.S. intends to increase access to safe water, sanitation, and hygiene in high priority countries; improve management of water resources and watersheds in such countries; and work to prevent and resolve, to the greatest degree possible, both intra- and trans-boundary conflicts over water resources.
The answer is water. The question is whether the Senate will stand up and do the right thing for women and children, national security, and a brighter global future.
Related
Popular in the Community