In the face of a changing climate and the challenges that come with it, companies the world over have been attempting to pull solutions out of thin air — literally.
Israel's Water-Gen has built devices that create and store drinking water by harvesting condensation from the air. It was among a group of Israeli firms that presented their technological innovations at the United Nations General Assembly last week.
"Put simply, [our technology] leverages the same process as a dehumidifier, but instead captures and cleans the moisture," said Arye Kohavi, Water-Gen's CEO, in an email this week. "This 'plug-and-drink' technology is fully independent of existing water infrastructure. All we require is an electrical outlet and the humidity found in the air."
Water-Gen isn't the only company to market such a technology, but it says its machines ― known as atmospheric water generators ― are far more energy-efficient than any other water production device currently available.
"Our technology takes one-fifth of the amount of energy used by other methods ― around three liters of water produced for every kilowatt of energy. That makes the water we produce much cheaper, too," Kohavi said.
At current energy prices, Water-Gen estimates the water its machines generates would cost less than 10 cents per gallon.
The company's devices come in three sizes: industrial, medium and one for use in the home or office. Each machine comes equipped with a system of plastic "leaves" which cools the air and then collects any resultant condensation. The water collected then passes through a water filtration system which filters out any chemical and microbiological contaminants.
The smallest device can yield up to 5 gallons daily, while the largest can produce more than 800 gallons a day. Kohavi noted, however, that the technology is easily scalable.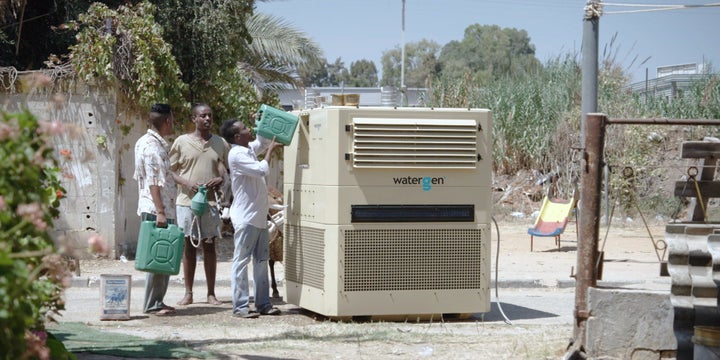 Water-Gen got its start providing its water generation technology to the Israeli military and other armies, including those of the U.S. and France. But the company said its focus has recently shifted to providing the technology to communities facing water scarcity.
"We think it's possible to bring drinking water to all countries. Humidifiers, army solutions, etcetera are a secondary issues," Maxim Pasik, Water-Gen's chairman, told Business Insider in an interview this month. "What's important for us is to bring water to the people. This is a basic human right."
The company is in talks with several governments, including the United States, India, China, Brazil and Mexico. And it's currently doing field tests in cities such as Mumbai, India, and Shanghai, China.
Water-Gen said it's also working with industrial manufacturers to scale up production for its home appliances. The company's products are expected to be commercially available in 2017.
"We've all seen the numbers about the global water crisis: under conservative estimates, one out of every ten people in the world lacks access to safe water; one out of every five deaths of children under the age of 5 is the result of a water-related disease," Kohavi said. "Global leaders have made it clear that all sectors ― government, business, and non-profit ― must take significant steps to reduce our carbon footprint while conserving existing resources. Water-Gen's technology is a critical to expanding access to safe, clean, and sustainable water supplies."
According to the World Bank, 1.6 billion people live in countries and regions that struggle with water scarcity. That number is expected to balloon to 2.8 billion by 2025.
"There is zero doubt that the threat posed by global climate change means that water supplies will be under increasing amounts of stress each year," Kohavi said. "We're excited about the impact we can make for the world."