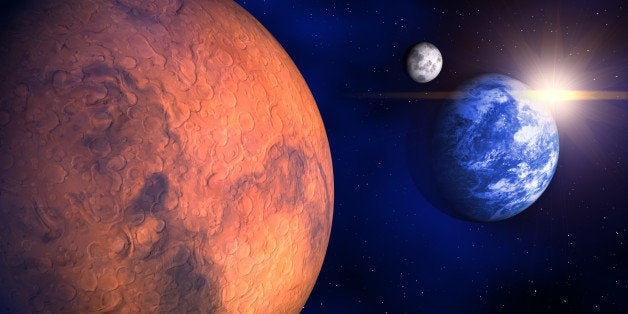 After decades of debate, scientists at NASA are confident that water flows on our red planet neighbor. This is a major scientific breakthrough that suggests that there may yet be a positive answer to David Bowie's 1970s hit, 'Life on Mars?' Back on Earth, there's been a great deal of noise about the new Global Goals for sustainable development and water is once again a central theme.
I'm pleased a new set of goals have been endorsed by every country, but what keeps me up at night is how we're to going to achieve this bold new agenda. For example, goal six aims to deliver water, sanitation and hygiene to everyone, everywhere. If we're successful at achieving this goal, we'll be closer to ending poverty, reducing child and maternal mortality, and ensuring all children go to school and get the best start in life because safe water is essential.
Today, more than 650 million people don't have access to clean drinking water, and more than 2.3 billion have no access to a basic, private toilet which means untreated waste continues to spread harmful diseases. Every year almost half a million children die from these diseases which cause severe diarrhea.
What is unconscionable to me is that in this day and age, such a huge number of children are dying from diseases that are completely preventable and curable. Proven, lifesaving interventions to prevent and treat diarrheal diseases exist, and history has demonstrated that they work. In the last three decades, millions of children's lives have been saved thanks to improved sanitation, breast feeding, simple rehydration treatments, and more recently, with new vaccines.
Vaccines have been developed to protect children from rotavirus, the leading cause of severe diarrhea. According to a new report, 80 countries have introduced a rotavirus vaccine into their national immunization programs. This is a great start but there is still a long road ahead. Making sure all children have access to the rotavirus vaccine is critical to reducing child deaths around the world. While the world works to get this vaccine to all children, it is particularly important that homes, health centers, and schools everywhere to have reliable, clean water and safe toilets.
All governments must live up to their commitments to prioritize child health, clean water, and safe sanitation. The rest of the international community must measure progress and hold world leaders accountable for successes and failures. As heads of states return from the United Nations General Assembly to their home countries, it is critical that they carry the political and economic will forward to ensure that everyone has the right to healthy and sustainable future.
Water on Mars may have captured the headlines this week, but I'm more excited about the possibility of saving millions of lives by improving water, sanitation, and health here on Earth.
REAL LIFE. REAL NEWS. REAL VOICES.
Help us tell more of the stories that matter from voices that too often remain unheard.