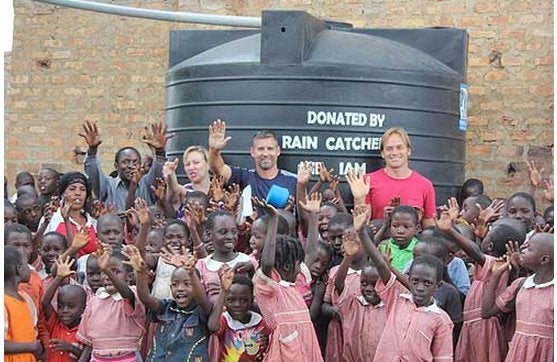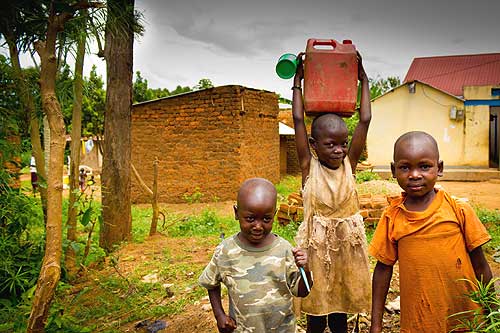 World Water Day is March 22 -- the perfect time for us westerners to raise our chilled, thirst-quenching glass of it (or our refreshing cup of tea) to the almost one billion people around the world without access to clean drinking water.
Six thousand people die every day from water-borne diseases like cholera and typhoid. Most of them children under five.
A Malibu-based charity RainCatcher is fighting this global water crisis by installing rainwater harvesting systems and donating water filters wherever it learns of a need. Rainwater is far cleaner than ground water.
RainCatcher's executive director, David Zielski, has just returned from a trip to Uganda to install 20 new harvesting systems at schools in Masaka and Mbarara. He said, "Masaka has an average 220 days of rain a year. These are perfect conditions to keep the tanks full of clean water for the kids to drink."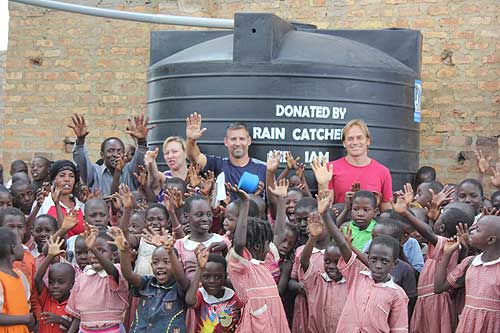 Since 2009, RainCatcher has provided access to clean water for more than 600,000 people in Africa, India and Haiti. Some remote villages just need to filter water from streams that harbor diseases like E. coli and salmonella. Water isn't only for drinking. It's also needed to irrigate fruit and vegetable plots.
Some regions of India get 80 inches of rain a year, but they get it in two months. So they have a massive storage issue. RainCatcher provides resources to install gutter systems on new and existing structures to harvest rainwater and store it in containers (that can hold up to 10,000 liters) placed on solid concrete foundations. Wherever possible, RainCatcher hires local teams to install them.
The biggest problem in Africa is broken wells. In some areas, 80 percent are dysfunctional. Water from the ground is often polluted with chemicals, pesticides and heavy metals, especially in India.
RainCatcher uses filters made in Florida. They are based on kidney dialysis technology with thousands of tiny tubes too small for cholera, typhoid microbes and other harmful bacteria to get through. There are no moving parts.
Mark Armfield, RainCatcher's founder and chairman, said, "We are dedicated to healing communities by providing clean drinking water for children in the developing world, using affordable and sustainable solutions. Water is life."
Rainwater harvesting dates back to the Mayans who built their cities on a five-percent angle so they could catch rain in big cisterns. It was their only source of water.
Before you start installing your own rain harvesting system to generate sustainable and permanent safe water sources, check it's not against the local laws. It's not allowed in some American states on the grounds that you are stealing water from someone else - i.e. the nation's reserves.
Popular in the Community