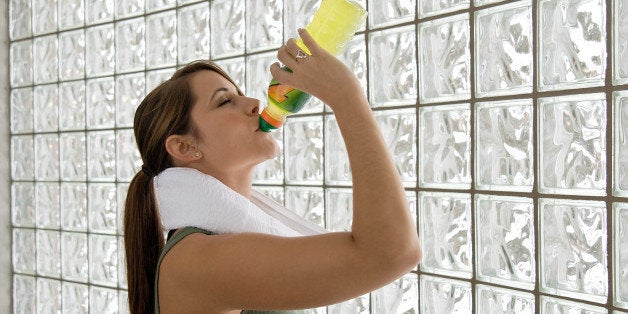 If you thought Big Soda's decades-long "War on Water" -- part of their strategy to increase sales of soda and other bottled drinks -- couldn't get any worse, you were wrong. The latest assault, courtesy of PepsiCo, is in the form of a mobile game for youth that brands water as the enemy of athletic performance.
According to a case study video posted on the 2013 Interactive Advertising Bureau MIXX Awards Winners Gallery, bronze award-winner Gatorade took action after learning that teen athletes often choose "to drink water during practice because they thought it provided the proper hydration they needed."
Of course, for all but a minute percentage of youth athletic endeavors (such as a marathon or all-day soccer tournament) water is the ideal choice for proper hydration, but that didn't faze sugary drink brand Gatorade one bit. In an effort to change hearts and minds, as well as further increase parent company PepsiCo's enormous profits, Gatorade brand managers asked media agency OMD to drive home the following message to youth athletes: Gatorade is superior to water.
The case study video goes on to describe how OMD responded cleverly, integrating Gatorade's new anti-water message into an existing Gatorade-sponsored mobile game, called Bolt!:
We came up with an entertaining and competitive way to reinforce to teens that consuming Gatorade would help them perform better on the field and that water was the enemy of performance.



Working with a game developer (Rock Live, Inc.), we integrated Gatorade into Bolt!, a mobile game featuring Usain Bolt, Gatorade athlete and the fastest man in the world. The integration needed to position Gatorade as the hero helping drive better performance and higher scores with water as the enemy that hinders performance.
The objective of OMD's newly created integrated game, released in the U.S. in April, 2013, "was to maneuver Usain's character through a course in the fastest time possible, gathering Gatorade along the way to make him go faster and avoiding drops of water that slow him down." That's a pretty clear message PepsiCo is sending to kids and teens-drink "hero" Gatorade if you want to perform at your peak as an athlete, like Olympian Usain Bolt. But drink the "enemy" water and your performance will suffer.
Not surprisingly, the mobile game campaign to brand water as the enemy was a rip-roaring success. According to the video, Gatorade attracted four million online fans and "a network of influential celebrities to generate buzz around the game, including Usain himself, Troy Polamalu, and Justin Bieber." The game has had 2.3 million downloads and has been played 87 million times. The majority of players (73 percent) fall within Gatorade's key demographic segment of 13-to-24 years old. However impressive those numbers are, the most impressive number to Gatorade is this:
More importantly though, the 820 million brand impressions generated, drove home the message that Gatorade helps you perform better than water.
If anyone was still harboring hopes that Big Soda was really interested in helping First Lady Michelle Obama increase water consumption through her Drink Up Campaign, this latest attack on water should burst that bubble.
To briefly recap, Big Soda's War on Water has so far also included:
Coca-Cola nationwide "Cap the Tap" program that teaches and rewards restaurant wait staff for turning a tap water order into a profitable Coke beverage order. (Note: Coca-Cola shut down the Cap the Tap webpage after it was criticized.)
Corporate supporters listed on the Drink Up website (American Beverage Association, Dasani, Aquafina, and Crystal Clear Water) linked to pages marketing non-plain water drinks. (Note: The links on the Drink Up supporters page are no longer active, after they were criticized but you can see what they used to link to here.)
The next obvious question is what else is Big Soda doing to quash consumer water consumption, and damage the First Lady's Drink Up campaign, that we have yet to discover? Stay tuned...
You can watch the full video about the Bolt game here.
Related