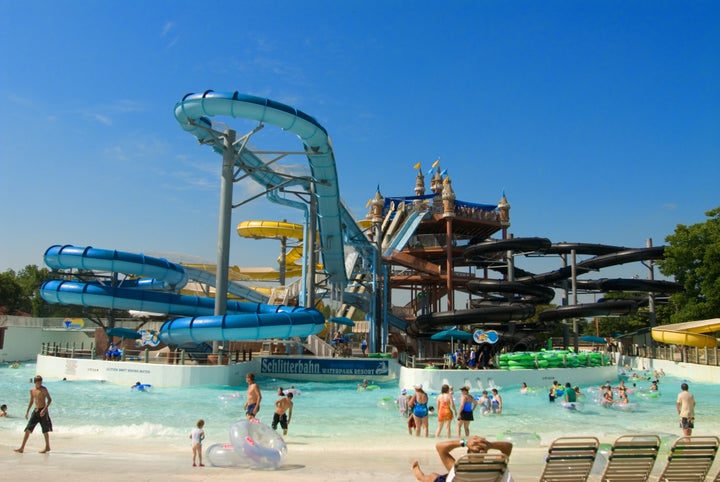 Water parks in Austin, Texas offer many opportunities for families to escape the Texas heat and enjoy a variety of fun aquatic activities. As part of a Huffington Post Travel series on water parks, here is our guide to all the key information visitors need to know about them in Austin, Texas.
Schlitterbahn Waterpark Resort
underwent major expansion in 2011, including the addition of new rides and attractions. The resort's lodgings are also newly renovated and various resort packages make it convenient for families to stay and play.
The Black Knight
Riders on the
water slide start six stories up in Blastenhoff Tower. They then navigate their two-person inflatable tube as it plunges through 550 feet of twisting, dipping, diving darkness.
Boogie Bahn
Other popular attractions at the park include the
, where beginners and experienced surfers can hang ten on their own board. Less adventurous visitors may enjoy relaxing in the Dragon's Lair Hot Tub. Many attractions also cater to younger children, including the Lagoon Kiddie Park and Polywog Pond.
Fun Food
Fun is the focus at Schlitterbahn's food spots. Cheeseburgers, chicken strips, grilled chicken sandwiches, chili cheese fries, turkey legs, sausage-on-a-stick, barbecue, ice cream, funnel cakes and a variety of pizza are among the favorites on menu.
Safety Record
Our research revealed no notable news reports of accidents or safety issues at Schlitterbahn Waterpark Resort.
Address: 305 West Austin, New Braunfels, TX 78130 Phone: 830-625-2351 Hours: 10 a.m. to 8 p.m. daily Memorial Day weekend through mid-August. Hours vary in late spring and late summer. Price: $63.97 for general admission; $55.97 for children 3 to 11 and senior visitors 55 and over. All admissions include a souvenir cup with free refills and a towel. Other packages are available.
Shore Club Volente Beach Water Park
Formerly named Volente Beach Water Park, Shore Club Volente Beach has undergone major renovations with new attractions and upgraded facilities. The park is located on the shores of Lake Travis, a popular Austin-area destination for outdoor recreation.
The Sidewinder
The
is guaranteed to provide thrills for park visitors. This wet and wild water slide spins riders in all directions as they head for splashdown.
The Pirate Ship And The Lazy Lagoon
The Gator's Crossing over-the-water obstacle course will require every bit of balance to keep visitors out of the drink. For high-seas adventure, kids will love exploring the
. And when it's time to relax, Lazy Lagoon is the perfect place to drift away a hazy afternoon.
Casual And Upscale Dining
Shore Club Volente Beach offers a variety of casual and upscale dining options from hand-cut steaks and seafood to burgers, pizza, funnel cakes and ice cream. The park also has meal packages for burger and gourmet burger parties, BBQ beach parties, pizza parties and fajita fiesta parties. Picnic facilities are also available and visitors are encouraged to bring their own coolers.
Safety Record
Our research revealed no notable news reports of accidents or safety issues at Shore Club Volente Beach.
Address: 16107 Wharf Cove, Volente, TX 78641 Phone: 512-258-5110 Hours: May 26 through Aug. 21, 11 a.m. to 7 p.m. Wednesday through Sunday. Aug. 27 through Sept. 11, 11 a.m. to 6 p.m. Saturday through Sunday. Price: $19.99 for visitors 42 inches and taller, $14.99 for visitors under 42 inches, free for visitors 2 and younger.
Other Noteworthy Parks Near Austin
What's your favorite water park in Texas?