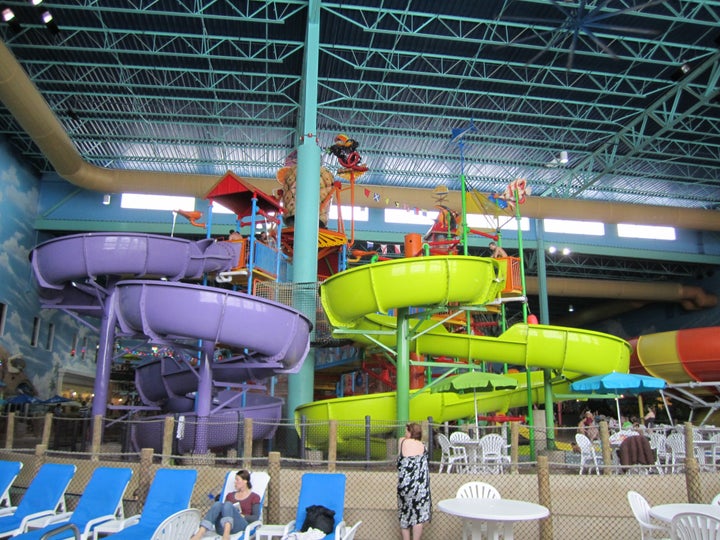 offers a Florida-style vacation in the heart of the Midwest. You have to stay at the resort to get access to the indoor waterpark, but there are 65,000 square feet of water thrills here to keep the whole family entertained during a multi-day, mini-vacation. Plus, it's only a short walk away from Six Flags Great America. To top it off, some specials include overnight accommodations, entry to the waterpark and admission to Six Flags.
The
is a swirling whirlpool ride for thrill-enthusiasts. The ride sweeps guests around a stormy path before ending up in the gentle currents of the Lazy River.
Other attractions include the Splash Down and Slip Slidin' Away, two 500-foot-long body slides, and the Wahoo and Screaming Banshee, which ends in a lagoon. The Tsunami Washout Wavepool allows guests to float around with the tide, while the KeyLime Grotto promises relaxation for parents at the end of a long day.
The resort has six restaurants on site; menus incorporate everything from tropical twists like jerk chicken salad to classic American burgers and fries.
While some guests have voiced concerns over the slipperiness of the floors at the resort, safety hazards like these exist at many water parks. Our research revealed no notable news reports of accidents at KeyLime Cove.
The
is a crowd favorite. Guests climb on a tube with up to three friends, whoosh down the slide, drop into the funnel and shoot far up its sides before taking a soaking plunge down into the pool below.
draws thrill-seekers with it's 65 feet high starting point. The speed slide allows riders to plummet downward at 38 miles per hour. Other notable attractions include the
, a curvy trio of tube slides that direct riders into a pool adjoining Kookaberra Kreek and the
, which begins far above the park and ends with a splash.
Raging Waves offers the standard fast-food fare as well as some snacks such as funnel cakes and Aussie shaved ice.
Our research revealed no notable news reports of accidents or safety issues at Raging Waves. The water park's general manager Mike Fijas serves on the Safety Board for the World Waterpark Association.