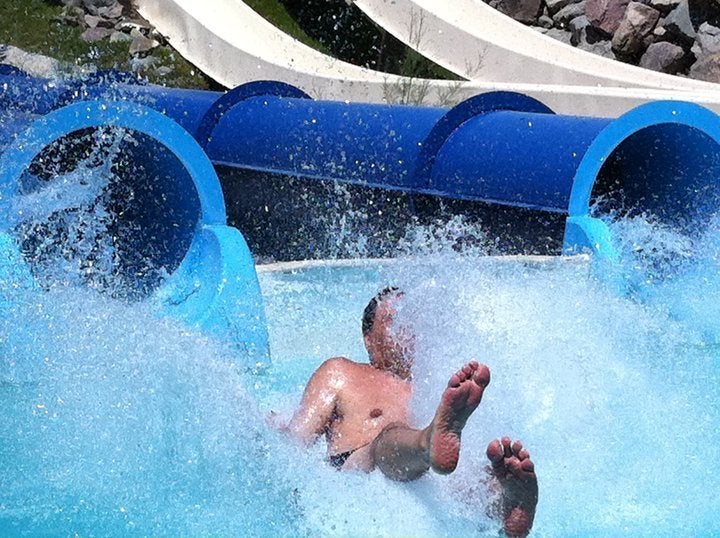 is park number three on the Travel Channel's list of
. Like much of Colorado, the park has a lot of space -- 64 acres -- and they have used it wisely with 47 water attractions. Some of those attractions are just for tots, others are for family adventures and many are for thrill seekers.
Although Water World has
, the park is famous for the thrill ride, "Voyage to the Center of the Earth." It consists of circular rafts holding multiple riders that go through a man-made cave with steep downward spins, drop-offs and dinosaur encounters. Visitors should get to the park in the morning and head for this ride first to beat the crowds.
A new water feature at Water World is the family fun zone, Big Top. Designed for tots, the water pool has a circus theme with elephants spouting water. There are three Children's Play Adventure areas, along with other unique settings: Calypso Cove, Thunderbay, Wild Isle, River country, Thrill Hill and Wally's World. With ride names like Screamin' Mimi, Storm, Turbo Racer and Space Bowl, visitors can only imagine their thrill factor.
A picnic pavilion is provided on the Water World grounds, but if visitors would rather not bring their own food there are many options -- Canning Company serves burgers and hot dogs, while Lighthouse Desserts scoops up ice cream and makes funnel cakes. Pier One Pizza and Taco Wally's always have a line.
In 2009, a 48-year-old
in the small wave pool. It was the first drowning in the park since it opened in 1979.
is a great alternative to the huge and far more expensive thrill-ride water parks. It is perfect for family members of all ages who want a more low-key water adventure experience, especially younger children.
The
, located in the
, is a favorite with Pirates Cove visitors. It is a 750-gallon bucket that slowly fills with water and then tips over and dumps on anyone standing below. The leisure pool area has zero-depth entry, which makes it easy for small children to enter the pool and play.
The
is popular with inner-tubers and the Spray Garden is a hit with the younger set. Visitors can build a castle in the beach area, slide down the 35-foot Slide Tower or practice diving in the large competitive pool.
The Barnacle Cafe offers pizza, hot dogs, hamburgers, french fries and churros. Pirates Cove has a shaved ice stand with 50 flavors of syrup. Visitors are allowed to bring coolers into the park but they may be checked for restricted items like alcohol.
Research revealed no notable news reports of accidents or safety issue at Pirates Cove.
Related