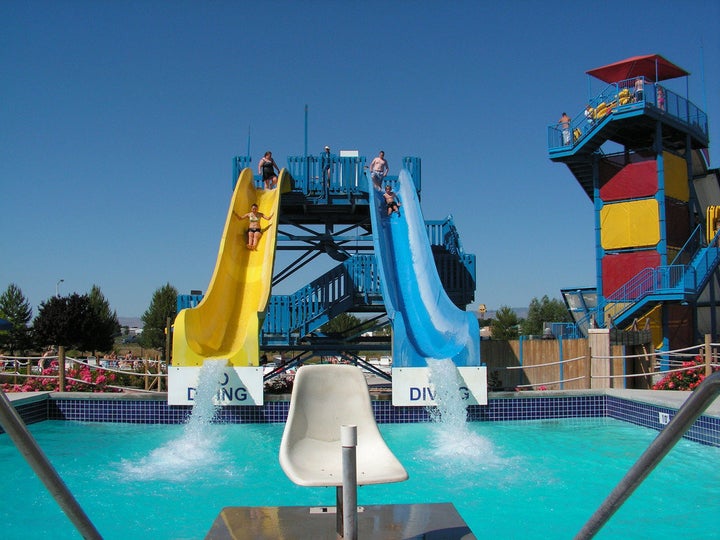 You can start your day on a fast-paced 350 ft. aquatic drag race or hit the
where you can relax and just watch the action around you. You can meander the Endless River or go airborne on the Double Trouble Drop Slide.
offers water entertainment at every thrill level.
The first of its kind in Idaho, the
is a four story "zoomin' flume" that whirls into a high velocity vortex before the final water plunge. This is a two-person bowl ride and it is the newest in slide design and technology, according to park staff.
The
is a four-person raft and is like an Olympic bobsled on water.
, the newest addition to the park, is a 50-foot high slide that drops quickly three times before the inevitable big splash. The
is a twisty-turning kiddie tube slide.
Fresh squeezed lemonade is a popular refreshment at the park and there is a variety of foods to choose from, like sandwiches and Mexican food. No outside food is allowed at the park, but you may eat a picnic meal in an area just outside the park.
Our research revealed no notable news reports of accidents or safety issues at Roaring Springs water park.
New for the 2011 season is a family raft ride called Ricochet Rapids. A raft slides down a 40-foot hill, goes into a 30 -foot valley and drops into a 20-foot diameter enclosed tube. Guests ricochet up and down and around the sides of the tube, before the final plunge.
The park has three speed slides on Velocity Peak and four serpentine tube slides in an area called Rumble Falls. Two wave pools and a Lazy River are the perfect spot for the non-thrill seeker who just wants to beat the heat.
Food choices at the park include a barbecue stand and a Wok In The Park Chinese restaurant. Elephant ears are a popular treat and there are the usual choices of corn dogs and burgers as well. No outside food is allowed in the park, but guests can use tables at the RV park next door.
While there have been no notable reports of accidents at the water park,
, located on the same grounds, had a roller coaster malfunction in 2009. Passengers were left stranded briefly on the ride but no injuries were reported.
Related