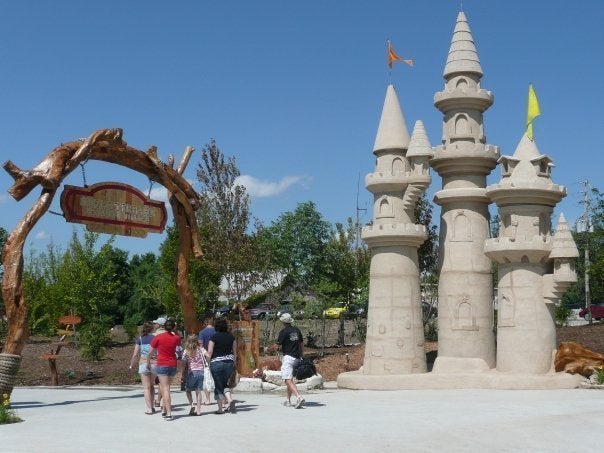 in Kansas City -- one of four Schlitterbahn Waterparks in the country, and the only one outside of Texas -- offers fun for the entire family, from calm and relaxing beaches, rivers and children's play areas to adrenaline-pumping rapids, chutes and slides. Throughout the season, the park hosts charity events, festivals and educational activities and offers the Splash Cash payment program, so families can use their wristbands instead of cash and cards to purchase food and merchandise. As a bonus, the renowned
shopping and entertainment center, featuring popular stores, sports venues and restaurants, is next door.
Schlitterbahn has three signature attractions: Storm Blaster, a water slide that feels like a roller coaster; Torrent River, the longest tidal wave waterway in the world; and the
, a waterway that connects all of the park's attractions, allowing visitors to explore everything while staying in the water.
Schlitterbahn boasts 20 attractions, six of which were added in 2011, including surfing ride Boogie Bahn and white-water rapids ride Blitz Falls. Other attractions include Wolfpack and Black Night, 42-foot-drop tube slides; Henry's Hideout, a huge hot tub with refreshment bar; and Torrent Cove and Kristal Beach, mild-wave relaxation areas.
The park offers a wide variety of meal, dessert and snack options, from watermelon, hot dogs and sandwiches to cookies, candy and funnel cakes. Schlitterbahn also allows visitors to bring their own food into the park; glass containers, alcohol and grills are prohibited.
The park, which
, has no cited safety incidents.
Slide, dip, drop, twist and turn in the five-story Triple Twist funnel experience, the first of its kind and considered
. The fun goes even further at night with strategically placed lighting in the dark tunnels. The height requirement for this ride is at least 48 inches.
The 10 water park attractions featured at the lodge include something for almost every age group. Toddlers can safely explore the shallow Cub Paw Pool and older children can jump from lily pad to lily pad at Big Foot Pass, while teens and adults can go water tobogganing in The Howlin Wolf and speed down slides at Totem Towers. Most age groups can enjoy Alberta Falls, a four-story slide that slithers through the lodge; Crooked Creek, a calm, gently winding river; and Fort Mackenzie, a four-story treehouse with bridges, nets, a soaking station and a 1,000-gallon bucket drench.
Great Wolf Lodge guests have sit-down and snack-shack dining options. Fare includes everything from pizza, sandwiches, salads, hot dogs and cheeseburgers to hot pretzels, ice cream, fudge and pastries.
The lodge, which opened in 2003, has no cited safety incidents and prides itself on keeping the water park safe by employing
.