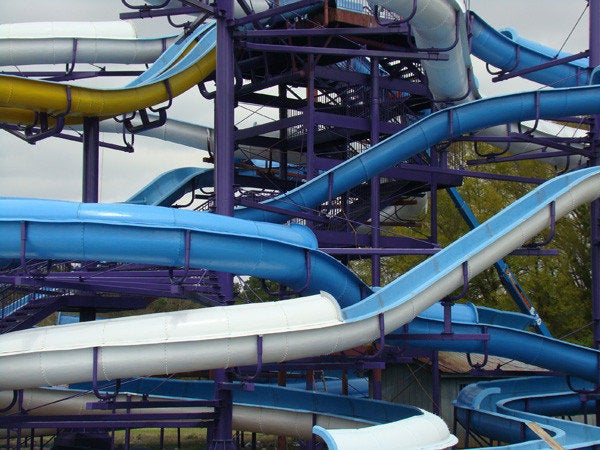 This family friendly
has 20 acres of water activities, a large
and catering for groups. The Lazy River, a long, winding stream, is the perfect spot for guests of all ages that want to kick back and relax. The park has over 12 slides, a wave pool and a special pool area just for smaller kids (formerly Water Town USA).
Three of the tube rides that are popular with
are Flashflood, Monkey Business and Bonzai. They are all single-rider body slides with fast acceleration, steep drop-offs and a big splash finale.
is a large water activity center for the younger set, complete with a water castle and water toys. The Lagoon activity pool and wave pool are great spots for the entire family to play.
The Courtyard Grill serves up a wide variety of grab-and-go food such as burgers, wraps, salads, smoothies and veggie burgers. A picnic area is also available for guests.
Our research revealed no notable news reports of accidents or safety issue at Splash Kingdom Water Town.
The water park touts
, which is the world's largest dark bowl slide, as well as Racers, the world's largest racing mat slide. The lines are usually long at these two rides, but they move fairly quickly. Arrive early to beat the lines and grab a
.
Mad Moccasin is an enclosed body slide, and the side-by-side Lafitte's Plunge has a 90-foot drop to a seemingly endless pool. The giant wave pool has up to four-foot waves, and Conja is the world's largest inline water slide, according to park staff.
There are many food stations around the park serving burgers, hot dogs, chicken, pizza and sandwiches. Fresh squeezed lemonade is also offered as well as a variety of sweets like funnel cakes. No outside food is allowed in the park, but you may leave the park and re-enter.
While our research revealed no notable news reports or safety issues reported at the Blue Bayou water park, the adjoining Dixie Landin' park had a fatal roller coaster accident in 2010, according to the
.
Related