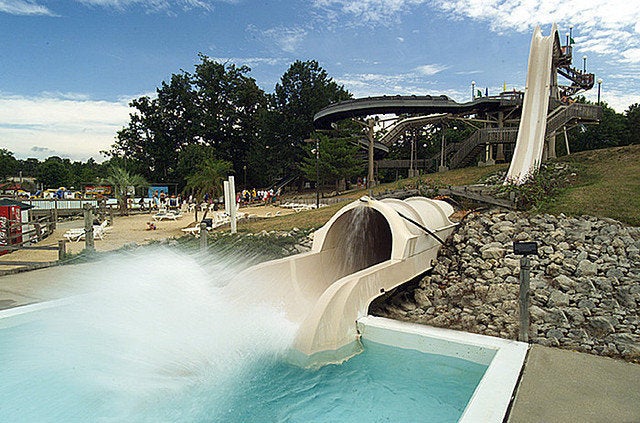 Voted "Best Privately Owned Water Park" by
,
has a 750,000 gallon tropical wave pool, over 50 rides and real sand. In fact, the tropical theme throughout the park just adds to the family fun.
is a 500-foot-long water roller coaster that twists and turns before dumping riders in the pool. Equally thrilling is
, a slide that drops riders five stories in about three seconds.
With over 50 heart-stopping rides, you may need to take a break at one of the beach volleyball courts or relax on a lily pad in
. The Beach also offers
on Saturday and Sunday nights for some late-night dancing under the stars.
The Beach serves up some family-friendly fare at three spots: Captain Cooks, Cancun Cafe and Blue Grass Beachside Grill. All three locations offer hamburgers, hotdogs, cold beverages and ice cream.
Our research reveals no notable news reports of safety issues or accidents at The Beach. They are staffed by Red Cross-certified lifeguards and offer swim lessons on premises.
Kalahari has slides, raft rides and mat slides, but the most unusual and popular attractions are the two
, which let you experience what it is like to surf or boogie board on the open water.
is also a family favorite, allowing guests to have a river rafting adventure while indoors.
Kalahari has an additional
that is open from Memorial Day through Labor Day and features another pool, hot tubs, beach volleyball and shuffleboard. If a central gathering space is needed for family and friends, ask about renting an indoor cabana or an outdoor bungalow.
Kalahari offers a variety of dining options, from hamburgers and casual snacks to the infamous Candy Shack. If you prefer to dry off, it has several sit-down dining options on the premises as well.
According to
, a small child drowned in the children's splash area in 2009, and the park was cited in 2008 for having too few lifeguards on hand. Kalahari requires that all guests under 48 inches tall wear a life jacket at all times. They are provided free of charge when available, but consider bringing an extra, in case it runs out.