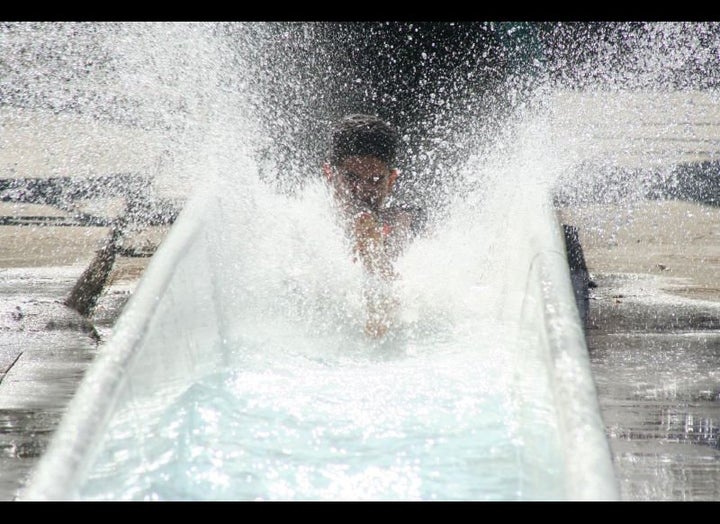 Water parks in Sacramento can cool you off with a thrill slide or a slow and easy chill ride, and the whole family can soak up the fun. As part of a Huffington Post Travel series on family-fun parks, here is our guide to all the key information visitors need to know about Sacramento water parks.
Raging Waters Sacramento
, one of the largest water parks in Northern California, boasts more than 25 major water attractions, from thrill slides like Splashdown and Cliffhanger to the Calypso Cooler Lazy River. You can test your agility on the six-foot tidal waves at Breaker Beach Wave Pool or walk calmly into a zero depth pool.
The Den Of The Dragon
The
shoots you through five stories of darkness on a tube. From there, you fall into a dragon and disappear, showing up just in time for the grand finale splash. The Shark Attack extreme water slide is actually a series of high tube slides popular with thrill seekers.
Big Waves And Water Slides
Hooks Lagoon is a five-story water attraction with slides, secret tubes and water toys. The Honolulu Half Pipe is essentially a giant, four-story wave that provides a free-fall experience for single riders, while the Great White is a water luge for doubles or triples. The thrill rides have various height requirements with visible signs posted.
Poolside Cuisine
This Sacramento water park has the Beachside Cafe, Coral Cove Cafe and High Tide Snacks, serving everything from sandwiches, salads and Mexican fare to ice cream treats and snack foods.The Snack Shack offers drinks and candy. While no outside food is allowed in the park, there is a picnic grove and tables in designated areas for eating.
Safety Record
Our research revealed no notable news reports of accidents or safety issues at Raging Waters Park Sacramento.
Address: 1600 Exposition Blvd., Sacramento, CA 95815Phone: 916-924-3747Hours: Generally open daily in summer 11 a.m. to 6 p.m. Some weekends until 7 p.m. (check the site calendar for August and September).Price: $29.99 for adults and children over 48 inches tall; $20.99 for juniors (children under 48 inches tall) and seniors (60 and over); free for children under 2
Golfland Sunsplash Water Park
Who knew the Bermuda Triangle was located inside Sunsplash Water Park? An inner tube and the gentle flow of a current is all you need to enjoy it. If that is too tame, try the Master Blaster Water Coaster which, like a combination roller coaster and waterfall, takes you straight down five stories at 40 miles per hour on an inner tube.
Rider On The Storm
Stormrider is the Valley's first four-person water slide, and according to park officials, "the first ride like it in the entire world." It is a progressive bowl-type slide that can be ridden alone on an in-line tube or with friends on a quad cloverleaf raft.
Rides: Something For Everyone
Thunder Bay Wavepool is a huge pool with 84-foot wide "tsunami waves" for riding. Guests under 48 inches must wear a life vest while in the pool. Another attraction, The Vortex, is not for the faint of heart, as guests drop four stories into an open bowl and spin. Adventure Island is a calm respite for those wishing to stay cool yet relaxed.
Pizza, Subway And Snacks
Fresh pizza is available along with a Subway restaurant and other snack food. No outside food is allowed into the park. There is a picnic area and pavilions for eating.
Safety Record
Our research revealed no notable news reports of accidents or safety issues at Golfland Sunsplash Water Park.
Address: 1893 Taylor Road, Roseville, CA 95661Phone: 916-784-1273Hours: Generally the water park is open in the summer daily 11 a.m. to 6:30 p.m.; they have some "night slides," from 5 p.m. to 10:30 p.m. when weather permits (check the site calendar as the hours vary by month).Price: General admission is $26.99; $20.99 for guests under 48 inches and seniors
Other Noteworthy Water Parks Near Sacramento:
What's your favorite water park ride?
Related