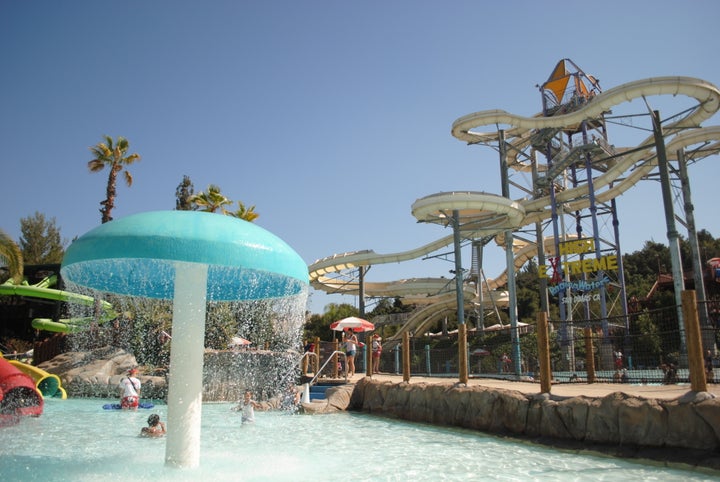 Water parks in Southern California are perfect for surfing without an ocean -- and you don't even need to know surfer slang. Try a family date at a water park, where the water activities are as abundant as the fun. As part of a Huffington Post Travel series on family-fun parks, here is our guide to all the key information visitors need to know about Southern California water parks.
Raging Waters
is California's largest water park, according to park officials, with 50-plus acres of room for their 36 slides and numerous water attractions. The park has a new surf simulator called Flowrider so you can practice hanging 10 without an ocean. Plus, its Splash Island and other attractions are designed just for kids.
Drop Out
The park has quite a few
. One is Drop Out, a seven-story drop slide that speeds guests down to the bottom in four seconds at 40 miles per hour. Another is the new Dr. Von Dark's Tunnel of Terror that includes vertical banks, a 40-foot drop and 360-degree spins in total darkness.
Splash Island
Splash Island is designed for kids and has 12 levels and 75 activities to keep the younger set water-occupied. It has five slides, water canons, tunnels, nets, a swinging bridge and more. A 1,000-gallon bucket is perched up high and tips on the crowd below every few minutes.
Burgers, Pizza And Chicken
This Southern California water park has a variety of food, from burgers, fries and pizza to chicken, salads and sandwiches. Food stands dot the entire park, and outdoor seating is available. No outside food or beverages are allowed inside the park.
Safety Record
According to an article in the
, in 2001, a float tube accident on the park's Raging Rivers ride led to a lawsuit.
Address: 111 Raging Waters Dr., San Dimas CA 91773Phone: 909-802-2200Hours: Generally open daily 10 a.m. to 7 p.m. June through August; for some May and September weekend hours see their website calendar.Price: General admission is $36.99 for guests 48 inches tall and over; $22.99 for guests 48 inches and under; kids under 2, free.
Wild Rivers Water Park
It's not just names like Chaos, Wipeout and Bombay Blaster that draw people to this Southern California park. What makes it popular is its good mix of fast-pace thrills and easy going chills. With wild slides, pools, chutes, flumes and a floating river, Wild Rivers offers a variety of activities to accommodate their guests.
Plunge Into The Abyss
The Abyss is a 655-foot dark tunnel ride with a 50-foot vertical drop. It is the longest water slide in the park. The Patriot is a seven-story, four-person slide that is 650 feet long with a two-story vertical drop before the final plunge. If line lengths are the ultimate measure of popularity, these
are the undisputed fan favorites at Wild Rivers.
Small Scale, Big Fun
Typhoon Lagoon has some of the "big rides" miniaturized to kid size, while Buccaneer Bay is an interactive water feature for kids. The kids' area comes complete with a pirate ship and water-shooting cannons. There is a gentle wave pool, a warming pool and two Jacuzzi pools. For rapids, check out Congo River.
Tacos, Picnics And More
It wouldn't be a Southern California water park without Mexican food on the premises. But if guest don't feel like tacos, they can also grab a snack at the park's cafe and numerous kiosks. Although guests are not allowed to bring outside food into the park, there is an area just outside the park with tables set up for a family picnic lunch.
Safety Record
In 2009, injuries that required some form of medical attention were reported in three separate incidents at Wild Rivers Water Park, according to the
Address: 8770 Irvine Center Dr., Irvine, CA 92618Phone: 949-788-0808Hours: The park is open daily from June through August and on some September weekends. July and August hours are 10 a.m. to 8 p.m., other hours vary, check their calendar.Price: General admission is $34.95 for guests 48 inches and over; $19.95 for guests under 48 inches; seniors 65 and older are free.
Other Notable Parks In Southern California
What's your favorite Southern California water park?
Related