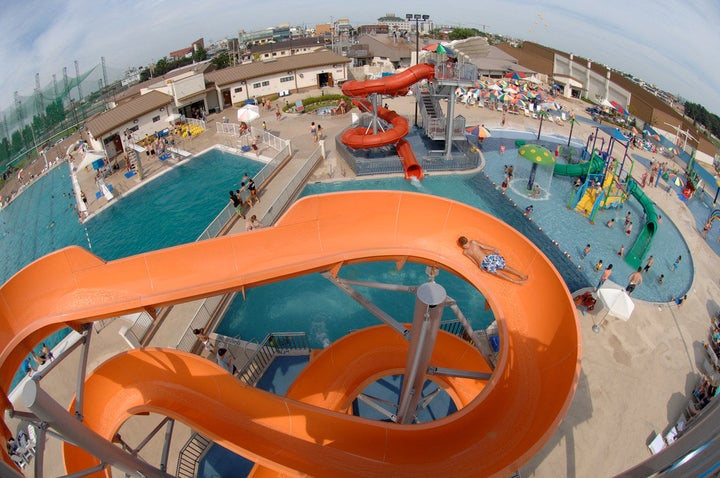 Water parks in Tulsa give families a place to play and relax in the summer sun. Situated in the heart of America, Tulsa grew out of the oil boom at the birth of the last century. Today, Tulsa's water parks give a whole new meaning to the term "gusher." As part of a Huffington Post Travel series on water parks, here is our guide to all the key information visitors need to know about Tulsa water parks.
Big Splash Water Park
Located right next to the Tulsa fairgrounds,
gives families a place to cool off all summer long. The park offers five water slides and the biggest wave pool in Oklahoma. For the younger swimmers there is a kiddie pool and lazy river. In 2009, Justin Bieber performed in the park.
The Silver Bullet
At seven stories tall, Big Splash's Silver Bullet is the tallest water slide in Oklahoma. Friends can race down the twin slides and see who makes the biggest splash at the finish line. There are also speed slides for riders who crave a bit more adrenaline.
Corkscrews And Kiddie Pools
Located on the same tower as the speed slides are the flumes. These corkscrew water slides drop riders into a lagoon. The kiddie pool has sprinklers and geysers giving little ones a safe place to play. Across from the kiddie pool is the wave pool. Lined with cabanas, the wave pool is a great place to relax in the sun. The Master Blaster water coaster lies on an island surrounded by the lazy river.
Food Options
The Ocean View Cafe and Peg Leg Pizza sell snacks and fast food. Visitors are not allowed to bring food or drinks into the park, but Big Splash has a picnic area near the entrance. Visitors can leave the park with a re-entry stamp on the hand.
Safety Record
According to the Tulsa World Newspaper, in 2007, a portion of the Master Blaster fell off the rest of the slide. An 11-year-old girl that was riding on the slide at the time was jolted, but not seriously hurt.
Address: 4707 E. 21st St., Tulsa, OK 74159 Phone: 918-749-7385 Hours: The park is open Monday through Thursday from 10 a.m. to 6 p.m., Friday and Saturday from 10 a.m. to 8 p.m. and Sunday from noon to 6 p.m. Price: Adults and children over 48 inches tall, $22.95; Children under 48 inches and seniors 55 and older, $18.95.
White Water Bay
White Water Bay is the largest water adventure park in the state of Oklahoma. The park offers more than 30 different rides and attractions. Every Friday night, the park offers a Dive-In Movie, showing family movies on Ship Wreck Island.
Mega Wedgie (It's A Good Thing)
While its name might conjure horrible locker-room memories for some of us, White Water Bay's Mega Wedgie serves up nothing but good times. The 277-foot speed slide sends riders free falling across its 64-foot expanse before plunging them into a pool. Riders must be 52 inches tall to try the Mega Wedgie.
Get Lost In The Bermuda Triangle
The Bermuda Triangle is a twisting corkscrew slide on the same tower as the Mega Wedgie. The wave pool moves more than a half million gallons of water in a variety of different wave patterns. Younger swimmers enjoy Ship Wreck Island with lily pads to climb on, rocks to jump across and body slides. The littlest visitors enjoy the Kid's Kove with a submarine and octopus to climb on and a variety of sprinklers and fountains.
Food Options
With nine restaurants, White Water Bay has something for everyone. The Coral Reef Cafe serves hamburgers, hot dogs and fries, while Sharkey's Pizza serves pizza, soft drinks and beer. A variety of other kiosks offer candy, slushes, soft drinks and funnel cakes.
Safety Record
Our research revealed no notable news reports of accidents or safety issues at White Water Bay Water Park.
Address: 3908 W. Reno Ave., Oklahoma City, OK 73107 Phone: 405-943-9687 Hours: In June and July the park is open Sunday through Thursday from 10:30 a.m. to 7 p.m. On Friday, the entire park is open from 10:30 a.m. to 8 p.m. with limited access until 11 p.m. for the Dive-In Movie. On Saturday the park is open from 10:30 a.m. to 8 p.m. From the second week of August until Labor Day, the park is open on weekends from 10:30 a.m. to 6 p.m. Price: Adults and children 48 inches and taller, $24.99; Guests shorter than 48 inches, $19.99.
Other Noteworthy Parks Near Tulsa
What's your favorite water slide in Oklahoma? Tell us about it in the comments section below.