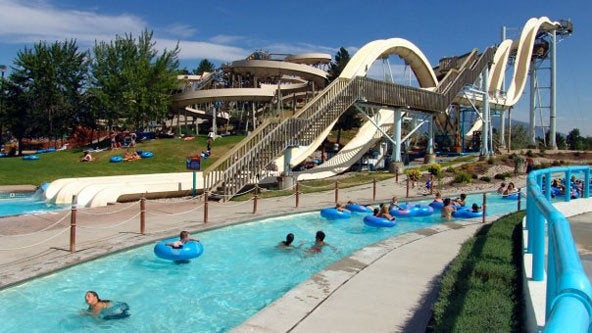 Water parks in Utah are the perfect antidote to lazy, hazy summer days. Utah water parks are designed with families in mind, so grab the sunscreen and let the splashing begin! As part of a Huffington Post Travel series on water parks, here is our guide to all the key information visitors need to know about the ones in Utah.
Seven Peaks Water Park
At
visitors can lounge around in a cabana or take it up a few notches and free fall from a 100-foot drop slide. This is the largest water park in Utah, and includes attractions like a 500,000-gallon wave pool, a lazy river, 16 water slides, kiddie pools and pavilions. It is a thrill-seeker's paradise, a haven for tots and fun for everyone in between.
A Rocket Ride
The towering, 75-foot Lazer's Edge flume is like an inner-tube propelled rocket ride. Riders climb into inner tubes and speed down a long, twisting, fog-filled tunnel amid strobe lights, shooting lasers and adventurous music. Ultimately, the rider is shot out of the tunnel into a pool of water. Even though this ride is popular, the line moves quickly.
High Speeds And Slow Floats
The park has single, double and triple body slides, the giant Half Pipe boomerang tube ride and a speedy Vortex circular ride. Tyke's Peak has two covered water slides for the younger set and a zero-depth pool. Tadpole Pond is a two-pool area of 24-inch deep water complete with a big, soft floating crocodile that kids can climb.
Dine Above It All
The summit grill offers burgers, desserts, snacks and salads. Peaks Pizza makes fresh pies and slices. There are food service areas scattered around the park that serve snow cones, ice cream, barbeque and more.
Safety Record
Seven Peaks has owned the waterpark since Feb. 2011. In 2008 a
was arrested at the waterpark (Raging Rapids) for fondling a 14-year-old girl. Complaints on Trip Advisor and various "mom blog" sites take the park to task for what many season pass holders and locals consider overcrowding at the park.
Address: 1330 East 300 North, Provo, UtahPhone: 801-377-4386Hours: Seven Peaks is open from May 28 through Sept. 5 General public hours are 11 a.m. to 8 p.m. Special early entry passholder; 9:30 to 11 a.m. The park is open 6 days and is now closed on Sunday.Price: All day tickets are $24.95 for guests 48in. tall and up and $19.95 for guests 48in. and under; toddlers under three and seniors 65 and over are free. There are various types of special passes that include items like tube rental, food discounts etc.
Cowabunga Bay
It's the 1960's all over again at Cowabunga Bay, complete with a 1967 VW Beetle, surfboards and "groovy" water features. The park keeps the water temperature warm so it's great for smaller children. Unlike most parks, the inner tubes are free here, so you can float yourself down the Cowabunga Lazy River at no extra cost.
A Six-Story Playground
In the center of Cowabunga bay is "the world's largest water play structure." The Cowabunga Splash is six stories high with bridges, tunnels, net climbs and over 300 water features. it has two giant water buckets that hold 1200 gallons of water, which it regularly pours onto the crowd 60 feet below.
Speedy Slides, Lazy River
The park has nine water slides including super-fast body slides and the Mondo, an enclosed high-speed slide. For younger kids there is a double lane racing slide and both open and closed body slides. The 400-foot-long lazy river is a great place for patrons to chill out.
The Island Grille
The Cowabunga Island Grille has pizza, burgers, chicken wraps, chicken strips, salads, beverages and other snack items.
Safety Record
Our research revealed no notable news reports of accidents or safety issues at Cowabunga Bay.
Address: 12047 Factory Outlet Drive, Draper, UtahPhone: 801-553-1000Hours: The park is generally open June through August, 11 a.m. to 7 p.m. It is open 7 days a week and September weekends (weather permitting). Check their website calendar for further details.Price: The prices are based on height; 48in.and above, $21.99; under 48in. $15.99; military, $18.99; seniors 60+, $8.99 (for full day). Other special rates can be found on their website.
Other Noteworthy Parks Near Utah
What's your favorite water park in Utah?
Related