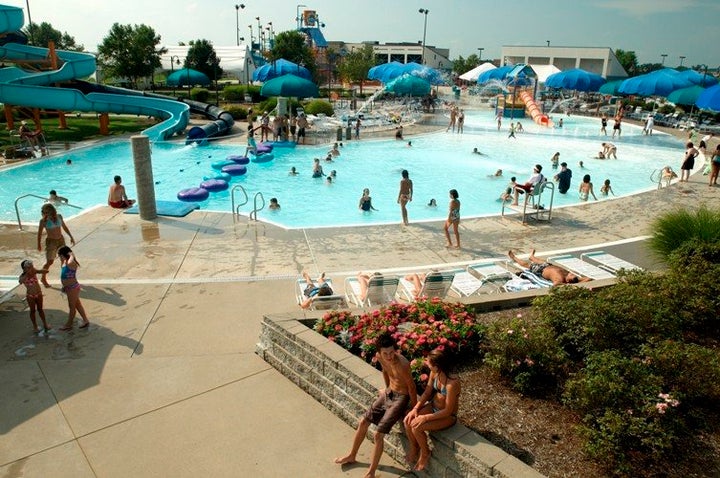 Water parks near St. Louis allow families to escape that Midwestern summer heat -- at least temporarily. Who can argue with an activity that offers summer relaxation in a refreshingly cool environment? As part of a Huffington Post Travel series on family-fun parks, here is our guide to all the key information visitors need to know about St. Louis water parks.
Splash City
family water park is small, but there is still plenty to do for visitors of all ages. From surfing the Flow Rider to sliding down Monsoon Mountain, this park hits the mark for
. Toddlers even have their own safe haven in Guppy Gully, a supervised kiddie pool away from the big kids.
Monsoon Mountain
Monsoon Mountain is a 50-foot-tall water fortress and is Splash city's most popular attraction. The attraction hosts five water slides as well as various hoses kids use to spray each other with water. The fortress also has a bucket that holds 500 gallons of water, which slowly fills and tips over on the unsuspecting guests below.
Catch A Wave On The Flow Rider
Older kids can get their kicks on the Flow Rider surf simulator. It's continuous series of waves are perfect for bodysurfing. Splash City staff teach daily surf lessons for anyone who wants to learn to "hang 10" with the best of them.
Food Options
The Splash City concession area serves burgers, hot dogs, tacos, pizza and chicken sandwiches. Other offerings include chips, french fries, cookies, ice cream and beverages.
Safety Record
Our research revealed no notable news reports of accidents or safety issues at Splash City.
Address: 10 Gateway Dr., Collinsville, IL 62234Phone: 618-346-4571Hours: The park is open in the summer daily from 11 a.m. to 7 p.m., with the exception of Tuesday when it stays open until 9 p.m. for family fun night. Price: Daily admission; children ages 3 to 16, $13; adults 17 and older, $16; seniors ages 55 and older, $12. Collinsville residents receive a $4 discount per ticket. Season passes are available.
Raging Rivers
Raging Rivers is located on the scenic Great River Road along the mighty Mississippi. The park features water slides, splash bowls, fountains, rapids, wave pools and a meandering man-made river. On the Cascade Body Flumes, riders glide with or without an inner tube down a twisting, turning 500-foot slide. The Endless River floats tube-riding revelers along at a lazy 2 1/2 mph.
The One, The Only Swirlpool
The
is "the only one of its kind in the U.S.," according to park staff. It is a two-bowl water attraction that is three rides in one. Guests move swiftly down a tunnel flume, spin into a giant vortex, then drop into a 7-foot deep pool of water. Since it is the deepest water in the park, only strong swimmers should try the Swirlpool.
Itty Bitty Surf City
has pint-sized water slides, splash pools, a rain tree and Fountain Mountain. Treehouse Harbor is the site of a 1,500 gallon bucket that fills with water and tips over, with barely a moment's notice, on the crowd below.
Food Options
The Surf Side Cafe offers burgers, hot dogs, pizza, smoothies and salads. Casa Del Rio is the spot for tacos, burritos and funnel cakes. The Riverside Grille serves up bratwurst, snacks, beer and margaritas.
Safety Record
Our research revealed no notable news reports of accidents or safety issues at Raging Rivers. The park has been closed in the past for up to a week in 2008 when the Mississippi River overflowed and flooded parts of Great River Road, according to
.
Address: 100 Main St., Grafton, IL 62037Phone: 618-786-2345Hours: Raging Rivers is open daily from 10:30 a.m. to 7 p.m. but from Aug. 8 through Sept. 5 the park closes at 6 p.m.Price: General admission; all-day rate for guests taller than 48 inches is $19.95. For guests less than 48 inches, it is $16.95; seniors 60 and older are $16.95; children ages two and younger are free. After 3 p.m there's a $5 discount on all admission prices.
Other Noteworthy Parks Near St. Louis
What's your favorite St. Louis water park? Tell us about it in the comments section below.
Related