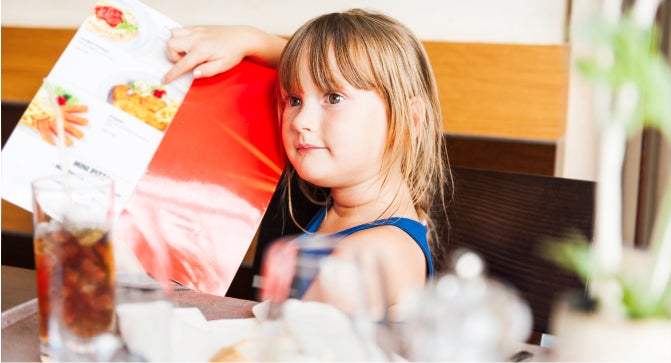 More than ever, Americans are choosing to eat out or pick up a meal on the way home. Given the ease and the variety of options, it's totally understandable.
And if you're also feeding youngsters, it makes sense to go somewhere with a children's menu.
Here's something parents may want to consider when choosing a restaurant: What kind of drink comes with that kids' meal?
Nutrition experts often say their top advice is simple: Don't drink your calories. They emphasize the added sugar in drinks goes a long way toward our nation's obesity epidemic. This is especially true in the fight against children's obesity, as soda, lemonade, sugar-sweetened juice drinks and other beverages with added sugars are taking a toll.
So, for parents, the best move might be avoiding the option. Taking your kids to a restaurant where you know they'll have healthier choices is both logical and easy … or, at least, easier than it was four or eight years ago.
* The top 50 is based on revenue. The number of chains in that group with children's menus varies. In 2016, it was 38. In 2012, it was 41. In 2008, it was 36.
The big takeaway from the new report is that the industry is moving in the right direction, but there's still a long way to go.
Of the restaurants that included a drink on their children's menu, the most common item was sugar-filled. The least common? Water.
The best news from CSPI's findings is that things are trending nicely. The least-healthy items (sugary drinks and high-fat milk) are available at fewer chains, and healthier choices (juice that's at least 50-percent real juice without added sugar, low-fat milk and water) are becoming more available.
You can see all this represented on the following chart, which stacks the results from 2008, 2012 and 2016.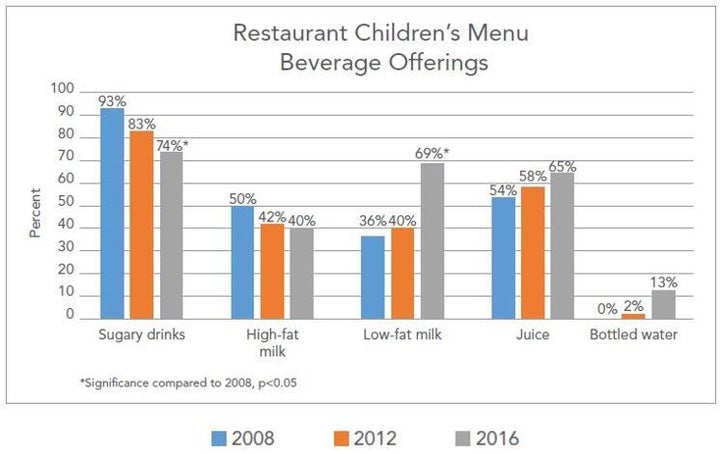 As encouraging as all this is, there's another key piece of information you need to know: In 2013, McDonald's became the first major restaurant chain to announce it was removing sugary drinks from its children's menu. Many competitors followed, including Burger King and Wendy's. Add in Subway, which never had sugary beverages in kids' meals, and that's four of the top five chains with only healthy options. Expanded to the top 50, there are 10 chains that either switched to healthy options or, in one case, doesn't offer a drink in a kids' meal.
Factor all that in and it seems plausible that the numbers would've shifted more in the healthy direction.
That's why Margo Wootan – CSPI's Director of Nutrition Policy and one of the report's authors – believes it is time to stop expecting the industry to change on its own.
"I think we have become so accustomed to junky children's menus that we've come to accept that children's food is chicken nuggets or a hamburger with fries and a soda. But it doesn't have to be that way," she said.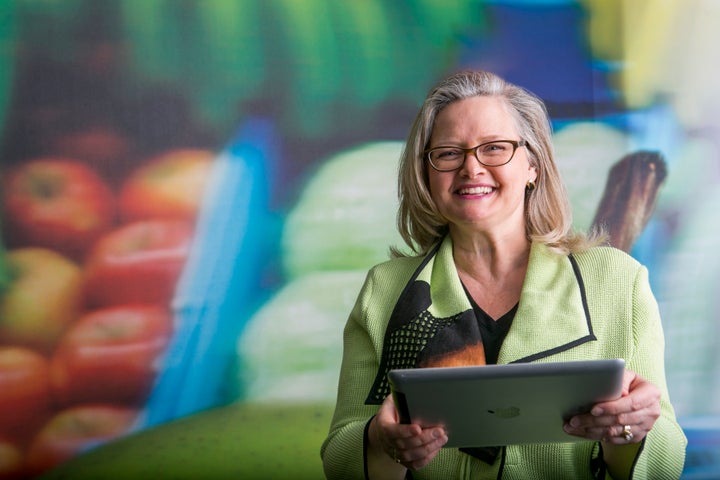 Wootan said the next major evolution will come from the efforts of parents, nonprofit organizations and communities. It all starts with getting away from a server asking a child, "Do you want a soda?"
If more moms and dads limit their rotation of kid-friendly restaurants to those with healthy options, they'll be speaking with their wallets. Their child benefits immediately and, hopefully, enough families join the trend to convince restaurants their bottom line benefits from offering water, low-fat milk and real juice instead of sugary drinks and high-fat milk.
Nonprofit organizations are already encouraging restaurant chains to make healthy options the default. I'm proud to say that my organization, the American Heart Association, is part of this effort, along with the Robert Wood Johnson Foundation and others.
Perhaps the most effective change involves requiring the healthy option to be the default. It's already the case in the California cities of Stockton, Santa Clara, Davis and Perris. They require water, milk or 100 percent juice to be the only options in children's meals.
If it seems farfetched that such a change could spread across the country, I encourage you to think about the shift against smoking and toward using seatbelts. Another example Wootan pointed to was putting nutritional values on restaurant menus.
"Ten years ago, CSPI began asking restaurants to post calories on menu boards," she said. "Only a handful stepped up, and even those often posted calories on a wall by the bathroom. Menu labeling became a national law seven long years ago. And eventually, it will finally go into effect."
A federal rule requiring all restaurants, supermarkets, convenience stores, movie theaters and other food-sellers with 20 or more locations to post calorie counts on their menus was supposed to have gone into effect May 1. However, the U.S. Food and Drug Administration delayed that to May 7, 2018.
"Eating out has become a bigger and bigger part of Americans' diets, so we need to focus more on the nutrition of restaurant menus to support children's health and the cultivation of good eating habits," Wootan said. "My hope is that we get to a point where children's food becomes the best food on the menu."