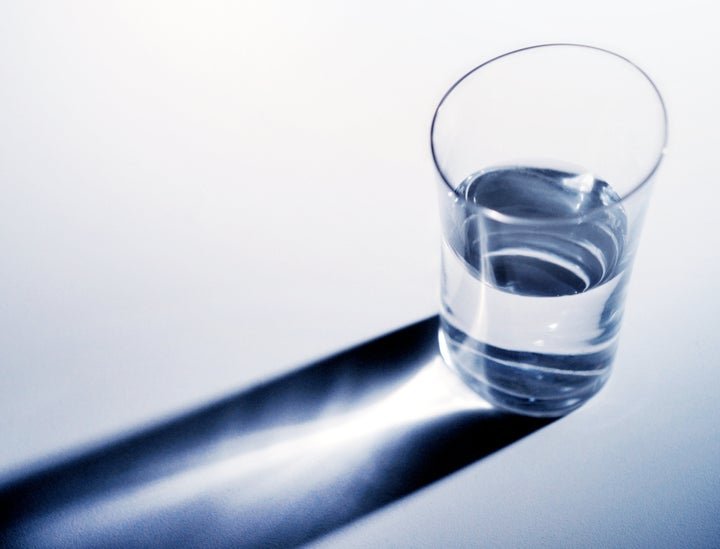 When any given water supply grows scarce, there are only so many ways to adapt our day-to-day, water-reliant lives: Use less water or somehow recycle it.
In the case of the serious drought conditions that continue to grip much of the state of California and areas in other states, many of the short-term solutions have focused on the former. But increasingly, water recycling -- the treatment and purification of wastewater -- is on the table.
Critics have derided the trend -- which comes as food sustainability, encapsulated in the farm-to-table philosophy, gains popularity -- as "toilet-to-tap" drinking. But a new survey released this week finds a surprising number of Californians are on board with the concept.
The online survey of 3,000 California voters, conducted by Edelman Intelligence and commissioned by Xylem, a water technology company, found that 42 percent of respondents were "very willing" to use recycled water in their daily routines. That includes showering, brushing their teeth and, yes, drinking it. Another 41 percent were "somewhat willing" and support increased further after respondents read information about how recycled water is treated.
The support has improved from previous polling on recycled water, and it's not just because of the current drought.
The survey results also suggest that respondents are on board with recycled water even if El Niño-fueled weather patterns bring drought relief. Seventy-six percent of respondents saw recycled water as a promising long-term solution for the drought.
It is that finding that most stood out to Xylem Senior Vice President Joe Vesey, who said the results should indicate a green light of support from Californians to the state's water authorities and political leaders.
"This shows the public is really committed to using recycled water," Vesey told The Huffington Post. "Amidst the greater backdrop of El Niño as a potential savior, that hasn't changed their commitment."
The Xylem-sponsored survey's results are in line with multiple polls that have shown growing support for recycled water in general, though not always for drinking water.
Such a use has long carried a certain "ick" factor that has, in the past, united communities against proposed projects.
That appears to be changing. Fifty-eight percent of Bay Area respondents to a poll released last year by the Bay Area Council, an economic policy nonprofit, supported adding properly treated recycled water to the drinking water supply. That's a big jump from eight years ago, when an Oregon State University poll of Corvallis, a Democratic stronghold in western Oregon, found that 38 percent of respondents supported the use of recycled water for drinking purposes.
Another survey, published in Judgment and Decision Making last year, found 49 percent of participants nationwide said they were willing to drink recycled wastewater, though 13 percent still refused, vehemently, to do so -- even after being informed that the treated water was purer than bottled or tap water.
David Sedlak, co-director of the University of California Berkeley's Water Center, believes that improvement can be credited to an increasing familiarity with water reuse projects among the general public as well as among regulators and engineers. And the drought has certainly opened up people's minds to water scarcity solutions they may have otherwise disregarded.
Still, Sedlak noted, education about water recycling can only go so far. More important, he argues, is a slower process of legitimization that is only achieved as water reuse projects, like those initiated in Orange County and the Inland Empire many years ago, become more commonplace.
"I don't think it's the act of simply telling people about the technology that builds the support for it. It's a lot broader than that," Sedlak said. "I personally am not sure I agree with the idea that simply telling people about the technology in 30 seconds and giving them a poll is a very scientific way of measuring legitimacy."
Crucial to continued public acceptance of recycled water, Sedlak said, is a level of transparency and community engagement that has traditionally been unusual in water projects.
The Orange County Water District project was a good example of that, according to a paper Sedlak and a team of researchers published last year in Environmental Science & Technology.
In Orange County, the water district focused not only on the technology they would use to ensure the recycled water's safety. The district, as Sedlak and his colleagues argued, also pushed to explain how water reuse was in the community's long-term interest and actively solicited and accepted community feedback on the project. And if any issues arose along the way, as they did when a carcinogen turned up in water its facility had treated in 2000, they were transparent about the problem.
It appears that model may be catching on, as water reuse projects are springing up not only in California, but also in states including Arizona, Nevada, Florida and Colorado.
For his part, Vesey agrees that the public's participation in the growing number of successful water reuse projects, especially in California, has been key to that success. He believes his company's new survey is proof that approach is already paying off.
"I think we're at the dawn of a new age for water," Vesey said, "and I think California is likely to lead or be one of the leaders in that new age."
Related
Popular in the Community