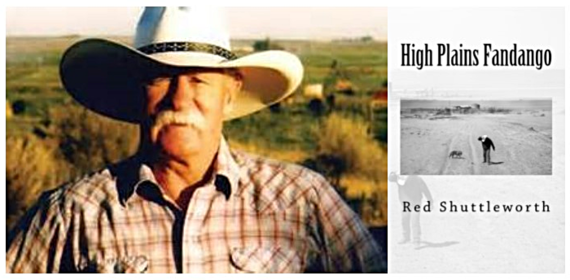 Red Shuttleworth is one of the finest poets of the American West, past, present, and future. Some of us also know him as one of the finest, imaginative living playwrights writing for a challenged American theatre.

-- Dr. Jerry L. Crawford, Dean Emeritus, The College of Fellows of the American Theatre, Kennedy Center, Washington, D.C., in praise of Red Shuttleworth's latest play, High Plains Fandango
The American West lives long and hard in the American consciousness. Whether as a thought to some throwback, renegade era of iconic outlaws like Jesse James and lawmen like Wyatt Earp, or politically as a time of conquest by settlers and land, oil and mineral barons bent on Manifest Destiny, scars were left upon on the landscape, natural environment, and on the lives and destinies of the indigenous tribes in their wake.
The landscape itself cannot help but evoke certain intense emotion; in various moments it is rugged, harsh, impossibly vast, and yet indescribably beautiful. It acts almost as an avatar for the character of the men and women who have lived amidst its vagaries, allowed to exist in concert with it if humanity can show the best of its mettle and embody what is considered an ultimate compliment to any substantial human being: being considered "salt of the earth."
This is a characteristic still identified as a fundamental element to any great man or woman, his or her very marrow being almost imbued with its qualities.
And even more, popular culture has continued to foster this notion of the iconic "Western" character almost out of habit. Whether it's Sergio Leone's interpretation in the spaghetti westerns starring Clint Eastwood, or those featuring John Wayne (such as one of his most poignant roles in True Grit); to cowboy adventure comics and the literature of Louis L'Amour and more modern writer of literary fiction, Cormac McCarthy; such beloved TV Series as Bonanza and Gunsmoke; to the varying modern visions of Old West in such series as Deadwood (HBO) and most recently, Hell on Wheels (AMC)--there is a pronounced tendency to play off of old themes--such as the morality tale--almost to the point of hyperbole, as much as current producers may damned well try to bring in nuances to make such characters more complex.
(As a side note, one example of the American West done right--taking place not in the Old West but in the present--is in the former--and beloved--A&E series Longmire, which after its cancellation got a deserving reprieve from Netflix.)
One way or another, the American West is a place given seemingly to both physical and moral extremes. The realities of this landscape seem hell-bent on inducing further commentary about the dangers of a continued, geographical, economic, and even psychological manifestation of Manifest Destiny--in terms of the natural resources that were first plundered by settlers and those who followed them into what was then an unknown land, are now being ravaged by the modern equivalent of the old land and mineral barons.
Except this time, the most precious resource isn't gold, other minerals or oil--it's water, and the land rights necessary to get to it.
There is another voice of the modern American West "done right," and water is the subject matter of his latest work, High Plains Fandango, a play about the dangers and Faustian bargains inherent in the issue of water scarcity, in this case among the people of a small Nebraskan town that happens to sit on the Ogalalla aquifer.
Nebraska, its people, and its environment are familiar to the author of the play, poet and playwright Red Shuttleworth, whose work doesn't always focus on the American West (such as his book of poetry, Ghosts & Birthdays (2012), which has poetry dedicated to famous personages from the ancient Greek philosophers to Marilyn Monroe), but for those works that have, he has earned the recognition that comes with being the three-time winner for the Spur Award by the Western Writers of America, and having also been named "Best Living Western Poet" by True West magazine.
His poems, one-act plays, and short stories have appeared in over a hundred journals, and even though writing plays came later in his literary life, having begun to write them in 1987, he quickly found his work in both professional and academic venues, including at The Foothill Theatre (CA), Spirit of the Horse Theatre (MN), Sundance Playwrights Lab, The Sun Valley Festival of New Western Drama, and the Tony Award-winning Utah Shakespearean Festival.
High Plains Fandango came about as the result of a commission from Tom Loughlin, Chair, Department of Theatre and Dance, State University of New York at Fredonia who said the following:
Red Shuttleworth is the most urgent playwright I know. His language is taut, unencumbered with extraneous flourishes. His characters are direct; they take decisive action without regard for the consequences. His themes hit on contemporary issues, and hit hard. He has a great love for the neglected and downtrodden whose lives are being crushed from the outside. That's why I commissioned Red Shuttleworth's [play], so that my audiences could feel this urgency like a hoof to the mouth.
The play was first produced for SUNY Fredonia in 2012, and it has now made its way to both digital and print under Humanitas Media Publishing.
In High Plains Fandango, the American West is not the "Wild West" of old, in that the power of nature is not all-powerful and able to bring humanity to its knees. Rather, she has been raped and pillaged, tilled to ruin and abused, and this is reflected in the play's characters, whose moral compass, as a whole, has been just as affected by boom and bust as the town in which they live. The land--and what exists rather importantly underneath it--is seen by outside interests, and among many in this small town--as a commodity rather than anything mysterious or magisterial. We are seeing the nature of Man as he has become, and the abuses that seem to come far too easily if not out of ignorance, than by the very mercenary will of power and destructive greed.
In this case, the town is lured by the promise of "progress" in return for its most precious resource. For many this may seem to be the reality and necessity of simple survival. But like in any Faustian bargain, short term gain means being damned in the long term, and to the detriment of more than anyone bargained for.
Shuttleworth absolutely intended to make commentary on the choices such communities are forced to make, and the effects upon those who are forced to live with the consequences, including when they're active forces in their own destruction.
Towns and counties, farmers (with their goddamned center pivots) and ranchers, in similar locales above the Ogallala Aquifer have long been out-pumping the aquifer recharge rate. Water depletion will soon result in the death of irrigation culture on the Great Plains. There is no way around that. Politicians and water corporation executives can talk about "soft landings" at the end-of-water, but water scarcity promises to be real ugly and real violent... And the water companies are coming: oilman T. Boone Pickens is the single largest owner of rights to the water in the Ogallala Aquifer. Pickens' vision is pretty straight-ahead simple: when drinking water gets scarce, those who don't have it will pay what they have to pay to get it. And damage done to small towns, from water profiteers' point of view, is incidental.
In a recent article by Scott Dickensheets, the Deputy Editor of Desert Companion, published by KNPR, Nevada Public Radio, calls the play "prescient," while alluding to fires currently raging in seven Western states, commenting that "scorching drought and fears of water shortages give the play a heightened relevance."
Like any natural resource, usage and abuse affect more than just one party, and those most vulnerable are often the ones who bear the brunt of such abuse the most. Political, economic, social, and environmental effects of water scarcity are only now beginning to register among the public; water shortages in California reached national attention at the same time companies like Nestle were lambasted for claiming to be concerned about climate and water issues while continuing its massive water-bottling operations in the very area of the drought.
Norland International, conveniently located in Lincoln, Nebraska, not far from the sweet heart of the Ogallala Aquifer, sells water bottling equipment, water testing equipment for feed sources, and is apparently franchising its own water distribution system. The water business is a growing infant. Norland International's water bottling equipment sales are up 60% in the past year. And Norland's workforce has nearly doubled in a year. Expect to see many a water bottling operation start up on the High Plains... big straws into the Ogallala Aquifer.
Continuing, and talking about the book he was reading when the play was commissioned, "It was Robert D. Kaplan, in The Coming Anarchy, who argued that 'water is the liquid of the 21st century.' Water, drinking water, is in short supply and there sure is a lot of demand for it."
In terms of the characters of High Plains Fandango, as the water company circles, embodied by one of the play's characters as a facilitator who takes up residence in an abandoned military missile silo, the men and women of the town each experience their own personal challenges, affected either in direct or indirect ways by the town's quandary and the possibilities presented, carrot-like, if they agree to terms. But reading the play, like any story set in the West, one has to hope there is some form of justice that will ride in, white hat perched on a wizened, leathered brow.
Depending upon one's perspective, the citizens may or may not be so lucky--and reminiscent of the best of Rod Serling, the end of the play is a bit of a shock to the system, while in a sense delivering the very kind of twisted poetic justice that vast amounts of pressure can produce, given particular circumstances, and the almost visceral shift in those for whom pressure is a trigger to take action to an extreme.
Artfully crafted and layered in its characterizations, High Plains Fandango is both a morality and cautionary tale, reflective of modern sensibilities, while hearkening back to some of the best themes old Westerns offered to a hungry public: there is good and bad in every human. And like the Cherokee parable of the wolves existing in the heart of every man, one good, one evil, the one you end up with is the one you feed.
Called by Dr. Jerry Crawford a "tragi-comedy," what is easily apparent is that like with the characters of High Plains Fandango, when it concerns a resource each of us needs to survive, one may not be able to control certain circumstances, but how one reacts to them, and what choice one makes, accordingly, is his and his alone.
Popular in the Community