The quintessential first thought when you think of saving water, drilled into us at childhood, is turning off the tap when you brush your teeth. As we age and the world advances -- with a global climate agreement and the new Sustainable Development Goals -- a broader view on water is now mainstream. It includes economic pillars such as agriculture; the immense amount of cooling water that power plants need to function; and the water embedded in the food you eat, the cotton shirt you wear and even the smart phones we cannot imagine living without.
We must now take that thinking another step forward, and consider the vital role that water will play as the world moves towards enacting the Paris Agreement and its underlying promise to cut GHG emissions by the nearly 200 countries that signed it.
Water security - access to a stable supply of sufficient amounts of good quality freshwater - is fundamental to achieving our low-carbon ambitions. For instance, China's climate action plan, submitted to the United Nations earlier this summer, outlines the pivotal role that hydropower will have in achieving its goal of reducing reliance on fossil fuels. Hydropower is already the country's second largest source of energy, after coal, and Beijing plans to increase its capacity to 420GW by 2020, up from nearly 300 GW today. To give you an idea of its importance to China's power market, Bloomberg reports that "hydropower accounts for all the increase in China's electricity output over the past two years."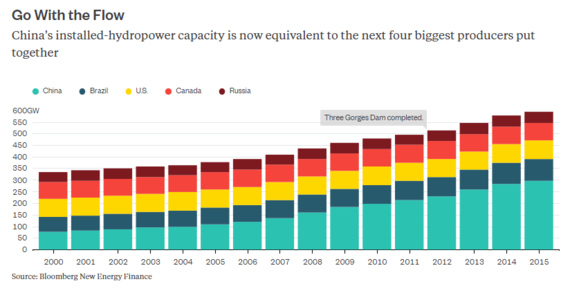 From Bloomberg Gadfly, China's Fossil Fuel Washout
Now consider the fact that in less than 15 years, a 40% global shortfall in water supply versus demand is expected to materialize if we carry on with business as usual. We find ourselves in a position where urgent action is required, in river basins the world over, to secure the water we need to enable us to meet our sustainable development and climate goals.
This reality is already becoming apparent to the business world, as some companies have found that water challenges have the potential to increase GHG emissions. For example, poor water governance in a basin BASF operate in has forced them to increase the amount of recycled water they use, which in turn is now challenging the company's 2020 energy goal. Endesa reports that many of their current activities aimed at reducing GHG emissions require large amounts of water. Carbon Capture and Storage Technology (CCS) for example, will allow the company to generate electricity from coal with nearly zero emissions, but would increase power plant's water needs and dependencies.
So water, and the lack thereof, could put a halt to our low-carbon ambitions. However, better water management could also help us go further in delivering much needed emissions reductions. Clues as to the opportunities available are found in plain sight in CDP's corporate water data, disclosed through our platform by some of the world's largest companies.
Mars reports working with farmers in the Mississippi Delta to use alternate wetting and drying (AWD), an irrigation technique that reduces both water use and GHG emissions with little or no impact on yields. And Lockheed Martin discloses cutting US$77,000 in electrical costs, 800 metric tons of carbon emissions and 8% of its water usage annually in its site in Maryland as a result of a chiller replacement.
By ensuring water security is considered in GHG emissions reductions plans, companies will ensure that their growth strategies and low-carbon transition plans remain on track. Early action and leadership will be beneficial to company's bottom lines as well as contributing positively to the communities and environments upon which they depend.
While it is clear companies have a critical role to play in safeguarding our water resources, they can't do it alone. Policymakers are increasing recognizing that they must not only work with local water users, but also forge impactful partnerships with the private sector. Our new policy briefing, launching at World Water Week in Stockholm at the end of August, offers clear recommendations for policymakers to consider in the run up to COP22. And this Autumn, CDP will be doing more to help companies take their first steps towards improved corporate water stewardship, in partnership with the We Mean Business coalition. We'll be revealing more on this at Climate Week New York in September. Be sure to follow @CDP and @WMBtweets to keep up to date with our news.
Calling all HuffPost superfans!
Sign up for membership to become a founding member and help shape HuffPost's next chapter