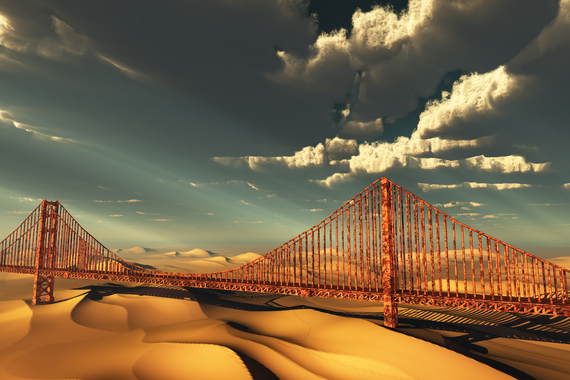 Californians hope to avoid a desolate future with the development of desalination systems across the state. Photo by Bruce Rolff.
SANTA BARBARA, CA -- And so goes the Rhyme of the Ancient Mariner, the iconic tome by Samuel Taylor Coleridge. Of course, it refers to a seaman who is adrift with no supplies. How fitting, then, that we apply this life lesson to the current situation in Santa Barbara, if not the entire Southwestern U.S.
The media has finally awakened to what many of us have been banging the drum about for months - to borrow from the 1972 Albert Hammond pop tune, "It Never Rains In Southern California." In essence, this has caused a drought we have not seen in decades, as detailed in my previous articles, Red, White, and Waterless and Squeezing Water From a Rock. So let's look at Santa Barbara as a microcosm of what could happen in many cities throughout the country if we don't do something about it, and quickly.
From a variety of research and interviews I conducted with experts on weather patterns and climate trends, one central theme emerges: we as a society need to prepare now for the possibility that this drought will continue indefinitely. While not probable, at least we hope not, it is most definitely a possibility. Life must go on, and to sustain it we need clean water for everyone. Regardless of whether it rains.
"I have been here since 1964, and the climate today is very different than it was in those days," explained Tom Mosby, General Manager of the Montecito Water District. "The succession used to be two weeks of fog, then four or five days of warm, sunny conditions. Now, it seems that the inverse is true. No rain is a huge problem for us." Montecito is the tiny, toney town that lies adjacent to Santa Barbara, populated mostly by wealthy retirees and those escaping L.A. in search of solitude and open space. Oprah's famous $50 million estate lies within the Montecito city limits. "Our water conservation plan now includes water rationing which has been very successful. We believe the majority of our customers are checking their water meters daily to track allocation," Mosby said.
Montecito has very limited groundwater, equivalent to less than 7% of its annual water supply which has compounded its water shortage problem. The District's reliance on surface water reservoirs, coupled with below average rainfall led to the declaration of a water shortage emergency on February 11. If it doesn't rain during fall/winter 2014-15, a stage 4 (they are currently in stage 3) state of emergency could be declared which would mean little to no water for outdoor landscaping.
The Santa Barbara area has been a leader in water conservation, as its residents have been very responsible about decreasing water consumption in recent years. So much so, in fact, that in an ironic twist, the local water districts may have to raise their rates again -- this time by 100 percent -- because revenues are down dramatically. A vicious cycle? Perhaps yes, and one that could be repeated in any geographic area that is short on water but successful in persuading homeowners to cut usage. Thus, we face yet another quandary in going green which only frustrates the consumer trying to do the right thing.
The City of Santa Barbara did have the foresight to plan, design and break ground on a desalination plant back in 1991. Fortunately or unfortunately, plans to complete the plant were scrapped as the 1986-91 drought came to a dramatic end. Just recently, the City Council initiated reactivation proceedings to get the plant construction going once again. This will cost just under $30 million, and will provide enough clean water for about half of the Santa Barbara Water District's customers.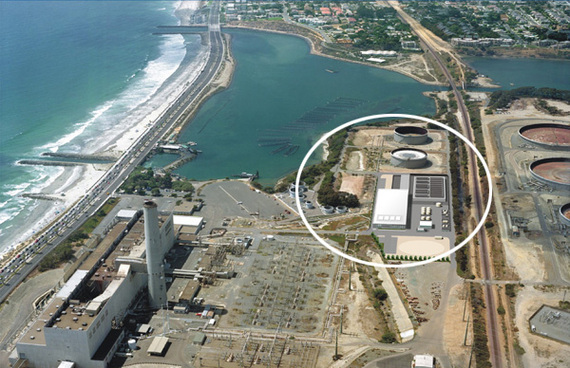 The Carlsbad Desalination Project, seen here, is set to deliver clean drinking water to 300,000 San Diego county residents by 2016.

While the City of Santa Barbara wants to cooperate with Montecito to allow its residents to purchase water produced by the plant, a complicated situation related to approval and permitting process due to the infamous Coastal Commission may well prevent this. "We have to get desal now," declared Darlene Bierig, President of the Montecito Water Board. Recycling wastewater is also an option but realistically, this is more suited for agricultural, landscape, golf course and cemetery water than for drinking. The conventional wisdom seems to be moving toward desal and rapidly. This, in my opinion, is one of the better arrows in our quiver if we no longer enjoy the benefits of consistent, bountiful rainfall.
With the challenges Santa Barbara's original desalination plant faces, setting up a small-scale desalination plant is an alternative possibility in Montecito. I consulted an Israeli expert in water management, Clive Lipchin, to see if it is possible to enable Montecito to provide water for its citizens in a stand alone, self-sufficient manner. As with all new desal development, Lipchin notes, "There are infrastructure questions such as the state of the water grid and the possibility of easily inserting the desalination plant into the grid. Other issues include the best site for such a plant and its proximity to the coast, the location of the brine outfall, the current cost of water and electricity, and environmental regulations." Considering the factors, Lipchin suggests a small-scale desalination plant could be built faster and cheaper than waiting for City of Santa Barbara. "There are options to build a desal plant in a modular configuration with construction costs ranging from $5-10 million. Israel has done this successfully for small communities in Cyprus and Malta."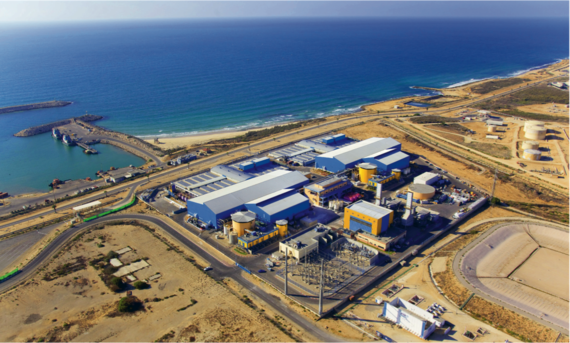 The Carlsbad, CA desalination plant will closely resemble Ashkelon, Israel's 3rd generation desalination plant, seen here.
"Water banking" is another idea that Santa Barbara has cooked up to deal with the current shortages, according to Santa Barbara Acting Water Resources Manager, Joshua Haggmark. "Water banking is the practice of foregoing water deliveries during certain periods, and banking either the right to use the unused water in the future, or saving it for someone else to use in exchange for a fee or delivery in-kind," explains Jasper Womach, Agricultural Policy Specialist for the Congressional Research Service. "It is best used where there is significant storage capacity to facilitate such transfers of water."
In my view, that could be helpful but will not solve the water shortage. A massive, ongoing source of clean water to replace Mother Nature's downpours is desperately needed. Just last month, the L.A. Times and USC's Dornsife College of Letters, Arts and Sciences conducted a poll of 1,500 registered voters. Results showed that 89 percent of respondents agree that the drought is a major problem or even a crisis. An encouraging 75 percent believe the state should invest in desalination of ocean water for household use. This support was consistent across demographic groups, with 48 percent strongly in favor and 26 percent somewhat in favor.
Let's head about 200 miles south, to the beach town of Carlsbad which is located in North County San Diego. As we speak, SoCal's only large desal plant is being constructed. The plant will create enough fresh water to serve 300,000 area residents. "We are developers and owners of the project," said Peter MacLaggan, Senior VP of Poseidon Water, the contractor who is building the plant which is projected to come online in 2016. "The project has been in development for 12 years, as the approval process began in 2003 and ended in 2009. Six long years. After the permits, we worked with the San Diego County Water Authority to get the contracts in place, and then we raised $734 million through a bond issue, along with $167 million in private equity," explained MacLaggan. This is probably typical of what a large desal plant would require -- about a billion dollars, and about 10 years if not longer.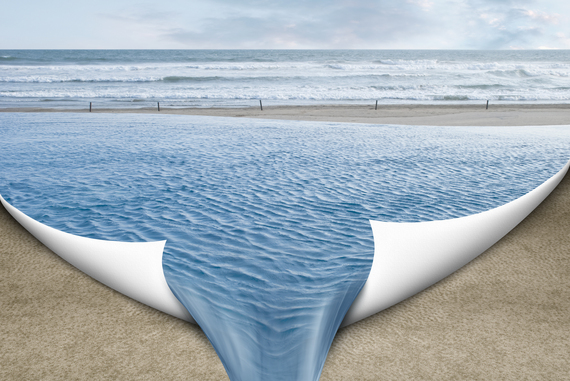 The Carlsbad desalination plant will be able to produce 1 gallon of freshwater for every 2 gallons of seawater it intakes.
Key environmental issues associated with desal plants are first and foremost, the intake portion of the process and its effect upon larval fish eggs, and secondly, expulsion of the brine or salt back into the ocean. While larger fish will be able to swim away from the intake ducts, microscopic fish and plankton that are vital to the underwater food chain can be damaged by the desal process. In addition, a tremendous amount of power is required to run the plant, thus use of fossil fuels vs. renewable energy is a critical discussion. Oceana's California Campaign Director, Dr. Geoff Shester, stresses, "Turning seawater into drinking water requires massive amounts of energy and poses risks to an already stressed ocean ecosystem, as the salty brine byproducts fundamentally disrupt the ocean's delicate chemical balance. Relying on desalination as an alternative water source fails to solve the underlying problem that California's inefficient use of water is outstripping our water supply, while creating a wide suite of new risks to our ocean which we don't yet fully comprehend."
Desal plants cannot be built offshore because the efficiency of production becomes significantly lower. Another issue is this: land, extremely valuable coastal land at that, will be needed to build more desal plants. Thus years of lawsuits and ultimately, use of eminent domain by the state may be required to secure key sites for a network of desal plants that can produce enough water to support highly populated Southern California. "The next desalination project will be easier because decisions and precedents are already set," added MacLaggan. Hopefully he is right about this.
As you can probably tell, I am a huge proponent of desalination as part of the answer to our water problems. As I sit here in my hotel room in Tel Aviv, I quaff a tasty glass of desal water. Not to mention, I washed my hair this morning and noticed the sheen and texture is actually better than washing my hair with Nevada or SoCal water. While admittedly there are environmental issues to deal with, this reminds me of the debate about wind power generated by turbines located in the desert. Some of our leading environmental watchdog NGOs are constantly banging the drum about the need for renewable energy, but then they question wind farms because they are visually unattractive and might affect the mating patterns of the snail darter. Similarly, ocean preservation advocates need to get real about the need for desal plants as a partial fix for inadequate rainfall. Fortunately, we're quickly witnessing an advancement of technology to minimize environmental impacts, as showcased in Damian Palin's TED Talk, Mining Minerals From Seawater. Palin proposes an innovative solution using bacteria to extract heavy metals from the toxic brine, thus minimizing pollutants that reenter the seawater and creating what Palin describes as "a new mining industry that is in harmony with nature."
Given the lead time required to plan, approve, design and build these plants, we are already way behind and crisis may occur before enough of them come on stream - not only in Southern California but anywhere with a coastline that is short of fresh water. Let's take a cue from Israel, which has developed a network of desal plants that produce enough water to keep the admittedly tiny desert nation supplied indefinitely with zero rainfall. It is time right now to move past the conversation, debates and wishful thinking. Oceans make up 71 percent of the earth's surface, so we know there IS enough salt water to meet our desal needs. We need to be building desal plants yesterday, throughout the world, to ensure fresh drinking water for all. Please help the cause by explaining this to your family, friends, legislators, and the media.
As always, thanks for reading and considering My Inner Green viewpoint.
Related
Popular in the Community