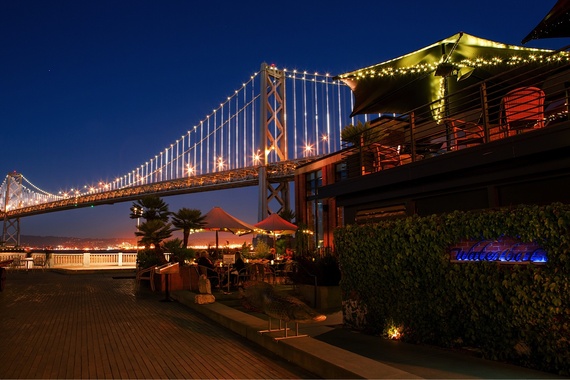 Located on San Francisco's Embarcadero Waterfront with panoramic bay views
A veritable seafood feast with breathtaking views of San Francisco Bay, the Bay Bridge and Treasure Island. Famous among local San Franciscans and surely, now under the visitors radar. A seafood lover's dream eatery. How can you not love a restaurant with an oyster bar happy hour. The fast paced eatery has become a San Francisco favorite. Jacques Cousteau would have marveled at Pat Kuleto's whimsical interior complete with a 19-foot floor to ceiling circular aquarium décor, complete with an eye catching array of fish and marine life from the nearby Pacific Ocean, and a hand-blown glass "bubble" chandelier. The brassiere style ambiance comes complete with an aromatic, lively open kitchen.
Executive Chef, Parke Ulrich will dazzle you with his bold flavors, and signature succulent seafood dishes and platters of the freshest shellfish imaginable. An epicurean feast, from the local waters of California and beyond. Sustainable fare including grass fed beef, local meats and produce from Bay Area farms.
Watch your dishes disappear quickly. You will savor every bite. The well positioned decedent raw bar features an impressive display of oysters, including buttery kumamotos from Humboldt County in Northern California, the oysters are "oh so sweat,". The huge roasted Maine lobster is the star attraction on the menu, cooked and seasoned to perfection, served with a side of bone marrow that melts in your mouth. The sole stuffed with shrimp is to die for.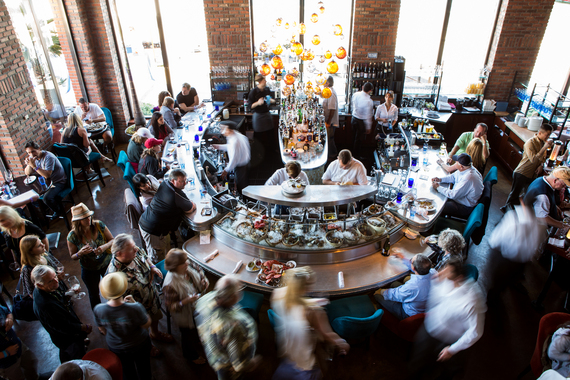 Belly up to the Waterbar's Raw Bar
Responsibly raised and harvested fresh, sourced foods in season from various Bay Area farms and regions. Respecting being at one with the sea and nature. Dine on Atlantic Fluke Sashimi, Foie Gras Torchon, and wild American caviar, Paddlefish caviar harvested from the rivers of Tennessee. From grilled White Sea Bass to roasted Black Cod, every dish comes with an appropriate side dish. Try the Savoy Spinach with pomegranate.
For the carnivorous crowd, try the Oak Grilled Short Ribs, succulent and juicy, served off the bone and cut like London Broil.
Be sure to save room for dessert. Waterbar's executive pastry chef Angela Salvatore whips up amazing treats that will satisfy anyone's sweet tooth.
The second floor is dedicated to private dining for larger groups and events. Feast like royalty on made to order, family style dinners including Paella, a Clambake or a mouthwatering Lobster Fest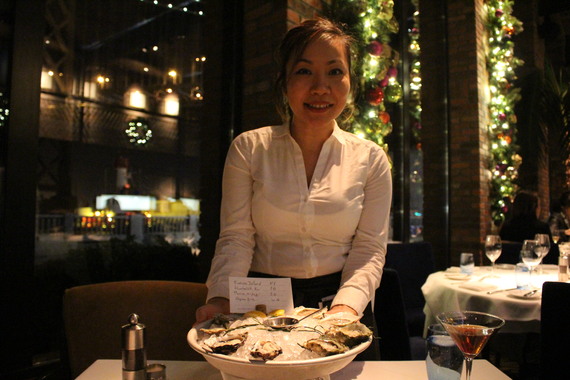 The friendly wait staff will cater to your every need.
Signature cocktails, the likes of the French Bulldog consisting of Grey Goose Vodka, St. Germain Elder-flower, Grapefruit and Lemon 12, or try the Irish Spice, Bushmills Irish Whiskey, apple juice, ginger beer, pumpkin bitters.
Start your weekend off with a dedicated brunch menu with specials: Pear Stuffed Pancakes, Tempura Jumbo Prawn Skewers, Pan Seared Ahi, and Grilled Flank Steak.
As one would expect of a five star luxury dining experience the service is impeccable. The responsive and attentive staff makes you feel right at home.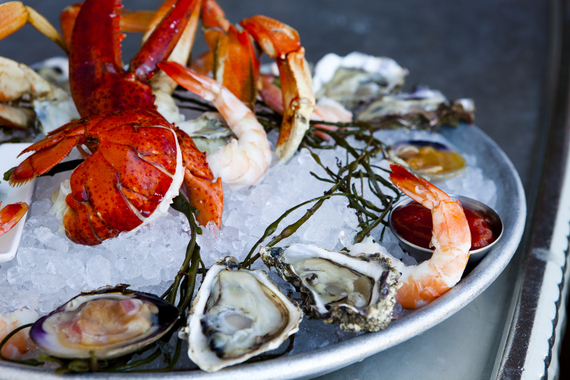 Mouthwatering large platters of lobster, shellfish, and other fruits of the sea.
During the summer, when the San Francisco Giants baseball team is at home. Whether the team is playing a day or a night game the Embarcadero Waterfront locale is the perfect getaway before or after a Giants victory. Sit outside in the outdoor patio with heaters.
There is something for everybody at Waterbar San Francisco. The accolades say it all: "Top 10 Outdoor Dining Restaurants in the U.S.," "Top 10 SF Happy Hour Bars & Restaurants," "Top 10 SF Seafood Restaurants," and more.
Waterbar is perfect for special occasions. Valentine's Day, Easter Sunday, New Year's Eve, Mother's Day Brunch, or any day or night out on the town. Waterbar brings out the "foodie" in all of us.
Truly, one of the greatest dining experiences that you will ever experience.
Dedicated to finding the shortest route from the sea or farm to your table.
For more information about Waterbar, please visit: http://waterbarsf.com
REAL LIFE. REAL NEWS. REAL VOICES.
Help us tell more of the stories that matter from voices that too often remain unheard.