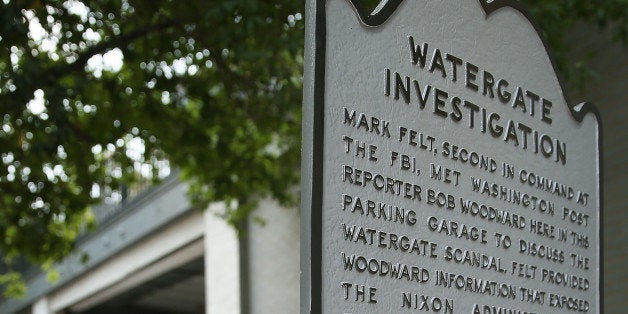 The garage where Washington Post reporter Bob Woodward held secret meetings with whistleblower Deep Throat about the Watergate scandal will soon be demolished.
The Arlington County Board voted on Saturday to allow Monday Properties to knock down the parking garage in Rosslyn, Virginia and replace it with a 28-story residential building and another 24-story commercial building, the Wall Street Journal reported.
The rebuilding will tear down the spot where one of the greatest moments in journalism and political history took place. It was the spot where the secret source known as Deep Throat-- later revealed to be Mark Felt, the former deputy director of the FBI-- leaked information about the Watergate scandal that ultimately led to Nixon's resignation in 1974.
The real-estate developer said it anticipates the construction to start sometime in the beginning of 2017. A member of the Arlington County Board told the Wall Street Journal that the developer will keep a marker at the site which explains its historical significance.
[Felt] chose the garage as an anonymous secure location. They met at this garage six times between October 1972 and November 1973. The Watergate scandal resulted in President Nixon's resignation in 1974. Woodward's managing editor, Howard Simons, gave Felt the code name "Deep Throat." Woodward's promise not to reveal his source was kept until Felt announced his role as Deep Throat in 2005.
Calling all HuffPost superfans!
Sign up for membership to become a founding member and help shape HuffPost's next chapter