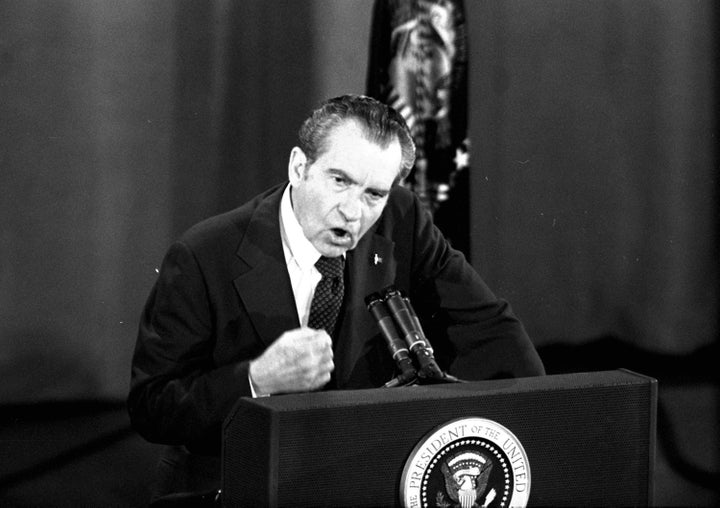 WASHINGTON - High-tech detective work has failed to solve a puzzle from the Watergate scandal that destroyed Richard Nixon's presidency.
Forensic scientists assembled by the National Archives have been examining two pages of notes from a June 1972 White House meeting, looking for clues about what was said during an 18 1/2-minute gap in a recording of the session.
They explored impressions in the paper, analyzed ink and hoped to find evidence of missing notes on the conversation between Nixon and aide H.R. Haldeman.
But the archives said Thursday the effort didn't unravel the mystery. From a statement released by the National Archives:
The results of these efforts did not reveal or recover additional content regarding H. R. Haldeman's 11:30 A.M. meeting with President Nixon in the Executive Office Building on June 20, 1972. Conclusions included:

Handwriting inter-comparison undertaken by the forensic document examiners indicated a common authorship among the handwritten notes examined.

Hyperspectral imaging and video spectral comparison examinations revealed differences in the black ballpoint inks used to prepare the date and page number, versus main text entries, of the June 20, 1972, notes, as well as differences in the blue non-ballpoint [porous-tip pen] inks used to prepare the date, versus main text entries, of the document beginning "09:30 re Dem bugging" of June 22, 1972.

Hyperspectral imaging of the June 20, 1972, notes revealed the set-off or contact transfer of red non-ballpoint [porous-tip pen] ink transcription notations from the front of Page 2 to the back of Page 1, but it was not possible to determine whether this transfer or migration occurred at the time of preparation or over long-term contact in storage.

Electrostatic detection analysis of the June 20, 1972, notes revealed the presence of angled, extraneous indented writing, suggestive of a possible signature but otherwise illegible, on Page 2 of the document.
The meeting came after burglars tied to Nixon broke into Democratic headquarters. The question of what Nixon knew and when was key, and it caused a sensation when investigators learned the 18 1/2 minutes had been erased.
Here's a video released by the National Archives on the Watergate research:
Support HuffPost
The Stakes Have Never Been Higher
Popular in the Community