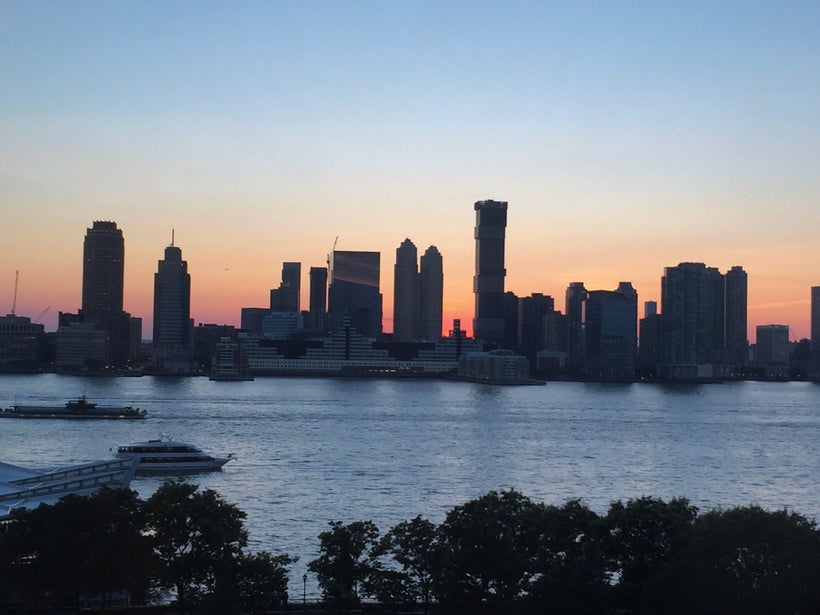 When the average person thinks of islands in the United States, they think of Puerto Rico, Hawaii or Key West. Today we are going to explore some different islands, the islands of New York City. The Big Apple consists of five boroughs (Brooklyn, Manhattan, Staten Island, Queens and The Bronx). Four out of the five boroughs are islands. We all know that summer can be hot, and that is not ideal for a long outdoor excursion all day for some, but now it's fall so why not take advantage of this season for some watering around? You can participate in all kinds of water-inspired adventures in NYC such as kayaking, swimming, speed boating and dancing. Not that adventurous? How about just enjoying all the scenic water views with friends while dining? You can also grab your boo and jump on a Ferris wheel and end the night by slow dancing on the boardwalk.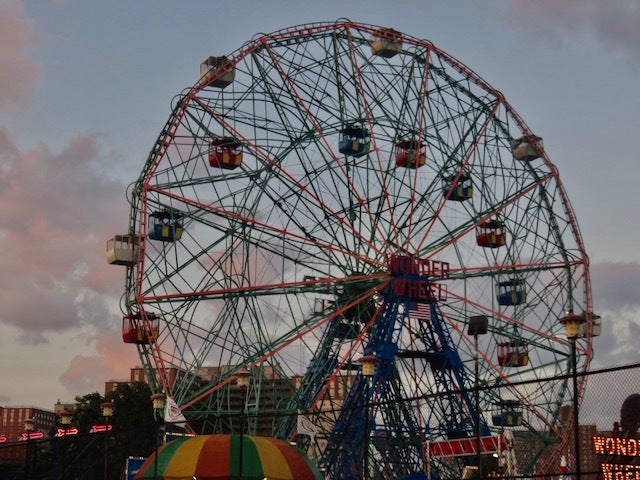 Let's begin: We kick off our journey in the lower part of Manhattan, which is home to scenic water views such as Battery Park, The Brooklyn Bridge and The South Street Seaport. This is also the part of the city were the waters of the Hudson meet the East River.
By Boat: A trip to New York City would not be complete without jumping on The Circle Line. With its expansive list of choices, you will find something for everyone in your crew. Want to navigate up the Hudson River like Henry, and party like a rock star at the same time? Check out their Bear Mountain Cruise that includes Octoberfeast right on the boat! It's what they describe as: cruisin', leaf peepin', wurst eatin', polka dancin', mountain hikin' fun! If you're a thrill junkie check out The BEAST speedboat, which zooms up and down the Hudson at 45mph. Your heart might beat a little faster during this voyage and there is a possibility that you might get wet. But isn't that the point of water? Looking for a calmer experience? Hop on board The Liberty Cruise, also by Circle Line. This informational cruise takes you up-close and around Lady Liberty, making it great for the entire family. Another option is to jump on The Staten Island Ferry. This 25-minute voyage for free from lower Manhattan to Staten Island offers a great view of the Manhattan Skyline and the Statue of Liberty (did we mention it's free?).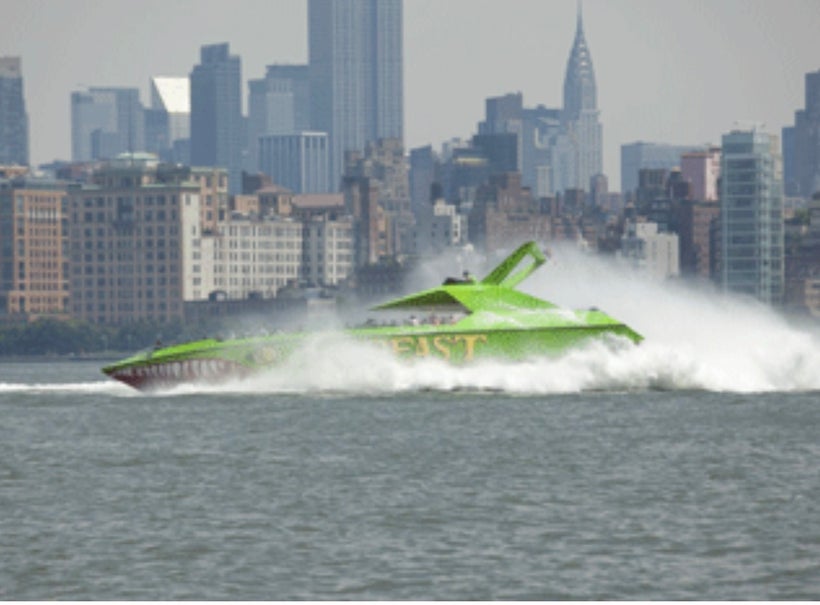 On Land: Head over to The South Street Seaport Museum and check out the post-Hurricane Sandy exhibition, Street of Ships: The Port and Its People. The exhibit explores commerce and trade in New York City in the early 19th Century and how The South Street Seaport was the center of world trade to Europe, South America and the Caribbean. The Street of Ships was the nickname for this area since its waterfront was lined with vessels and cargo from all over the world.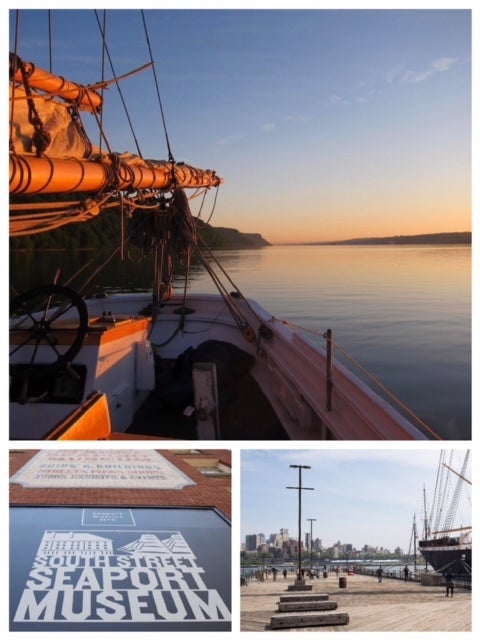 Afterwards head over to enjoy some food in one of the many restaurants located in The South Street Seaport. Have a taste for Tex-Mex? Check out the laid-back aesthetic of Cow Girl Sea-Horse. Have a taste for Tex-Mex? Check out the laid-back The menu is composed of Texas barbeque, seafood, and Cajun yummies Another great choice is to dine on Italian and love at Barbalu. The husband and wife team of Stefano Barbagallo and Adriana Luque first built the restaurant Barbarini Alimentari, which was completely destroyed during Superstorm Sandy. They loved the area and their food so much they decided to rebuild in the original space of their first location.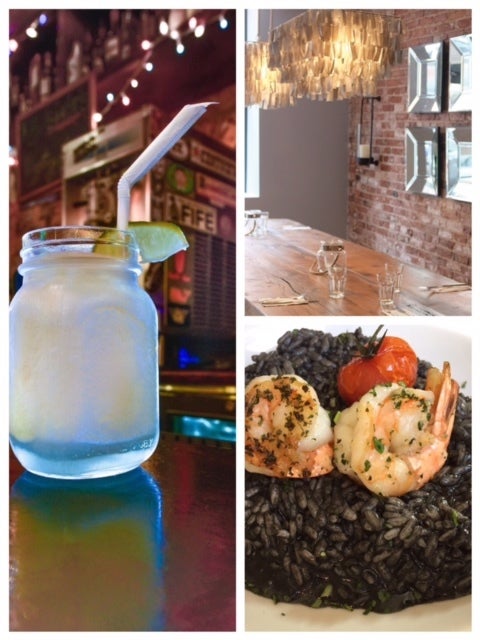 Bridging the Gap: If walking is your thing Free Tours by Foot is a perfect place to start. They offer a tour that takes you over the Brooklyn Bridge to explore Brooklyn Heights, Dumbo and ending at the Fulton Ferry Landing. Take some time to enjoy scenic views here with breathtaking views of the lower Manhattan skyline. Enjoy a plethora of activities from kayaking, dancing and eating. Check out their calendar of events for complete listings.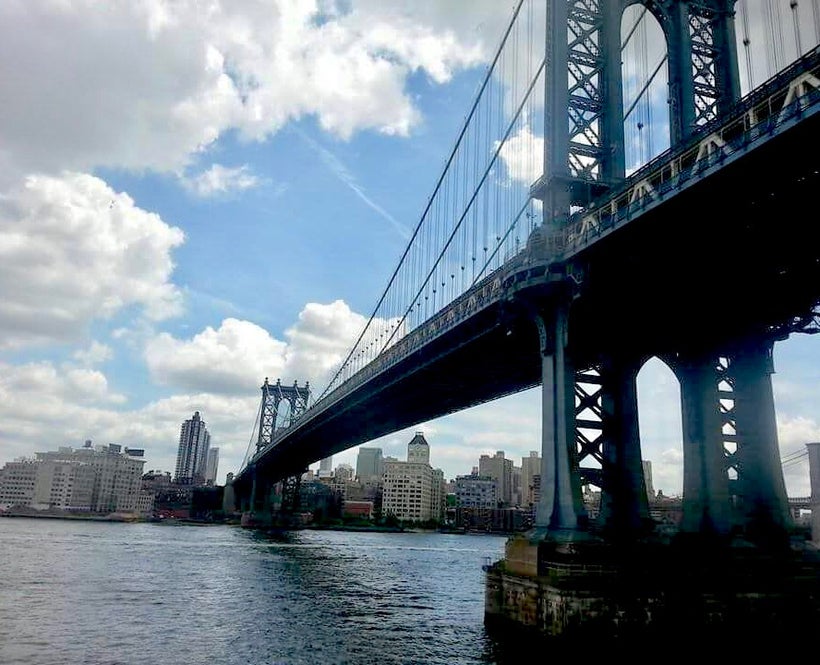 Next let's jump on the subway and head out to Coney Island. With 3 miles of sandy beaches, a boardwalk, rides and cool art installations, this campy Brooklyn setting is reminiscent of the now defunct Ringling Bros and Barnum & Bailey Circus (no animals, no tricks...just old-school fun)! Check out classic boardwalk eateries such as Nathan's Famous Hotdogs and Ruby Bar and Grill.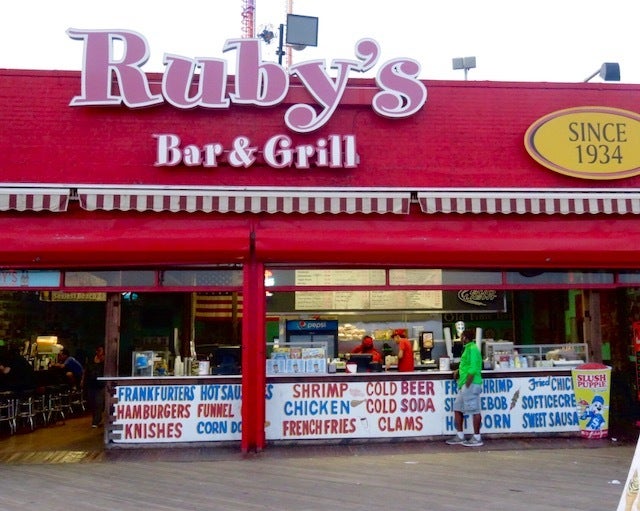 Vacay and Staycay: Even if you are a seasoned New York resident, taking advantage of a watering around New York staycation is a great idea. There are several hotels in Battery Park City where you can get your sleep on in between or at the end of your watering. World Center Hotel is a great option with its stunning views of Lower Manhattan harbor and the Verrazano Bridge. You also have great views of the Hudson River. Another option is the fabulous Conrad New York. The lobby architecture in this hotel makes you feel like you have been submerged in a tranquil blue-watered ocean. Offering 463 luxury suites, this hotel will actually assist you in discovering Manhattan by water. Their seasonal package Summer in the City, currently running until late October, includes a one-night stay (overlooking the Hudson), a private sailing lesson and a 24-hour pass to Citi Bikes, which is a great way to get around to view scenic water views in the city. When you get back from your excursion don't forget to check out their rooftop bar, Loopy Doopy, with water views of the Hudson River, the Statue of Liberty and New York Harbor.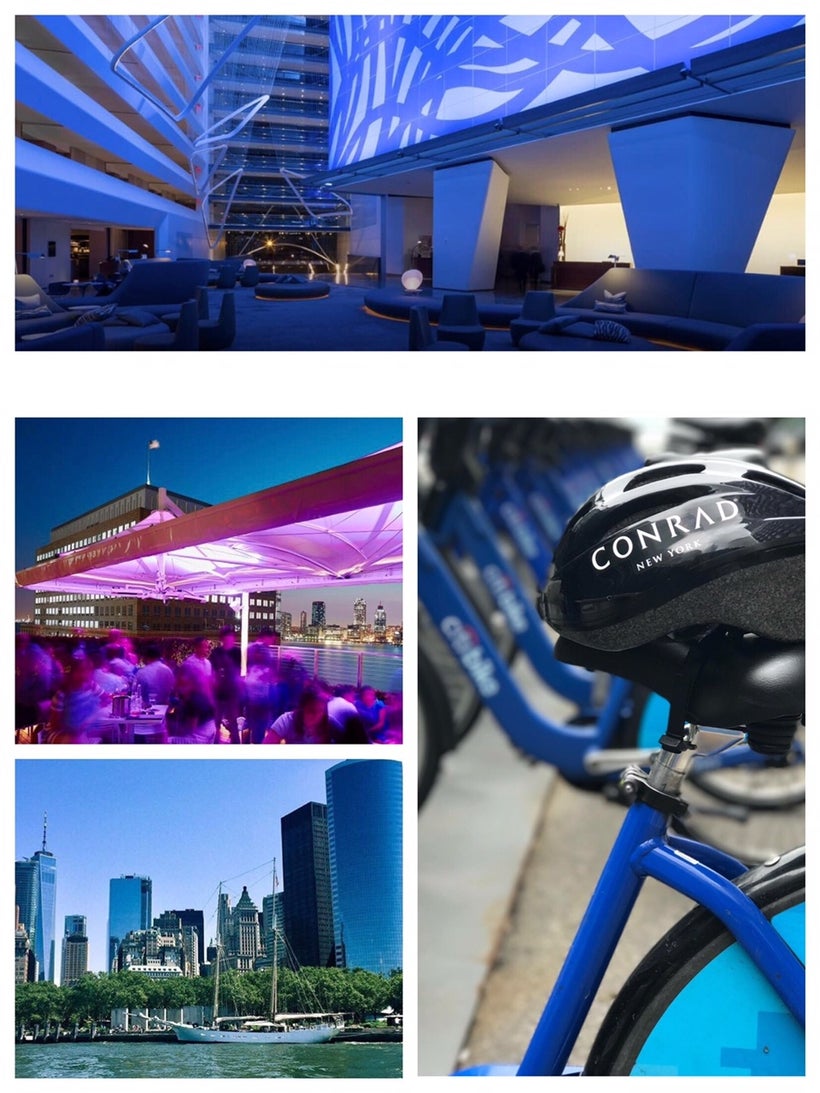 Smooth Sailing Essentials: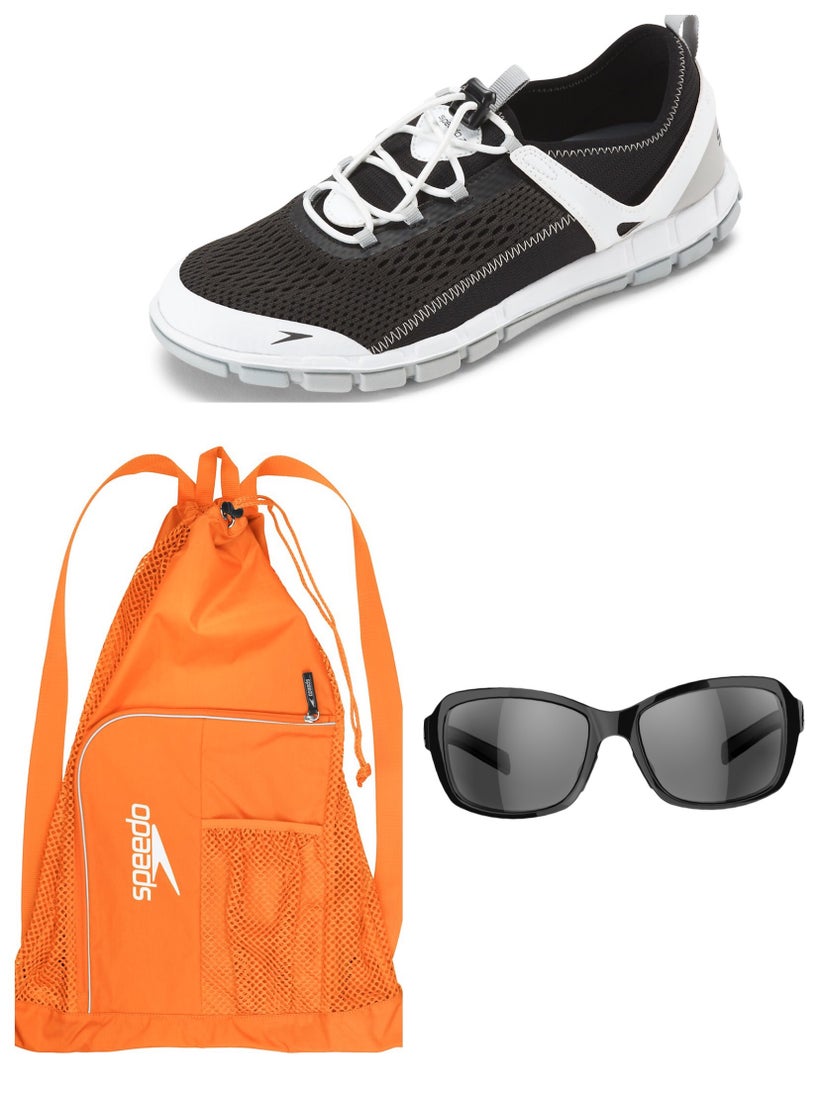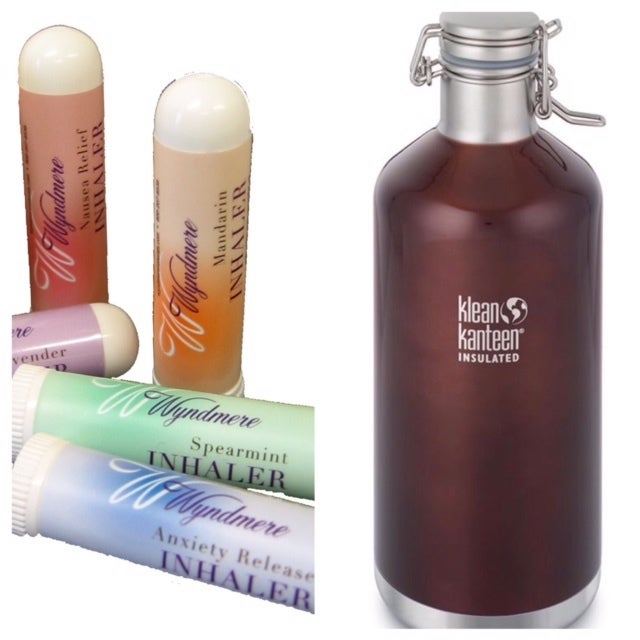 This fall why not try out your sea legs while taking a bite out of The Big Apple?
Blogger Disclaimer: I am not affiliated with nor have I received any monetary compensation or products for any of the companies mentioned. They were mentioned to create an experience based on the topic. All opinions are my own.
Calling all HuffPost superfans!
Sign up for membership to become a founding member and help shape HuffPost's next chapter
This post was published on the now-closed HuffPost Contributor platform. Contributors control their own work and posted freely to our site. If you need to flag this entry as abusive,
send us an email
.