The folks who hang their hats around the little Belgian village of Waterloo are shortly going to have a lot of company. That's because an expected 139,000 spectators will be headed their way for the upcoming bicentennial reenactment of the Battle of Waterloo. Here's a short version of what happened there 200 years ago to prompt the expression, "Napoleon's Waterloo."
It's June 18, 1815, and 170,000 guys are about to slug it out on this spot about 10 miles south of Brussels. On one side, Napoleon Bonaparte - back from exile on the island of Elba - is betting the farm that his French Grande Armée can defeat the Anglo-allied forces led by the British Duke of Wellington.
Bugles blare, troops charge, muskets blast, swords slash, lances jab, cannons roar -- and the French army is cut to bits. At the end of the day, according to Smithsonian Magazine, Napoleon - that morning convinced his army had the right stuff to win -- wrote off his loss as "a combination of extraordinary fates." Historians generally attribute his loss to a combination of battlefield blunders.
His defeat ended 23 years of constant turmoil among Europe's major powers, ignited mostly by Napoleon. England, Prussia, Austria and the other big players thought they were finally rid of "the Little Corporal" when his Russian invasion flopped in 1812. After that, Napoleon abdicated the French throne and ended up banished to the island of Elba -- but he escaped, and a little over 100 days later turned up at Waterloo.
The main battle pitted Napoleon's 72,000 nattily dressed foot soldiers, cannoneers, sabre-waving cavalry, lancers and pistol-packing cuirassiers (horsemen with armored breastplates) against Wellington's coalition of 50,000 troops mostly waiving the Union Jack of Great Britain and the Dutch tricolors. Late in the day, after hours of bloody attacks, counterattacks and counter-counterattacks, the coalition was bolstered by another 50,000 lads under the mean-looking black eagle of Prussia. Historians say this was the battle's game-changer, allowing the allied forces to break through Napoleon's flank to win the day, and the war.
After suffering as many as 33,000 casualties, what was left of the Grande Armée went limping back to France. Later on, Napoleon was exiled to St. Helena, where he died in 1821.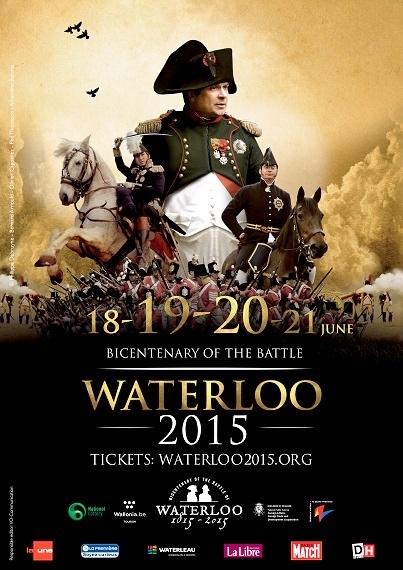 Photo courtesy of the Belgian Tourist Office.

The reenactment (for which tickets are all sold out) will be staged over a four-day period (June 18-21) with a cast of 5,000 "soldiers" decked out in authentic 19th century battle gear.
According to the Belgian Tourist Office, the battle will be aired on June 18 on the Smithsonian Channel.