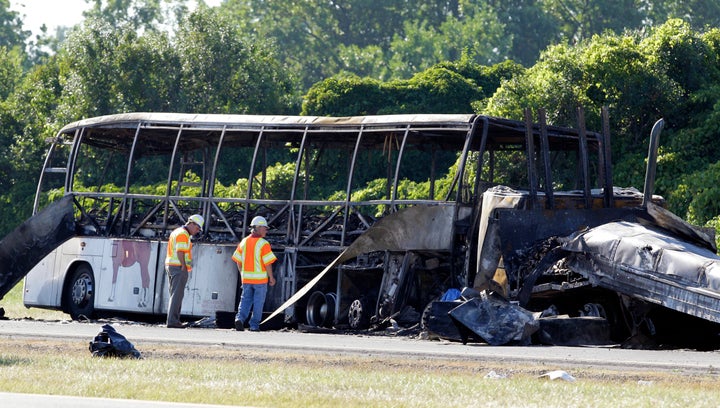 WATERLOO, New York (AP) -- A bus carrying 52 passengers across central New York early Friday was pulling back onto a highway when it was struck in the rear by a tractor-trailer, touching off a fiery crash that demolished both vehicles, killed the truck driver and injured about 30 people, state police said.
State Police Trooper Mark O'Donnell said many of the injuries were minor, though two people were taken to the hospital by helicopter with serious injuries. Truck driver Timothy Hume, 59, of Michigan was killed.
O'Donnell said passing motorists, including a soldier from Fort Drum, helped some passengers off the bus.
The crash happened about 1:30 a.m. local time in the eastbound lanes of Interstate 90, at the northern edge of the Finger Lakes region. Both vehicles caught fire after the crash.
Video taken after the crash shows the charred, skeletal remains of the bus, which had been painted white with what appears to be a red horse logo. Bare wheel hubs gleam in the early light, the rubber tires burned off. The demolished truck, which is behind the bus, is barely recognizable as a vehicle.
Waterloo is midway between Syracuse and Rochester.
Seven people were taken to a hospital in Rochester. Three were released, one was in satisfactory condition, two were still under evaluation and one was being transferred to another hospital.
The crash follows one on Sunday that killed 2 people and injured 35 others about 45 miles (72 kilometers) west of Friday's crash scene. In that tour bus accident, police said it appears a tire blowout caused the bus to veer off the road and flip over. On Tuesday, a car sideswiped a van full of Amish farmers only about 30 miles (48 kilometers) away, pushing the van under a tractor and killing five of the farmers.
So far this year, 32 people have been killed and 323 injured in 17 tour bus accidents, according to Advocates for Highway and Auto Safety. That's more than in all of 2010, when there 30 killed and 272 injured in 28 crashes.
Tour bus industry safety has drawn heightened attention since the March 12 crash of a bus returning to New York City's Chinatown after an overnight excursion to a Connecticut casino. Fifteen people were killed when the bus flipped onto its side and struck a pole, peeling off its roof.
A passenger has said the driver fell asleep; the driver has said he was alert and well-rested. That crash is being investigated by state police and the National Transportation Safety Board.
State Transportation Commissioner Joan McDonald said there have been about 3,000 surprise bus inspections throughout the state since the March crash. During that period, 304 drivers and 238 buses have been taken off the road. The state does 160,000 bus inspections every year.
Calling all HuffPost superfans!
Sign up for membership to become a founding member and help shape HuffPost's next chapter