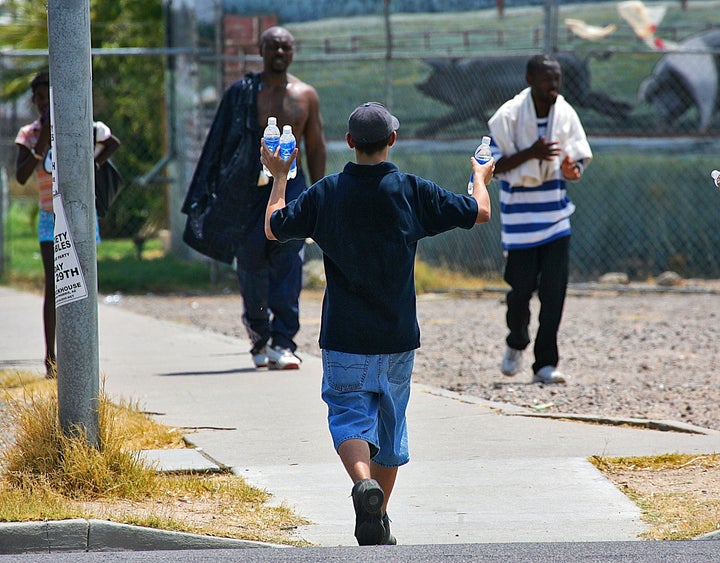 David Ross, better known as "Waterman Dave," offers San Diego's homeless water and snacks out of what he calls his "Homeless Hyundai." But despite the playful titles, he's serious about ending homelessness.
The 75-year-old retiree is hoping for systematic change as about 70 cities, including San Diego, are banding together in a national campaign called 100,000 Homes, aimed at getting 100,000 long-term homeless people into permanent housing.
But Ross tells NPR that he's somewhat discouraged when he looks at homeless people he helps, such as a man named Randy, who doesn't have a place to turn even after attempting to slit his wrists.
Police took Randy to a homeless shelter, but it was maxed-out. Instead, they brought him to the emergency room. But he couldn't be held there against his will, so he just returned to the streets.
"This is after a 10-year plan to eradicate homelessness forever," he says. "I wish somebody could tell me at about what level we are now in that 10-year plan."
San Diego's social agencies don't have the capacity to help the almost 4,600 homeless people of the city -- many of whom are substance abusers or mentally ill. The scenario there is a microcosm for what's happening at other cash-strapped agencies in cities nationwide.
If "Waterman Dave" inspires you, donate 100,000 Homes.
Calling all HuffPost superfans!
Sign up for membership to become a founding member and help shape HuffPost's next chapter