It was a sun-drenched morning, when the luxury cruise ship I was working on as an Italian chef docked in Pierus, Greece (the port city of Athens). I anxiously made my way through the hilly and uneven streets, shaded by robust lemon and orange trees, to the summertime open air food market to enjoy my free time under the beautiful azure sky. I was on a mission to eat sweet, juicy Greek watermelon.
As I entered the market, I was captivated by the beautiful melons, eggplants, oranges, lemons, zucchini, tomatoes, and grapes on display. A vendor with a variety of different melons caught my eye. I bought a nice thick slice of Greek watermelon--similar to the reddish-pink kind we have in America.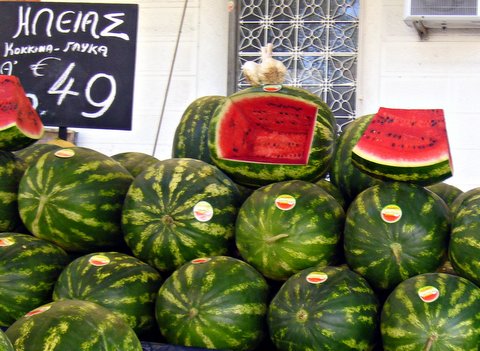 As I took a bite, my mind sparkled with contentment. After meandering the noisy streets under the scorching Greek sun, the succulent, sweet, cool, and refreshing watermelon was pure bliss. I parked myself on a weather-beaten bench under a twisted old tree that faced the market to relish the uniqueness of this cross-section of Greek life.
I observed the locals' eyes light up as they smiled when they picked up to smell and choose the fresh fruit and vegetables from the food vendors' offerings. A smile was genuinely exchanged between the customer and the vendor, even if for only a brief second, and the customers walked away with a happier expression and the sustained smile. I felt myself smiling. The smiles were contagious! I felt a connection to the Greek people, and as a tourist, I didn't feel so out of place.
I have been to dozens of outdoor markets in and out of the United States, and I had never been struck with a moment of such peace and clarity. My mission to eat watermelon on a break from work led to a surprising and gratifying discovery. A vivacious writing inspiration consumed me. I was transported to a visual connectedness that was both healing and invigorating. It was totally energizing, despite how tired my body was from working at sea. I quickly scratched down every thought and observation I was experiencing on my note pad. And then poof! My free time was up.
As I headed back to the ship, I realized something very powerful had just come over me. Imagine, a visit to a farmer's market being the gateway to a flash of clarity full of insightful warmth of a very revivifying nature. I contemplated, "Food is the ultimate gift, a miracle that provides all the necessary nutrients that enable all living things on Earth to exist. Food is full of energy, goodness, and its true power is overlooked by many."
Most of all, I felt extremely fortunate to have watched all those smiles that day. You never know when and where moments like this will strike. You may be surprised when they do. If you are tuned into yourself, and truly present in your environment in a balanced way, inspirations will happen and you will be monumentally moved by them.
I suggest starting with smiles, and may you see those smiles wherever you are... especially when you are eating watermelon outdoors on a hot summer day.
Related