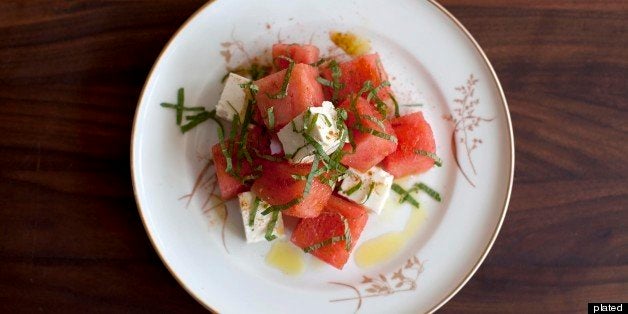 There's nothing I love more in the summer than watermelon salads. They're light and refreshing and really hit the spot. This salad recipe combines watermelon with mint, feta, and chaat masala for an exciting and new flavor combination! I love the saltiness from the feta and the complexity of the chat. The mint keeps everything cool and herbal for the perfect salad.
Watermelon, Mint and Feta Salad with Chaat Masala
From Elana Karp, Culinary Director at Plated
3 cups watermelon, cut into 1 inch cubes
4 ounces feta, cut into ½ inch cubes
1 tablespoon extra virgin olive oil
2 teaspoons chaat masala
10 mint leaves, chiffonade
1 pinch maldon salt
Cut the watermelon and feta into cubes and scatter them around a serving platter. Lightly drizzle the watermelon and feta with olive oil.
Sprinkle the watermelon and feta with chaat masala. Wash the mint leaves and pat them dry with paper towels. Stack them up, one on top of the other, and roll them tightly into a tube. Cut into thin strips, perpendicular to the stem. This will create a "chiffonade" or mint ribbons.
Scatter the mint leaves over the top of the salad and finish with a pinch of maldon or flaky sea salt.
Note: This is the time to use a higher quality olive oil. Since you're using the oil plain, as opposed to cooking it or whisking it into a vinaigrette, you'll really taste it in this salad. Go for something light and fruity to compliment the other ingredients.