Think about all the watermelon rinds you toss into the garbage every summer, and consider how heavy they are. Now contemplate the fact that you pay for watermelon by the pound. You might as well throw dollar bills in the garbage can.
But there's a delicious way to snack on those rinds, and it's nothing new. Our grandparents and great-grandparents grew up in a more resourceful era, a time that was reflected in the writing of Laura Ingalls Wilder. Her book Farmer Boy details farmstead meals that were highlighted by an ingredient you may have never had: watermelon rind pickles.
"Almanzo ate the sweet, mellow baked beans. He ate the bit of salt pork that melted like cream in his mouth. He ate mealy boiled potatoes, with brown ham-gravy. He ate the ham. ... And he ate plum preserves and strawberry jam, and grape jelly, and spiced watermelon-rind pickles. He felt very comfortable inside. Slowly he ate a large piece of pumpkin pie."
Wilder hints at why watermelon rind pickles were made, stressing the importance of efficiency on the farm:
"Mother and the girls were making cucumber pickles, green-tomato pickles, and watermelon-rind pickles; they were drying corn and apples, and making preserves. Everything must be saved, nothing wasted of all the summer's bounty. Even the apple cores were saved for making vinegar."
Don't be put off by the idea of a pickled fruit ― take a bite blindfolded, and you might never guess it's not a traditional cucumber pickle. The watermelon's rind doesn't carry any of the sweetness or pithiness you'd associate with a watermelon ― rather, it's neutral in flavor with a little more crunch than a cucumber, much akin to a slice of jicama.
So how do you make watermelon rind pickles? It couldn't be simpler. After scooping the red flesh from the watermelon's insides (and eating it however you please), you simply peel away the green skin from the outer rind. Then you chop up the white rind, leaving just a hint of pink, and parboil it in water until it begins to soften. Then it all takes a dunk in a sweet pickling brine, and it's ready to eat with a chunk of sharp cheddar.
Here's the full recipe. And make sure to watch the video above!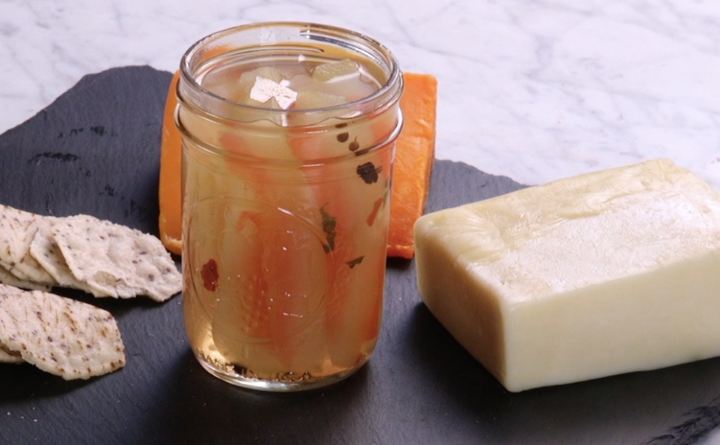 Rind from 1 pound of watermelon

2 tablespoons salt

1 cup cider vinegar (white wine vinegar will also work in a pinch)

1 cup sugar

1 cup water

1 1/2 tablespoons pickling spice
Scoop out the flesh from the watermelon and reserve for eating. Peel the green skin off the watermelon rind with a sharp vegetable peeler.
Cut white rind into spears that are about 1/2″ wide and 2″ long.
Bring a medium saucepan full of water to a boil. Add 1 tablespoon salt. Boil the watermelon rinds for about 4 minutes, until they just begin to turn translucent and become soft when stabbed with a fork. Drain and let cool for handling.
In a medium saucepan (it can be the same one you used for the watermelon), combine the vinegar, sugar, water and pickling spices. Bring to a boil, until the sugar has dissolved.
Place the cooled rinds in their pickling jars, tightly packed. Carefully pour the pickling liquid into each jar, until the liquid nearly reaches the top. Screw the top on your jars and refrigerate for up to 2 weeks. Your pickles can be eaten after just a few hours.
Before You Go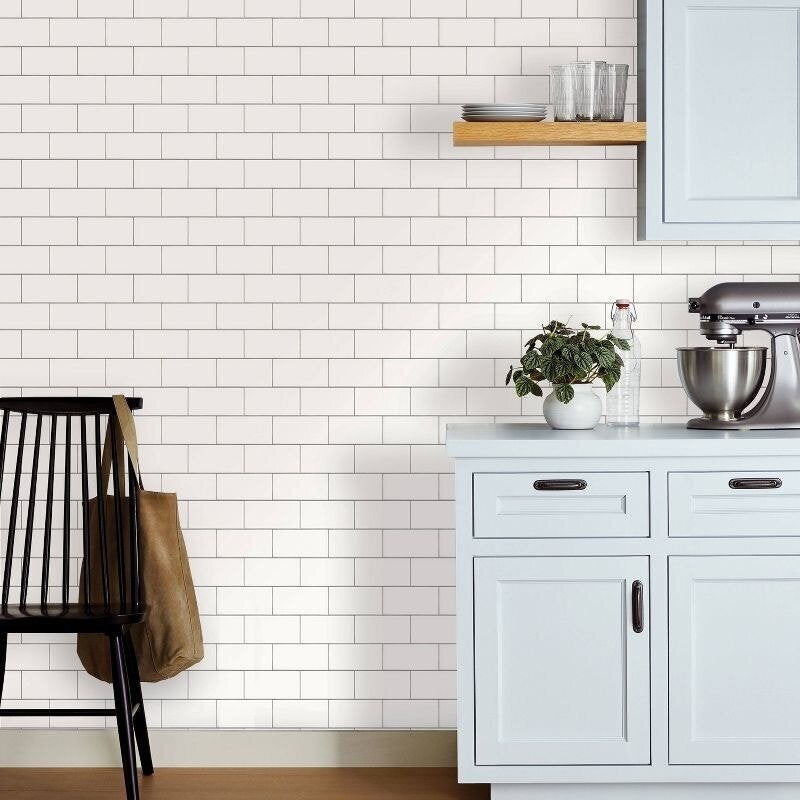 If It's High Time To Redo Your Kitchen, These 27 Target Products Will Help You Do It Affordably