One of our favorite parts of summer is the abundance of watermelon. We'll eat watermelon on its own, in a salad or in cold soup. We'll make cocktails and popsicles with watermelon, and we'll even make watermelon cake and watermelon jerky. So maybe we're a little watermelon crazy here -- we're guilty as charged. But we never would have thought to make (or had the skills to do so) sculptures like this out of watermelon: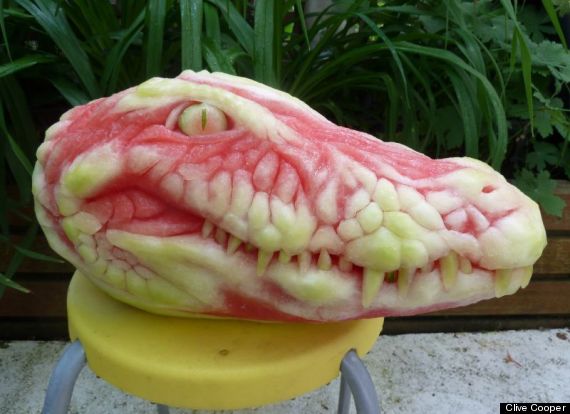 While we've seen watermelon cut up and sculpted into fancy shapes before, we've never seen it like this. Artist Clive Cooper decided to approach watermelon like you would a pumpkin, carving faces and animals that range from funny to grotesque.
Some of them are a little freaky, some of them less so, but one thing they all have in common is their incredible intricacy. These sculptures are so impressive they have definitely just raised the bar for watermelon carving. The craftsmanship and creativity is extraordinary as Cooper uses both the watermelon rind and flesh to produce incredibly striking sculptures. And now we will never look at another watermelon the same.
Take a look at some of Cooper's masterpieces, and go to Sparksfly Design to see more.