WTRMLN WTR (yes, that's Watermelon Water without all the vowels) is the newest product released amidst the recent craze of natural, plant-based beverages. If you're looking for all the health benefits of coconut water but you just can't stand the flavor, watermelon water might be your solution.
Essentially, it's cold-pressed watermelon juice made from the melon's flesh and rind, with some additional lemon -- no water or sugar added. Each serving has twice the potassium of a single banana, is a good source of Vitamins A and C, magnesium, lycopene, and contains 60 calories.
But the makers of WTRMLN WTR really want you to know that, in addition to lowering your blood pressure, their product will increase your libido:
WTRMLN WTR is rich in an amino acid called Citrulline, which relaxes and dilates blood vessels, much like Viagra. That's right, a drink that fuels your libido in the bedroom and your body with all the healthy nutrients it craves. Move over Viagra, here comes WTRMLN WTR : )
Which brings it all back full circle, and totally explains why Beyoncé was drinking watermelon.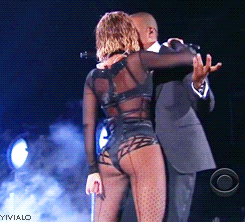 WTRMLN WTR is available at Wholefoods NYC Statewide, and will be launching on the West Coast in April.
If you watch the full video clip, you'll see that it's also great for putting out the fire after you've eaten habanero ice cream.