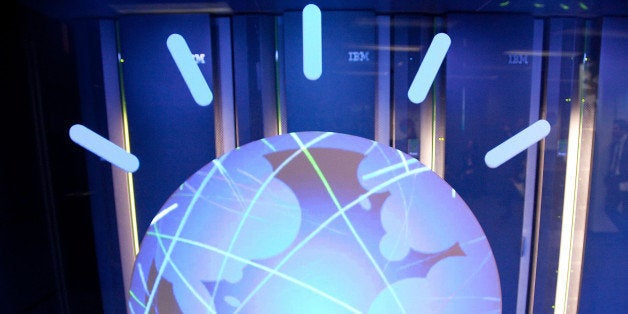 In an interview with Computerworld, Watson CTO Rob High discussed IBM's plans to open the computer to developers in 2014. "[Watson is] stable and mature enough to support an ecosystem now. We've become convinced there's something very special here and we shouldn't be holding it back," High told ComputerWorld.
Developers will be able to access Watson's power via the cloud. According to the IBM press release, the Watson cloud package will include "a development toolkit" and "access to Watson's API" -- in other words, developers will be able to create apps that interact with the software. The cloud package also gives access to an "application marketplace," ComputerWorld reported, so something resembling an App Store for all Watson-based apps.
So what could developers do with Watson that they can't do with regular data-crunching computers? In a 2012 interview with GigaOM, Dan Cerutti, IBM's vice president of Watson commercialization, laid out some possibilities. The most radical: Watson could be used as an "adviser" in situations where humans don't know (or can't process) all the relevant information. "If a human being was able to read everything that was relevant and remember it, would they make a better decision once in awhile? We think so."
Extreme Tech reported earlier this year on Watson's technology being used in the medical field. In response to certain variables a doctor inputs, the computer can scan through medical data to return potential diagnoses. "[Health care company] WellPoint points out that doctors miss early stage lung cancer diagnoses about half the time. Watson, on the other hand, is able to get the right diagnosis on these same cases 90% of the time," Extreme Tech reported.
But even developers uninterested in Watson's unprecedented facility with natural language -- the computer used this ability to win on "Jeopardy!" -- could do some fairly innovative things with the machine. In 2012, students at the University of Rochester Business School suggested Watson could construct a system for optimizing organizational responses in the face of natural disasters. "The idea is to combine weather data with census information so that organizations can prepare for and better manage and allocate resources during weather crises."
The price and the release date for the Watson developer package haven't been announced yet, but we're sure developers will jump at the chance to try it out when they can.
Related
Popular in the Community