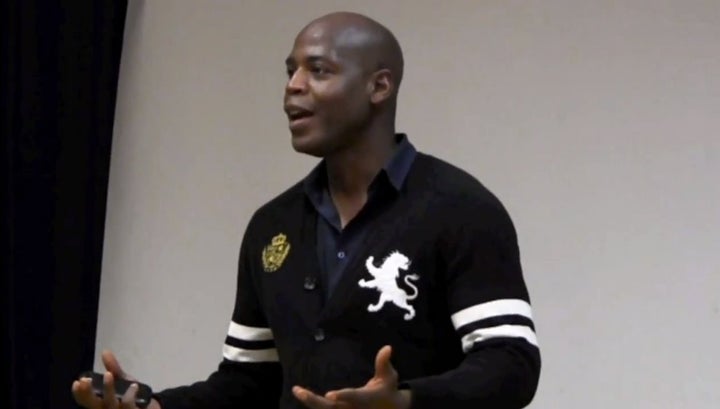 As I and several other adults prepared to speak to the high school class, for a moment I felt like I was once again a high school student as the feelings that are associated with high school revisited me. Standing in front of all those eyes -- young eyes, some tired eyes, some indifferent eyes and some eyes that said, "Who the hell are you, and why should I care?" -- I started to wonder, "Will I fit in? Will they like me?" For some odd reason a hoodie-clad young man who sat in the back gave me the most pause. He had an intense look that permeated the room, with a specific focus that I felt was directed at me. It was too late to run, so I simply started my presentation.
"Hello," I said. "I am here with PFLAG, and I'm going to share my story of being gay." And there it was: I'd opened the gate, and it was too late to turn back now. Borrowing a line from the Talking Heads song "Once in a Lifetime," I asked myself, "How did I get here?"
PFLAG, or Parents, Families & Friends of Lesbians and Gays, encourages parents, families and friends of LGBT people to come together in learning, acceptance and celebration of their LGBT loved ones. The New York City chapter's TransParents project caters specifically to parents of transgender people. My volunteer experience with PFLAG started when they asked me to be a speaker in their national Safe Schools program, which brings LGBT people and their parents, families and friends to schools, where they share their experience of being LGBT or knowing someone who is LGBT, in order to combat homophobia and transphobia in schools. PFLAG has been addressing school bullying since 1973, long before it was national headline news.
My experience with the organization debunked many of my preconceived notions. I once believed that PFLAG was only for white parents, but since getting involved, I have been introduced to a new, multicultural group of people with shared experiences. Even when I was asked to speak to students, I assumed that I would be speaking at elite schools full of tolerant students, but that has been far from the case.
In fact, we have spoken in neighborhoods ranging from what I call "the good zip codes" to some of the toughest neighborhoods, where intolerance often runs high. That's where I was as I shared my life experiences with the hoodie-sporting guy's class. I had doubts when I was asked to speak there, as the school is in a neighborhood where there have been several gay bashing incidents that made the local news. As we made our way to the school, I was asking myself whether I was crazy to have agreed to go there, but then I thought of the LGBT youth who live in these neighborhoods and feel like they don't have allies or people who understand, who see no reflections of themselves beyond the media, who wonder what this thing called "gay" is. Knowing I could make a difference gave my steps a purpose. My story is their story, and only by sharing my experiences could I help bring down the walls of intolerance.
I told them about my fears of my family and friends learning that I was gay. I related my experience of walking around wearing a figurative mask, feeling like I could never be myself. I was even able to talk about the complexity of being a gay person of color, and about the difficulty of learning at a young age how sexual identity and race intersect. That topic seemed to make a great impression, as I was speaking to a class filled with students of color.
For my part, I learned that the fact that an area may be considered "low-income" doesn't mean that everyone there is homophobic. Indeed, many of the students in the tougher neighborhoods we've visited have shared stories about gay family members whom they love unconditionally. Some of these students have even proudly professed their own sexuality and joined the chorus of PFLAG volunteers by telling their peers about the importance of accepting people for who they are. And the questions that have followed have also been eye-opening; the young students often ask intelligent questions that go far beyond, "When did you know?" They range from, "How can I help support a friend who may be gay?" to, "Can you come back and speak to more classrooms?" Yet again, my preconceived notions were incorrect; I've been forced to recognize my own prejudice in assuming that young people of color would not be open to the LGBT community. To paraphrase Sally Field, they like us! We often learn more from the students than we thought we ever could.
After I finished my presentation at the hoodie-wearing guy's school, the bell rang for the next class, and the students thanked us as they headed out. Finally, the guy with the hoodie started to make his way toward me (I hadn't realized how tall he was!). Standing in front of me, he extended his hand, and in a deep voice he said, "Thanks for coming. I learned a lot." Then he left. I don't know what his story was, but I do know that in that short time, I made an impact that I know will go beyond that classroom. This doesn't require PowerPoint presentations or radical language directing people to change. All it requires is giving youth hope, one story at a time. It's an experience that makes me proud to wave my PFLAG.
Calling all HuffPost superfans!
Sign up for membership to become a founding member and help shape HuffPost's next chapter