Created by muralist Anna-Lisa Notter and commissioned by the Pink Door restaurant, the newly unveiled likeness of Waxie Moon towers over the historic Pike Place market, greeting thousands of tourists from all over the world. The mural, which shows the gender-blending Waxie dangle from a swinging chandelier and pour champagne flute toward Elliot Bay, is right at home in Seattle known for its celebrated burlesque scene (from Gypsy Rose Lee to Miss Indigo Blue) and its progressive politics.
I spoke with Notter about the genesis of the project.
Anna-Lisa Notter: This mural was commissioned by the Pink Door owner, Jackie Roberts, who had envisioned a starry night sky with an aerialist swinging from a chandelier. At first consideration, our model was perfect in showcasing strength and beauty. She embodied the athleticism, grace, finesse and sensuality we were originally picturing. However, my gut told me that this mural was not meant to be another image of a traditional sexy woman, as beautiful as she might be. The longer I considered the translation of her power on a 2D surface, I realized I wasn't doing her a service: without the element of movement she would become a static image of a sexy woman without context. And as a woman who was originally hoping to further empower an already powerful colleague, I came to the conclusion it was all too typical of what is in front of audiences everyday. I wanted to change the paradigm and empower her by not capitalizing on her body... that's not the story I want to tell.
Enter Marc Kenison, one of Seattle's best and most thought-provoking burlesque personalities. In his full humanity, his brilliance as a boundary-defying performer is something to behold and if I even captured a fraction of his supremacy I'll feel satisfied. For our new story, I couldn't think of anyone more fitting, specifically his persona of Waxie Moon. Waxie embodies both masculinity and femininity perfectly. There are no wigs, but instead his head is shaved while sporting amazing sideburns, a mustache and impeccable make-up. Not to mention s(he) is an incredibly gifted performer and trained dancer, who has magnetized a fan base across the world (though I'd say most fondly from his own Capitol Hill neighborhood in Seattle). He was born to be iconic! He didn't need to be in a dress to be a statement piece. This is the conversation: the fact that it's Waxie Moon gives space for dialogue surrounding issues of sexuality, gender identification, gender roles and objectification.
What have the response been so far?

Anna-Lisa Notter: I've been receiving only positive feedback since our reveal at the end of the summer. I think Waxie embodies a lot of different things for different people, and I hope that it stirs up conversations about our assumptions regarding clothing, gender and sexuality. After all, it has indeed been said that "Waxie Moon is an international gender-blending queer lady boylesque performance-art stripping sensation!"
How did the mural come about?
Anna-Lisa Notter: The mural took over two years to accomplish from beginning to end. By the time we received the thumbs up to move forward with the project, I was just completing my first trimester of pregnancy and was expecting to have a baby in the beginning of August. Coincidentally, much was happening for the progression of the LGBTQ community at the time of my baby-winter-hibernation that helped evolve the project to where it landed. Same-sex marriage became legal in Washington State on December 6th of 2012. Seattle's local musicians Macklemore, Ryan Lewis and Mary Lambert sent waves with the song, "Same Love" as an unofficial anthem in support of Referendum 74. We also recently elected Seattle's first openly gay Mayor, Ed Murray. The timing felt right for this picture to be painted in our city, above the original Starbucks in iconic Pike Place Market. Human rights is a conversation, and there might be critics out there that see what I painted as trendy, but I'm honored to be part of this trend. I see it as a trend that leads to change and transformation.
Luckily I was commissioned by a fellow feminist! Jackie Roberts is one of the most empowered women I know, who herself had the vision and tenacity to open her thriving restaurant, The Pink Door, in her 20s before Pike Place was even desirable real estate. She was instantly on board with the idea of Waxie and the light sparked in us both. We talked about the future of this mural and how my daughter, Willow, and I will *hopefully* be able to sit out on the Pink Door patio and look at it. I'll be able to tell her that I began that project before she was born and in her first year of life. I can't wait for my daughter to grow up and laugh at the potential scandal of 2014.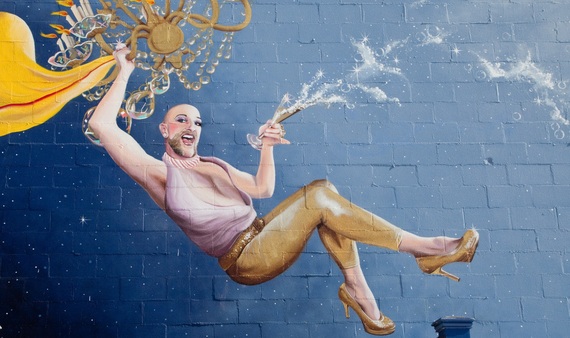 Ever since the heels arrived on the wall and until the reveal, both Pink Door customers and Pike Place tourists were asking who "she" was and we just told them they had to wait and see. At the end, his face was hiding behind ladders and tarps with some tricky early morning sneak peeks on my end to know when it was complete. Now it is - Our interpretation of a beautiful woman hanging from a chandelier.
Calling all HuffPost superfans!
Sign up for membership to become a founding member and help shape HuffPost's next chapter