If actions speak louder than words, the self-driving car company Waymo might as well be shouting.
Waymo, the startup spun off from Google last year, said Monday it will add 500 self-driving Chrysler Pacifica minivans to its fleet, bringing the total number of autonomous vehicles it has on the road to about 600.
The bulk of those additional minivans will operate in the Phoenix area, where Waymo has been quietly operating a test program for select families, with plans to open up its free program to hundreds more for a public trial.
"Over the course of this trial, we'll be accepting hundreds of people with diverse backgrounds and transportation needs who want to ride in and give feedback about Waymo's self-driving cars," CEO John Krafcik explained in a blog post.
"Rather than offering people one or two rides, the goal of this program is to give participants access to our fleet every day, at any time, to go anywhere within an area that's about twice the size of San Francisco."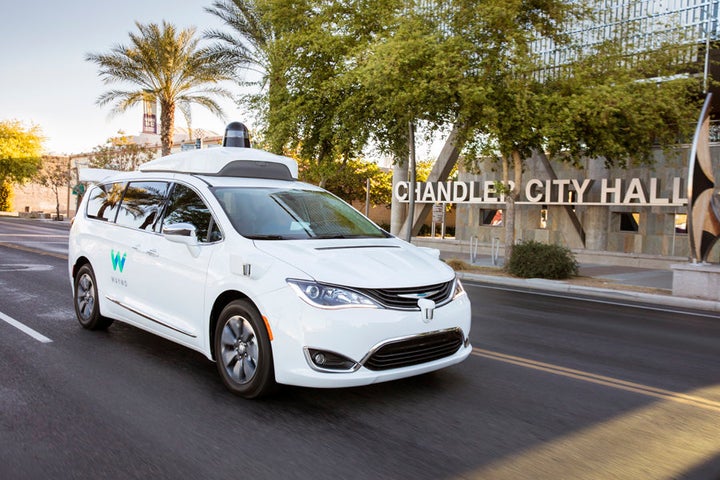 The addition of 500 vehicles will dramatically increase Waymo's ability to capture critical mapping data ― and to use that data to improve its software (read more about that here) ― launching the company even further ahead of competitors like Uber and Lyft (though probably not Tesla, which has a couple billion miles under its belt, compared with Waymo's 3 million).
Waymo's self-driving fleet isn't just larger than Uber's (as of March 8, Uber had 43 cars). It's also substantially better at driving.
Backup human drivers in Uber's self-driving cars had to take over about once every mile as of March 8, according to documents obtained by Recode (Uber doesn't make its data publicly available).
Some of the difference can be attributed to location. Uber is testing many of its cars in Pittsburgh, which has much more challenging climate and geography than Phoenix. Waymo is also testing vehicles in Texas, California, and Washington state.
Popular in the Community