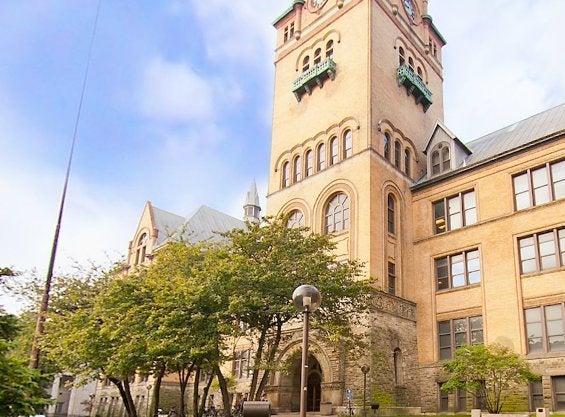 Wayne State University's Board of Governors unanimously approved a tougher new admissions policy for the school Wednesday that officials say will help increase the university's graduation rate.
So in addition to evaluating new applicants' grades and test scores, admissions officers will now examine students' personal and academic histories -- what the university terms a "holistic" review process.
Wayne State's admissions department will have three options: accept an applicant outright, enroll him or her in an eight-week preparedness course, or advise the applicant to pursue other options like community college.
A summer "bridge" preparedness program will include math and English courses and success coaching. Students admitted to the program will receive tuition, room and board at no cost. A fall "bridge" program that covers just the cost of tuition will also be offered.
Jorge Chinea, director of Wayne State's Center for Latino/a and Latin American Studies, attended a public meeting in November where the new policies were discussed with faculty and the community. He thinks the oversight committee is a great idea.
"It seems there was a lot of interest on and off campus, and so the fact that they [included the committee] is a plus for the university. It shows the university values its urban mission," Chinea said.
But even with the oversight, critics are worried changes to the school's admissions policy will restrict access for working-class and non-white students.
Rev. Dr. Wendell Anthony, president of the Detroit branch of the NAACP, wrote to Wayne State University President Allan Gilmour detailing his organization's concerns that the new admissions standards would adversely affect minority students.
"Minority admissions have declined, at WSU, by 18.7 percent over the past five years. This is a dramatic, worrisome decline," Anthony wrote. "Our chief concern is that WSU's new admissions policy will worsen this situation and further reduce minority admissions."
Dr. Melba Boyd, Wayne State distinguished professor and chair of the university's Africana Studies Department, said the new rules seemed rather vague.
Although she thought it would be difficult to predict how they would affect demographics on campus, she hoped the new guidelines would not alter Wayne State's diverse, working-class student body. Melba said that's the reason many professors choose to teach at the university.
"It's not as easy as when you get a kid who has had all of the advantages, but it's not impossible," she said. "I don't want the institution to become an island in the middle of Detroit. I think that would be tragic."
The new admissions guidelines will take effect in the fall of 2013.
REAL LIFE. REAL NEWS. REAL VOICES.
Help us tell more of the stories that matter from voices that too often remain unheard.
BEFORE YOU GO