Wayne Thiebaud and The Sweet Life
By Elizabeth Sobieski
As the country mourns, I reach out to the artist who, for me, exemplifies joy more than any other. With his witty thickly pigmented paintings of various foodstuffs, especially sweets, and equally compelling cityscapes, landscapes and portraits, Wayne Thiebaud's work provides an endearing and enduring smile to the legacy of American art.
I phone him at his Sacramento studio. He has just returned from the tennis courts, from his thrice weekly and much adored game. Thiebaud, still producing his painterly masterpieces and currently immersed in the playing fields of art and sport and life, is 95 years of age.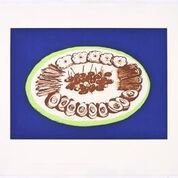 "Appetizers" (acquatint), Courtesy of FAPE's Original Print Collection
Starting this Thursday, June 23, the Foundation for Art & Preservation in Embassies, is exhibiting its breathtaking collection of prints at the Reagan Library, curated by Yale School of Art Dean Robert Storr; Thiebaud's Appetizers is being shown for the first time as part of the collection. The show includes works donated by many of America's greatest artists, including Jasper Johns, Frank Stella, James Rosenquist. Julie Mehrutu, Jeff Koons, Chuck Close, and Cindy Sherman. Generous artists and art collectors have helped FAPE install permanent pieces in numerous American embassies worldwide, artworks that act as US cultural ambassadors. Artists who donate their work don't receive a tax write-off based on the market value of the piece, but merely for the expense of the raw materials. I ask Wayne Thiebaud, who served his country during World War II, if artists are undervalued as prime patriots. He said, "We get the benefit of loving what we do and the wonderful opportunity to do what we do. We could use in this country, I think, a Minister of Culture, like in France and Germany, to help us develop cultural competency, thereby becoming more aware and having more access to what all kinds of artists are doing."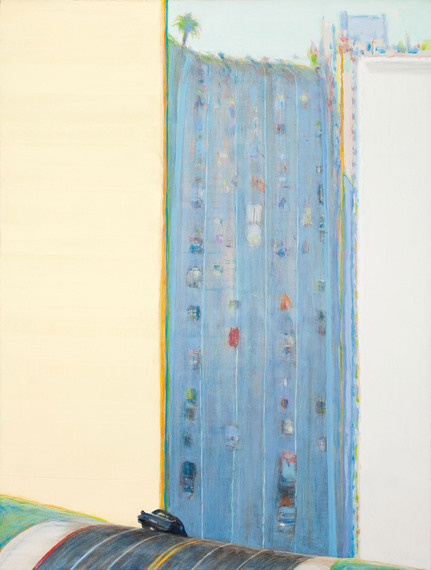 Up Street_,1993, Oil on canvas
Allan Stone Collection, courtesy: Allan Stone Projects, NY
As a young man, he briefly worked for Disney Studios and also put in time at a diner in his native Long Beach, California. He is obviously fascinated by both cartooning and common contemporary consumer artifacts. I ask which job proved a more formative experience. Thiebaud doesn't hesitate, "I spent a lot of time washing dishes, as a busboy, preparing food. This provided a wider and richer source of visual material."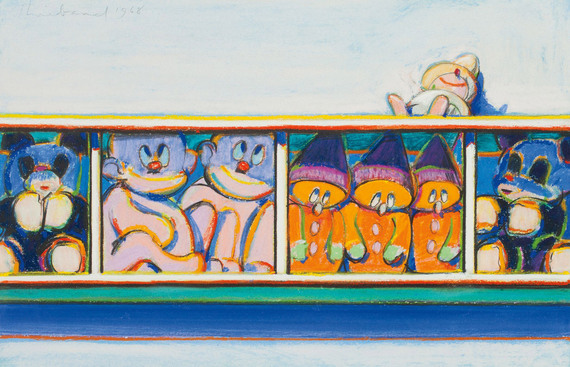 Untitled_1968, Pastel and graphite on board
Allan Stone Collection, courtesy: Allan Stone Projects, NY
Aside from two stays in New York, during 1946 and 1956-7, he has spent his entire adult life in Sacramento. He recalls, "I loved New York but I missed space. I always felt crowded no matter where I was.... I fell in love with Sacramento. It's a much slower and calmer place and I had a chance to teach and teaching became a very important part of my life." He continues, "This land is the recipient of three rivers that come by and establish wonderful tree cultures and agriculture, a beautiful place. It has its own exotic world just below in the delta which provides 1000 miles of waterways which provide a lot of pleasure and beauty."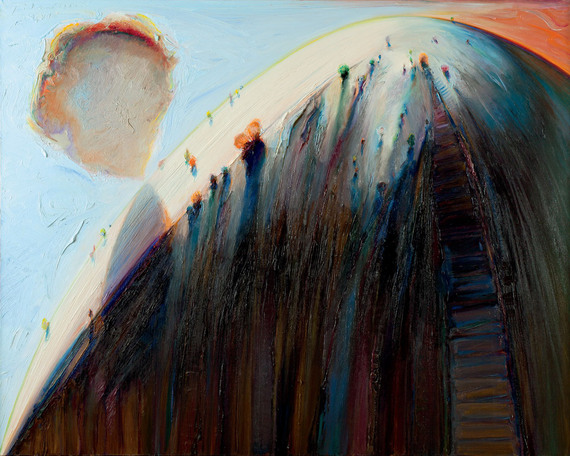 White Mountain_ 1995, Oil on canvas
Allan Stone Collection, courtesy: Allan Stone Projects, NY
He has lived in his beloved Sacramento for seventy years, was married to his late wife, the filmmaker, talented cook, and favorite model, Betty Jean, for over fifty years, and was represented by the same gallery, Allan Stone in New York, from 1962 until Stone's death in 2007 (Thiebaud is now pleased to be represented by the esteemed Acquavella Galleries), and was part of the faculty at the University of California at Davis for over three decades. Clearly, Thiebaud is a very loyal man. I wonder out loud if he thinks there is a link between steadfastness and delight. "What I encourage both students and friends to do is slow down and take long looks at things. You want to have that slogan: slow and patient wins the race." He adds, "I believe in trying to be honest and kind to people and I have been marvelously fortunate in so many ways, helped by so many people that I try, for that reason, to responsibly do what I can for others."
Arts education is a passion of his. The Thiebaud Foundation has endowed lecture series and the artist is very involved with the Manetti Shrem Museum, a teaching museum opening on the UC Davis campus next November 13. He is concerned that, without arts in the regular curriculum, "We are in danger of having a half educated culture."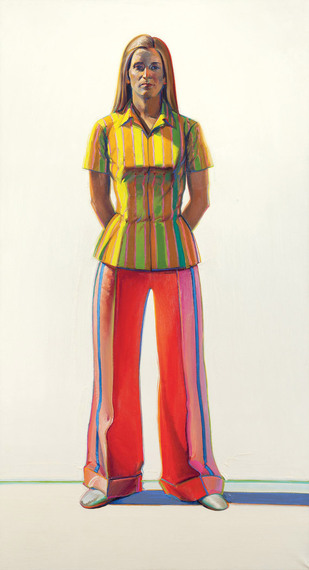 Girl in Striped Blouse_ 1973-75, Oil on canvas
Allan Stone Collection, courtesy: Allan Stone Projects, NY
Unlike so many artists of d'un certain age, Wayne Thiebaud's paintings from the twenty-first century are just as admired as his twentieth century oeuvre. His Two Jackpots from 2005, was auctioned at over six million dollars. He finds, "That's so ridiculous. I can't even understand. Part of the art world which I think is highly suspect. Like Oscar Wilde said, people tend now to know the price of everything rather than the value." He notes, "I would be an ingrate if I didn't appreciate it. But it is very scary."
How does he stay so current? "The thing which I encourage young painters and old painters also, is when you know how to do something, you want to be careful about repeating it too easily, you want to take some risks about going on and trying something new...Research, fail, make messes, go crazy for awhile. Stay challenged. That makes you prove somehow substantially that you are passionate about a particular thing,. You are willing to try it, even if you fail. Certainly I've done that and that's one of the great ways in which we learn. Be willing to make a fool of yourself."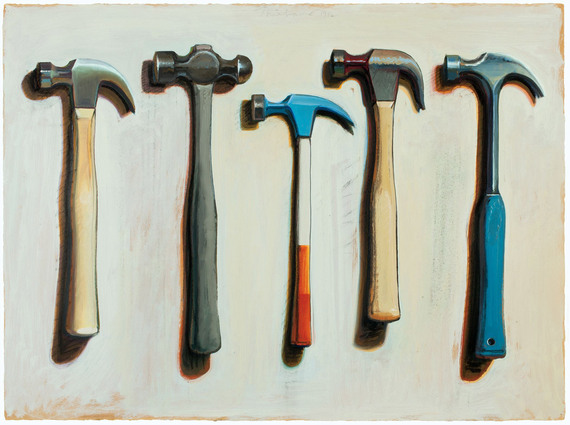 Five Hammers_1972, Oil, pastel and pencil on paper
Allan Stone Collection, courtesy: Allan Stone Projects, NY
During World War II, Wayne Thiebaud served in the First Air Force Motion Picture Unit, under then actor Ronald Reagan. And now, seventy years hence, Thiebaud's acquatint Appetizers, will be displayed at Reagan's Presidential library. Does he have any memories of serving under the future president? He recalls, "I mostly remember he was married to Jane Wyman and all of us were watching her getting out of her convertible, delivering him and walking in with her boxer dog."
I wonder if, while painting, the images of cakes, pies, ice cream, candy apples and lollies, ever makes him hungry. He laughs heartily, "No, there are too many problems with them, they only urge me to go back and work on them and make them better."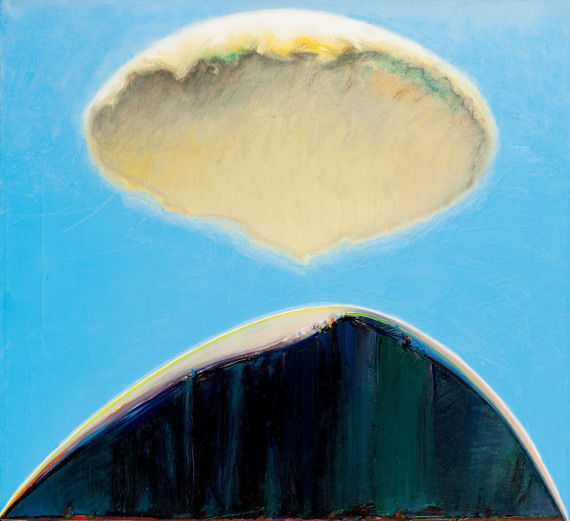 Mound and Cloud_ 1972, Oil on Canvas
Oil Allan Stone Collection,courtesy: Allan Stone Projects, NY
When asked how he decides, on any given day, between depicting a compilation of appetizers, hammers or a San Francisco cityscape, he says, "I'm liable to paint anything at any moment if I get a hankering. I might even paint another pie. It's always some problem that fascinates me, either in color or space or designing compositional problems. That's part of it. Each series sort of focuses on these characteristics which usually take 12-14 years to get through, so they are focused.".
He once said that as an artist he was never fully convinced of what he was doing. I ask him if he is convinced yet. "No," he laughs, "Anyone who loves anything, you can never rise to the expectations you would like to, but you can hope that you don't ignoble the great tradition. You want to have respect for it and love for it and be influenced by it and judged by it. At least that's the way I go about it."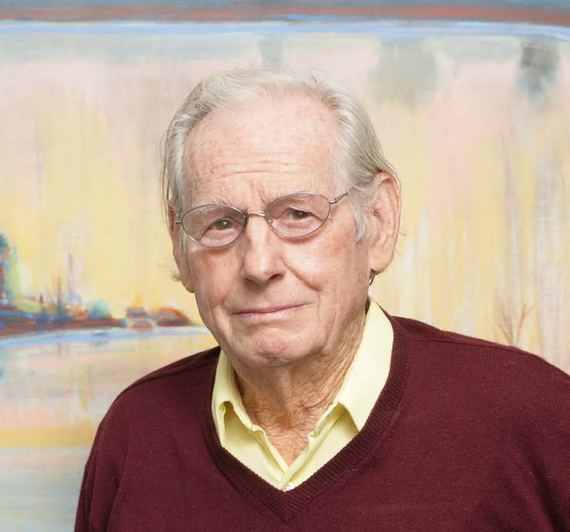 Artist Wayne Thiebaud, Courtesy of FAPE
Collections of The Foundation for Art and Preservation in Embassies
Ronald Reagan Presidential Library and Museum
Simi Valley, CA 93065
June 23-August 7
Popular in the Community