In 1992, Emily Harvey, a New York gallerist known for her support of the international avant-garde community, conceived of The Cast Iron Court Corporation Group Show, a curatorial project to be held in her SoHo building, 537 Broadway/110 Mercer Street, the last of George Maciunas's 16 Fluxhouses. It was an exhibit that somehow never materialized.
Named The Cast Iron Court Corporation (CICC), the building (erected on the site of P.T. Barnum's second American Museum which burned down in 1868) became the live/work home in 1974 of a distinguished group of artists including Nam June Paik and his wife Shigeko Kubota, Ay-O, Yoshi Wada, Simone Forti, Peter Van Riper, Francis Alenikoff, Mary Beth Edelson, Davidson Gigliotti and Elaine Summers. Since it had no columns, the 35-foot wide building was especially attractive to dancers like Forti, Summers, and Alenikoff. Across the internal courtyard, was a twin building, 541 Broadway, the so-called dancers' building, which was home to Trisha Brown, Lucinda Childs, and Douglas Dunn.
George Maciunas, the founder of the Fluxus art movement and the creative force behind live/work artist coops in SoHo, bought the building for $325,000 but Maciunas never actually lived there; instead, he sold off all of the loft spaces in the building to artists, including his second-floor space which he originally bought for himself but then sold to Jean Dupuy and Olga Adorno. But Maciunas's ties to the building were truly significant: he was severely beaten there by a bunch of thugs who demanded payment on owed bills in 1975, and he was married in the same second-floor Broadway loft, now home to the Emily Harvey Foundation, in February 1978. Sadly, this was only three months before he died. In the Fluxus wedding ceremony, on view at the event, both Maciunas and his bride Billie Hutching wore bridal gowns.
Four decades after its transformation into an artist coop, on April 11, a version of Harvey's exhibit finally took place in 537 Broadway/110 Mercer, the work of Columbia University Master's candidate Agustin Schang, with the design assistance of Laura Escobar and the deep knowledge of Kevin Harrison, the building's super for 20 years, a man who collaborated on various Maciunas construction projects including 80 Wooster Street, and a man dubbed by Schang as "the best Building Historian in-site."
Although Schang (who is 36) was trained as an architect in his native Buenos Aires, he has never worked in a firm. Instead, he was drawn to cultural events, serving first as a technical coordinator for the Festival Internacional de Teatro de Buenos Aires (FIBA), and later as a member of the production team for the Buenos Aires Festival Internacional de Cine Independiente (BAFICI) where his assignment was to contact Jonas Mekas to get one of Mekas's films in the festival. After Mekas's "Letter to Greenpoint" was screened, Mekas contacted him about a performance project created by Virginie Marchand, a filmmaker and Butoh dancer, with Mekas as the camera man. Shown in Buenos Aires, and Tokyo, Mekas wanted to bring it to New York in 2007 and he suggested the Emily Harvey Foundation (EHF) space in SoHo. So began, in 2010, Schang's collaboration with Christian Xatrec, EHF's director, with Schang visiting New York to help with programs
By 2013, Schang was restless. He had spent eight years setting up venues for major festivals in Argentina but he knew that "he needed to do something else." Back in New York City, he heard about the new M.S. Program in Critical, Curatorial and Conceptual Practices in Architecture at Columbia University (GSAPP), applied and was accepted, and he moved, like a mouse in the attic, into a pied-a-terre perched above the foundation space; his entrance a steep, spiral metal staircase. When it was time to come up with an idea for a thesis, he knew that he wanted a "cool project, one where architecture somehow connected with curatorial matters, not just with real estate and design; one where he would be involved in mediating different audiences." He titled his thesis: Toward events, scoring objects, with Ways of treating buildings in order to see them as one component.
What inspired the final design of the current project? "I am the luckiest man in the world to be in this space," Schang said, modestly claiming that "people, stories, archives, and documents" just "came to him." Three documents in particular influenced him: George Brecht's Event Score, an Emily Harvey letter from 1992 proposing an art show in 537 Broadway/110 Mercer, and a 1980s listing of the artists who lived there.
Modeled on the Event Score, a conceptual model of artistic practice developed by artist George Brecht, in which objects with simple white cards with few words on them would provide a new way to see subjects and objects, Schang's Ways of treating buildings in order to see them was his riff on Brecht's Ways of treating objects in order to see them (Notebook # 8). Brecht's thinking on the subject significantly influenced the Fluxus Art Movement.
Schang's curatorial event was designed to "understand the particular way the 537 Broadway/110 Mercer people recorded their own history." It involved taking viewers on a one-hour guided tour from the sub-basement up to the fifth floor. Drawing on extensive research, the exhibit included 27 works, documents, and objects done by the artists who lived in the building.
At every stop along the tour, Kevin Harrison added personal details to illuminate the object or the space. In the sub-basement, Harrison explained that the space behind the closed door had once been Black Hole by Ay-O, a "kind of tactile black-hole, carpeted and totally black." There were 15 or 20 little objects to feel. Ten or fifteen years ago, the space was sold for studios. Further down the hallway, we stopped to hear a vinyl recording of Off the Wall (1984) by Yoshi Wada, who lived on the third floor. Wada worked with Harrison doing plumbing jobs for Maciunas and his musical creations were written for instruments made out of plumbing parts, although the piece we heard was played on bagpipes. There's a video of Nam June Paik from 1979 on the building elevator shot by Joan Logue, who used to live on the 4th floor with Ay-O. We see the cable that you had to pull to make the elevator go up or down.
On the wall, outside of Harrison's office (off-limits for the tour) is a print from 1857 showing the Chinese Museum that used to exist on the site. Nearby is the former den of Citizen Kafka, the stage name of Richard Schulman, a radio personality and folk musician, who had a studio there. An old color photograph shows a red door with letters pasted to it, spelling out the sentence: "Citizen Kafka iz a wackie man in a cake at a fete." "Kafka had a show on WBAI radio with John Goodman," Harrison recalled.
Down the hall is Charlotte Moorman's Green Neon Cello: Shadow of my Cello, 1989. According to Joan Rothfuss, author of Topless Cellist: The Improbable Life of Charlotte Moorman, Moorman's last public performance in New York City was Child of the Cello, a solo exhibition held in the Emily Harvey Gallery.
In Davidson Gigliotti and Elaine Summers's loft space on the fifth floor, there is an Elaine Summers' video, Buttons and Buttonholes that was filmed in four languages (we see the Portuguese version) shot in the very same kitchen space that we see before us and on the 3rd floor, in Frances Alenikoff's space, her daughter Francesca Rheannon said that the space, with the addition of a few walls, has remained the same. Alenikoff was a dancer, choreographer, and visual artist. "See that squash up there," Rheannon said, pointing to a gourd on a shelf, "she had that in the 1970s." On a table, are copies of Alenikoff's drawings and her rock paintings. We walk through the door into the dance studio where Meredith Monk and Philip Corner once danced. "The floor was laid by an Italian craftsman," her daughter said, and "it is known as the best dance floor in New York City. It is very resilient--returns energy to the dancers who use it." Today, the space is still rented by various dance companies including Movement Research.
On the third floor, we hear the Plumbing Music of Peter Van Riper while Drawn on Windows, his video is playing. Slowly, the audience becomes aware that dancer Cathy Weiss is performing. Two cameras artfully placed, record her dancing with her shadow.
The hour tour is over and the crowd returns to the Emily Harvey Foundation gallery space on the second floor. It is a mixture of uptown and downtown, old and young. There are architectural students from Columbia, undoubtedly friends and colleagues of Schang's and SoHo residents like Yukie Ohta whose SoHo Memory Project Kickstarter Party is scheduled for May 7th.
It is dark outside. In a building across Broadway, a crystal chandelier glows from a loft window. On the streets below, vendors are closing up their carts and shoppers are hurrying home, clutching shopping bags from UNIQLO and H&M in each hand.
Upstairs, Agustin Schang is grateful. He has done justice to the building. He has somehow managed to conserve it. He quotes a line that he loves: "George Brecht said that we have to 'view objects for a long time until they are seen.'"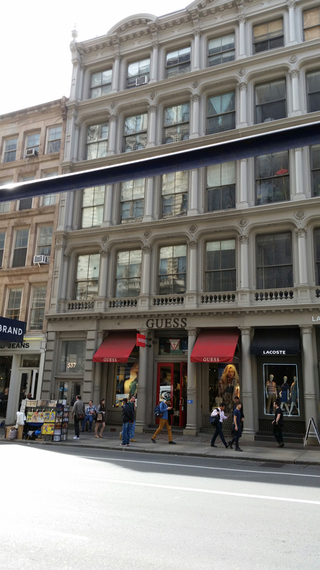 537 Broadway/110 Mercer Street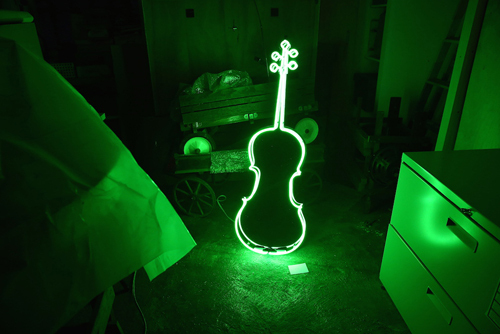 Green Neon Cello by Charlotte Moorman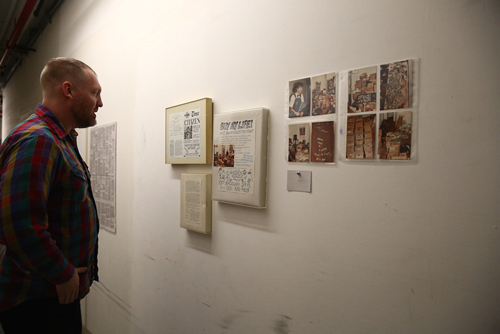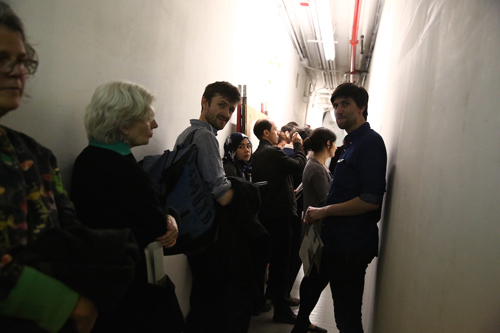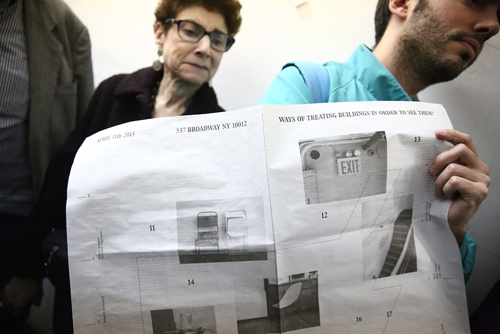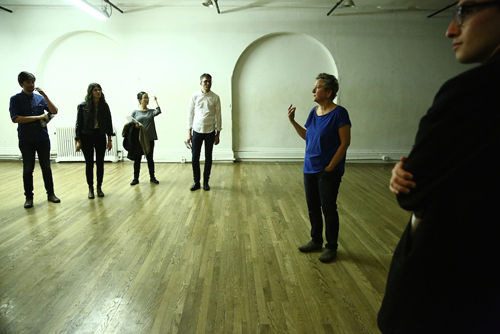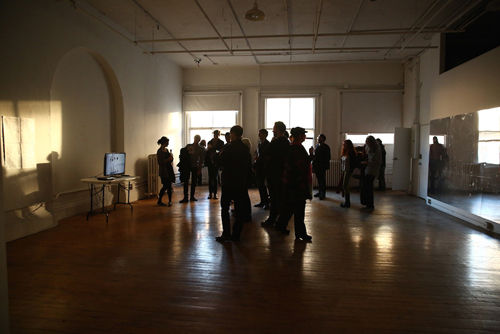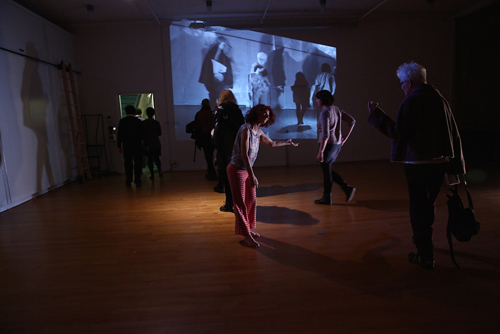 All photos except building facade by Paula Court
REAL LIFE. REAL NEWS. REAL VOICES.
Help us tell more of the stories that matter from voices that too often remain unheard.