It's no secret that budget airlines are becoming more popular and accessible, with more options to travel abroad. However, cheaper flights come with certain restrictions, including baggage fees. Additionally, larger airlines are now competing with budget airlines. In order to raise their profits, they too are aggressively charging luggage fees (aside from Southwest airlines who still allow two checked bags for free). Some airlines even charge for carry-on luggage, unless it can fit under your seat. Spirit Airlines have the highest fees among popular airlines, at $45 for the first checked bag.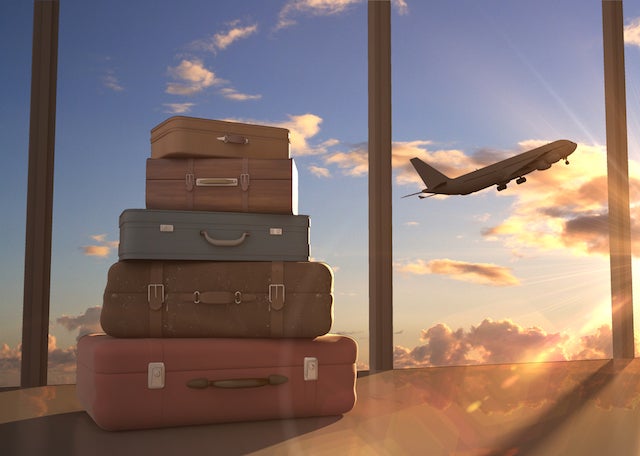 Booking a round-trip flight can be a baggage fee nightmare that can end up costing more than the flight itself! Wild, but true. Luckily, there are ways to avoid these airline baggage fees and save money altogether.
11 Tips to Avoid Airline Baggage Fees
Fortunately, there are ways to bypass these additional airline baggage fees:
Sign-Up For an Airlines Credit Card
Many of the airlines will waive baggage fees simply by purchasing your tickets through their co-branded credit card. This is one of the easiest and more rewarding ways to circumnavigate annoying airline fees. For example, you can get free checked bags on for 8 passengers on Delta with their co-branded card.
Knowing and Comparing the Airline Baggage Fees and Choosing Accordingly
This requires doing a bit of research but is beneficial in saving money. For example, you may find that American Airlines offers the lowest priced fares but charges an additional $25 for a checked bag. In comparison, Norwegian Airlines is offering the same price but on their higher economy seats that include bags and seat reservations. You may have to weigh up what's most important to you on that particular trip. Additionally, pay close attention to rules. Some seats may not allow carry-on bags for free, such as Wow Air's lowest priced option (they only allow hand luggage to fly free). Booking on a third-party website may not get you the full details. Check the airline itself for additional information.
I know this is obvious (and somewhat annoying advice) but there are ways of packing that can save you money and space. Rolling up clothing, using ziplock bags and sucking the air out, organizing with packing cubes, and/or layering are all essentials to follow. Wearing sweaters and jackets on the flight can also help with creating space. Rolling socks and underwear into shoes and tying scarves around hand luggage or purses enables a way to warm up quickly while still keeping stylish. Packing smarter leaves more possibilities and fewer fees. If anything, you'll have more room for souvenirs!
Consider Checking One Bag if Traveling with Multiple People
This can be especially useful if traveling with family. Perhaps checking in one large bag that holds most of the essential items costs $135 versus having several smaller bags that cost $25 each to pay for would be a better fit.
Keep the Heavier Items in the Carry-On
While it may seem counterintuitive, storing your heavy items in your carry-on may actually save you money. Many times, carry-on bags aren't weighed while checked bags are. Be aware, if the bag is too heavy, you will need to remove items.
Upgrade Your Experience the Day of a Flight and Get Your Bags Flown Free
Some airlines will offer you the chance to upgrade your flight for a fee that is comparable to or less than how much it would cost to check luggage.
Ship Your Items via UPS, FedEx, USPS, etc.
Depending on your purposes and how long you'll be traveling, shipping via mail and package couriers could actually be cheaper than transporting it with you. Not only that, you won't have to worry about lugging anything to and from the airport. Alternatively, if you ever want to sell some of your luggage space, there's an app that will connect you to people who are willing to pay to get their items to them much quicker and cheaper than a courier.
This doesn't always work but it is worth mentioning. Depending on how full your flight is, the airline employees may ask for volunteers to have their bags checked at the gate to make room for all of the baggage. They usually do this on a complimentary basis but may charge you, depending on the airline.
Know the Size and Weight Constraints and Consider Investing in Luggage that is Lightweight
Knowing what will and will not be allowed on as hand luggage is crucial to avoiding a surprise when trying to check-in. If the luggage you are using is bulky and you travel frequently, a lighter device will save money in the long-run. Also, note that items such as strollers and wheelchairs may be flown for free. Slipping a few items in those crevices can allow more space overall.
Ask the Airline About Exemptions You May Qualify For
You may find that you qualify for a discount based on your employment or purpose of travel. For example, members of the armed services may get their baggage fees waived or their international flight luggage fee waived.
As previously mentioned, Southwest allows all of their passengers to check-in two bags for free. You may even check skis and golf clubs for free! Furthermore, you can transfer your Chase Ultimate Rewards points to Southwest. If you are a frequent flyer, Southwest even offers a companion pass that allows you to bring a passenger for free for a whole year! Four free bags is a pretty sweet deal.
Summary on Ways to Avoid Airline Baggage Fee
One of the easiest and best ways to avoid checked bag fees is to take advantage of co-branded airline credit cards. Using your cried card to make purchases not only gets you free bags, you also earn points that can be redeemed for more benefits including upgrades, priority boarding, and/or better meal options. Airline baggage fees can sneak up on consumers and add up quickly. The best way to prepare for possible fees is to do a quick search on the airline's website and be aware of their policies. Often times the airline will have a description of what fees may be tacked on when booking a seat. If you compare notes between airlines and consider whether or not some of the options listed above are practical for your needs, you can travel smarter and cut down those silly costs.
Popular in the Community