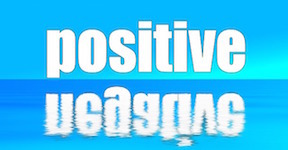 Maintaining a positive outlook on a daily basis is easier than it sounds, especially in this streamlined world of information networks. When we finally do embrace the positive it is often fleeting, with thoughts that didn't get to linger long enough to sustain the joy of embracing positive energy.
We are coming into the time of the U.S. elections and politics is a hot and heavy subject on a lot of people's minds, and that is just one topic. If you take a look at what is trending in social media, you get a serious heads up in terms of the kind of energy you are exposing yourself to. The spirit and the mind can take a beating when negative energy feeds us without respite, and that may eventually hurt the body. It's important to dig out the positive from those trends and share the upside to the downside. If we focused more on the aspects we expose ourselves to, we would be able to attract more consistently helpful energy.
So how do we do that? Anyway you want, as long as you achieve the desired results of awareness through joy. Here are some ways I approach a more positive day:
1.I tune into my own personal color forecast. It is an intuitive way to express positive emotion through color and energy. I do this by wearing at least one color that makes me feel good.
2.I subscribe to positive pages on social media such as Ashton Kutcher, John Tesh's Intelligence For Your Life, Oprah, Deepak Chopra, Wayne Dyer and many others. Go out of your way to find people with a positive spin to your views and join them.
3.When I express myself to someone, I always lead with the negative and close with the positive. This creates a promise to oneself to action, and you leave people with hope and gratitude.
Sharing is important today as much as it was in days gone by. The difference seems to be in how we share information. Make sure that the information you expose yourself to feeds you in body, mind and spirit in a way that promotes healthy responses to circumstances around you. It made a difference for me and I hope it will make a difference for you.
Related