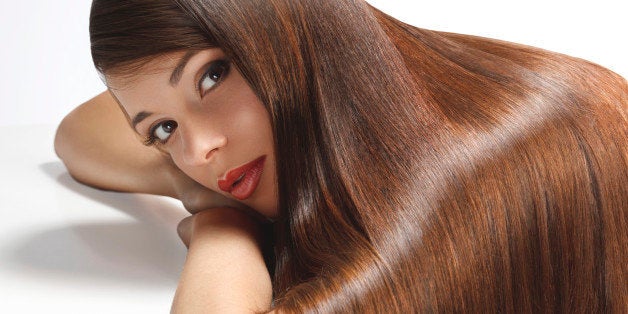 There's something that is intensely gratifying about making a woman feel beautiful. Whether a lady is coming in for a refresh or a complete, transformative change, she is always seeking that moment when she looks in the mirror, and thinks, "Damn, I look good!" I cherish those moments, and I love to be the one responsible for them.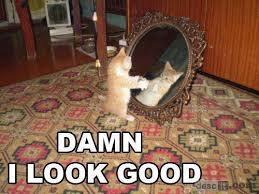 Today, I had a client whose hair was extremely long (a few inches past her bra-line), straight, and without any layers. She was complaining that her ends were extremely fried and dead and told me that I could do what I wanted to her hair so long as she was able to tie it in a ponytail. When a client gives me free reign like that, I'm a happy, excited camper.
Despite this license to do what I wanted, I kept in mind that women with long hair who've had long hair for a long time usually don't want to lop it all off. It becomes another limb in a way. We become emotionally attached to our hair for some reason, and length becomes a security blanket, a familiar comfort. Knowing this, I decided to take off only what needed to be taken off, which was a good four inches. Stylists, you know you can tell where the dry, brittle hair begins even when the hair is wet. You can actually feel the difference in your fingers between the healthy and unhealthy hair.
I gave my client longer layers throughout her hair, which I cut at 90 degrees from the head, to give her hair more movement along with some face framing layers that started a bit above her chin. I point cut into the layers after her hair was dried to add texture and to remove some more weak hair without removing any more length.
After I finished her blow-dry, I whipped her around in the chair so she could take a look at herself. Her reaction was of enthusiastic delight; she exclaimed how pretty it was and how much lighter she felt. Because I preserved a lot of length, she wasn't overwhelmed or shocked by the change; she instead, welcomed it with open arms.
She asked me how she could prevent new development of dry, brittle ends in her hair; she had never had this issue before. I responded that though she may have never had fried hair in the past, our bodies change as we get older, and we have to change with it. I recommended more regular hair cuts, using a deep conditioning mask once or twice a week, and using products that have keratin in them. Keratin is a protein in our hair, and when it's depleted, our hair becomes weaker and brittle.
By using products such as CHI Keratin Mist, we can restore that depleted keratin helping our hair become stronger and healthier. (There are keratin based shampoos and conditioners that help tremendously as well. Other lines like Ion, Redken, and even Tresemme have keratin sprays, also. Most companies are creating keratin products these days because they realize the extreme benefits of adding the protein to hair, so you have a plethora of lines to choose from.)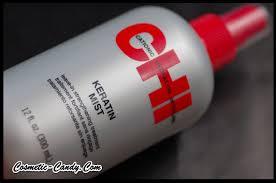 I find that the best time to spray the mist is when the hair is towel dried, but damp and ready for a blow dry. Spray it liberally throughout the entire head of wet hair. Another remedy is using an argan oil based product throughout the hair in a similar fashion. Moroccan Oil is the most well known of these products, but there are lots of other product lines that carry argan oil now too. Of course, using protection before applying any intense heat is also essential. One of my favorite products to apply to the hair before flat ironing is CHI Silk Infusion.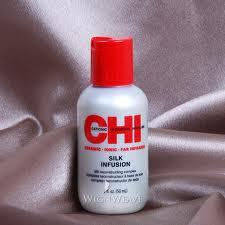 You only need a tiny dab of this as it is an oil and heavily concentrated. You spread it through your hands, then lightly spread it through your hair starting at the back and under sections. Concentrate on adding the oil to the ends primarily along with some midshaft action, and avoid the roots. The Silk Infusion leaves the hair silky smooth and allows for more fluid movement.
My client left my chair today with silky, healthy hair that had movement and bounce that mimicked the movement and bounce she had in her step as walked out the door. Happy client, happy stylist!
*I am not a spokesperson for CHI... I simply am a stylist who loves their styling products!
Images: Google Images, jees.me, cosmetic-candy.com