With a slew of men's underwear brands offering both one-time and ongoing promotions that donate a portion of sales to charities, it's never been easier for men to give back (in their underwear).
We've compiled three stand-out ways to give, which means you should have no problem making good on those new year's resolutions to be a better person than you were last year. That was your resolution, right?
The brand invests a percentage of sales into a partnered social enterprise, which identifies "changemakers," or social entrepreneurs, and helps them with their causes. "We all need undies, and we all need socks," Jeff Denby, PACT's co-founder and COO, says. "When you [buy] PACT, PACT will give back to communities and projects across the nation that are giving love and warmth to our fellow citizens."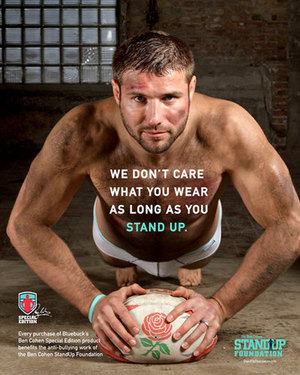 2. Bluebuck
This UK-based brand with a conscience was launched in 2010. The brand has been dedicated to environmental concerns since its inception, but this year the brand upped the ante and partnered with rugby start Ben Cohen to combat bullying. The partnership produced an underwear range that raises money for Cohen's StandIUp Foundandation, which is dedicated to combatting LGBT bullying. "Ben's love of outdoor sports and dedication to his StandUp Foundation makes for a perfect match with Bluebuck's values of outdoor adventures, men being men, and climate-friendly production," Bluebuck said of the partnership.
Also launched in 2010, Vancouver-based Naked underwear brand has a commitment to both quality and being an active part of their region. The brand partners with local nonprofits to fund neighboring and global outreach initiatives. Their repertoire of organizations and inititives includes the Burn Fund, Hospice Society, Big Brothers and Sisters and Pacific Pathways Development. Their fundraising efforts are geared toward local events in Vancouver but support global programs, as well. "I believe giving back should fit into everyone's business, whether the themes of the charity are aligned with the product or not," founder Joel Primus told The Underwear Expert. Of traveling and visiting less prosperous cities around the world, he said, "If through the work we do at Naked we can help never see some of the horrible things I've had to see again, I know we will have served a far greater purpose than underwear."
REAL LIFE. REAL NEWS. REAL VOICES.
Help us tell more of the stories that matter from voices that too often remain unheard.