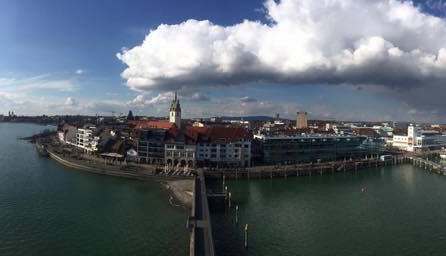 Note: #WCFDavos - the hashtag in this title - is the official hashtag of the World Communication Forum.
I have always been fascinated by stories about the legends of international aviation: the Wright Brothers, who achieved the first controlled, powered and sustained airplane flight; Amelia Mary Earhart, the first female aviator to fly solo across the Atlantic Ocean; and the Tuskegee Airmen, the celebrated group of military aviators in the United States Armed Forces. But I also learned about Ferdinand von Zeppelin, who pioneered rigid airship development around the turn of the 20th Century.
So when I attended the World Communication Forum event in Friedrichshafen, Germany for the one day Zepplelin View, it gave me an even greater appreciation for aviation. In 1900, Ferdinand von Zepplelin's LZ 1 - the first truly successful experimental rigid airship - flew over Lake Constance near Friedrichshafen. I am an aviation geek to the core, so I knew this historical fact. And somehow, I knew this trip was going to be epic!
The 2-hour drive to Friedrichshafen from Zurich was a truly energizing look at spacious farmlands, rolling hills, and historic back roads. As we snaked around the beautiful Lake Constance, we came upon a series of wineries, and one had an old church (pictured below) that was something out of a great Hollywood production.
I almost didn't want the road trip to end, but getting to Friedrichshafen was worth it. As I stood on an eleven story observation deck overlooking Lake Constance, I took a panoramic shot of the city that is the cover photo for this article. And when I turned around, all I could see were the awesome mountains of both Switzerland and Austria. Yes, Friedrichshafen, an industrial city of nearly 60,000, is that close to both countries. When you have that kind of view, even the word "awesome" becomes an understatement.
But of course, I was in Friedrichshafen to visit the world-renowned Zeppelin Museum for an afternoon of sessions around global technology and scientific development. Before all of that started, I was a part of a group that was treated to a tour of the museum's collections.
My panoramic photo here - showing two side entrances to the museum - gives you a sense of the scope of the building
The Zeppelin is the only museum in Germany that combines art and technology. And this is done in an extraordinarily masterful and visually stunning way. You see historic photographs, and the Maybach Zeppelin, which was built in 1938. But for me, the thrill was standing inside of the full-scale, partial replica of the LZ 129 Hindenburg. As history buffs know, the famous Hindenburg was an enormous German passenger-carrying, rigid airship that traveled 18 times to North and South America from March 1936 to May 1937.
After the tour, the eagerly-awaited Zeppelin View started with a bang! Smart collaborations get things done, and this World Communication Forum event, which partnered with the Moscow Institute of Physics & Technology (MIPT), and the Kaiser Communication GmbH, did not disappoint. Some of the best scientific minds in the world came to discuss their work and share their perspectives.
I enjoyed the discussion about drones. It brought up a fascinating question from another member of the press: in a world of almost 8 billion, would we want every person to have a drone, making our skies even more crowded? That is something you don't think about in the current euphoria about how drones will greatly impact international commerce. I also enjoyed Elena Brandt, a PR dynamo from Moscow. I first met her when she moderated a panel I was on in Kazan Russia last year. And once again, her intellect and wit elevated every discussion.
It made sense for the World Communication Forum (WCF) to have this pre-Davos event. Solution-oriented dialogue about the big issues of our time - cutting edge aviation, 3D printing, artificial intelligence, the Fourth Industrial Revolution, the changing face of global media, achieving a more connected world, and more - have cemented the WCF as a leading voice in an ever changing world. The Zeppelin View session only enriched that reputation.
WATCH: The drone selfie from the Zeppelin View event in Friedrichshafen
____________________________________________________________________
Sean Gardner is a board member and V.P. of Digital with the World Communication Forum in Davos, Switzerland, Social Media Producer with financial powerhouse TwinStarCU, and an advisory board member with the Digital Media World Forum Series. He is also a global keynote speaker and business creative who lives in the Seattle area. He currently conducts workshops and social media training for small business, nonprofits, celebrities, and multinational corporations. You can follow his global adventures on Instagram.
Related
Popular in the Community