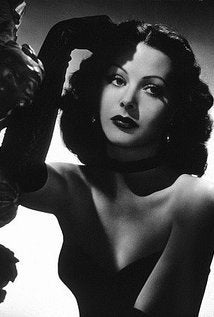 In seventh grade, we had to write a paper for Women's history month on a famous woman. I was assigned Abagail Adams. When I asked my teacher what she did, I was told that she was the wife of John Adams and the mother of John Quincy Adams. To this day, that's about all I remember of her. I'm not knocking her contributions, but my research didn't inspire me.
I wish I had been assigned Hedy Lamarr—a movie star that helped invent a radio guidance system for torpedoes. That was exactly the kind of role model I needed when I was twelve years old and wanted to be a Bond Girl and was embarrassed that I knew too many answers in class.
We need heroes. We need people—both alive and deceased—to inspire us, but it has to be the right fit. We need people we relate to in order to show us that we, too, can achieve greatness. I know my two sons will beg me to take them to the new Power Rangers movie, and now that I read that they have a lesbian Power Ranger as well as one on the autism spectrum, I am actually looking forward to it. Likewise, I will drag them to see Wonder Woman when it comes out whether they want to or not, because not only do I love Wonder Woman but its rumored that she is portrayed as a bisexual, and I can't wait to see how it turns out.
I was slow to understand how much diversity matters in movies. Sure, I realized how white and male-centric most movies were, but I was used to it—it seemed normal. It wasn't until I saw the Tony award winning play Fun Home that I understood the power of recognizing yourself in pop culture. For the first time in my life, I saw a family that looked like mine. I was unprepared for the emotional intensity of seeing a family on the stage that had not only a gay parent but a mentally ill parent as well. Sure, her father was gay, and my mother is a lesbian, but it was close enough. Someone else lived a life similar to mine, made art about it, and people liked it. Everyone deserves that experience.
But diversity is important for my white sons as well. The truth is that every year they get older, my influence matter less to them than the opinions of their friends. By the time they reach high school, I expect that they will pretty much roll their eyes at most of what I say. It's the way of teenagers. If pop culture is supporting diversity and kindness, it's that much easier for me as a mom. Super heroes are cool, moms—not so much. I'll take all the help I can get.