"We'll be married 31 years next week," John said. "It's like Baskin Robbins' 31 flavors -- a flavor for each year!"
"Which one was Rocky Road?" I asked.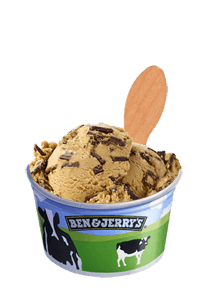 The obvious punch line... But it got me thinking, what other delectable ice cream flavors can be served up as metaphors for seasons in a marriage? I wouldn't be surprised if Buzzfeed has a quiz for that: What ice cream flavor is your marriage? According to Baskin Robbins' website, the company has created more than 1,000 "unique and delicious" flavors since 1945. That may be true, but the monikers they've given those concoctions are pretty straightforward, which translates to bland when trying to connect to life events. Who wants to think of their relationship as plain ol' vanilla.
So I turned to those two guys from Vermont for inspiration, because no one scoops out the creativity like Ben & Jerry. They are to ice cream (Cherry Garcia) what OPI is to nail polish (Chick Flick Cherry). There may very well be 31 years worth of flavors in ice cream land -- Jamaican Me Crazy, anyone? -- but, to ward off diabetes, lactose intolerance, and clichéd husband jokes, here's just a taste...
Karamel Sutra: We were once newlyweds, after all.
Coffee, Coffee BuzzBuzzBuzz! A parental necessity born of 2:00 a.m. feedings, too-early soccer games, and too-late nights waiting up for curfew breakers or just plain worrying.
Scotchy Scotch Scotch: Scotch is an issue in our marriage only when we've run out of Scotch tape. I prefer wine and John's drink of choice is Diet Coke.

Chubby Hubby: There's never been a chubby hubby here, only a chubby wife. That's what ice cream will do to you. He loves me anyway.
Economic Crunch: Ben & Jerry's retired this flavor which was a nod to the 1987 stock market crash. Hopefully, we'll have no reason to resurrect it either before or after our own retirement. But there were times...
Goodbye Yellow Brickle Road: Nearly two years ago, we left Oz for the West Coast... traded tornadoes for earthquakes, the prairie for the Pacific... a lifestyle change, an adventure, a leap of faith. Toto, I have a feeling we're not in Kansas anymore.
Honey, I'm Home: John used to travel more for business, spending about a week a month in New York, which kept us from having to relocate. With one teenager still at home, it was a relief when my partner came through the door on Friday nights, predictably delayed out of LaGuardia. More recently, with the launch of his own business, "Honey, I'm Home" has become a way of life.
Apple-y Ever After:. After 31 years, we're well on our way. Maybe we'll even celebrate with an ice cream. I hear Baskin Robbins has one called Love Potion #31.
Related
Popular in the Community